BC lacrosse players join Baldwin and Alison Crowther (third from right) to promote the virtual Red Bandanna 5k. Photo by Peter Julian.
This year, the finish line of the Welles Crowther Red Bandanna 5k will look a little different.
Instead of joining a sea of red and white bandannas streaming down Linden Lane, runners will complete the race anywhere they choose—from neighborhood trails to basement treadmills—as part of a new virtual format to keep everyone safe from COVID-19. 
And that's not the only change in 2020: In order to make the beloved BC tradition as accessible as possible, runners can complete the race anytime between October 17-30.
"People can run or walk it all at once or break it up over the days," explained Kate Daly, associate director of the Volunteer and Service Learning Center. "We want them to be able to participate from wherever they are."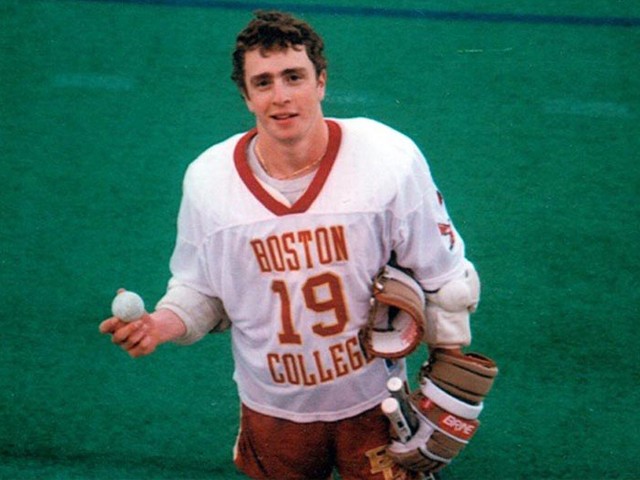 Now in its 16th year, the Red Bandanna 5k honors the memory of Welles Remy Crowther '99, a former BC lacrosse player whose heroic rescue efforts on 9/11 saved as many as 18 lives and became the subject of The Red Bandanna by ESPN's Tom Rinaldi and an award-winning documentary. Held annually on the Boston College campus, the race has become a favorite of BC students, staff, and alumni. 
"People have traveled a long distance to come participate in this," said Alison Crowther, Welles' mother. "The spirit on campus is amazing—people of all ages come together to run." 
Crowther is hopeful that this year's virtual format will encourage even wider participation from individuals and organizations not local to Boston. Already, she's spoken to administrators of schools and youth programs across the country who plan to form teams with their students, she said. 
"These are people who never became involved before, but it's a way for them to engage their students in an outdoor activity that shares Welles' story," she said. "I think it's going to translate really well."  
Junior John Athanasian, a member of the BC men's lacrosse team, is looking forward to the race in its new format. Some of his favorite memories at BC have come during past runs, he said. 
"You feel as if you're taking part in something much larger than yourself, and that's an incredible feeling," he said. "The lacrosse team understands the importance of upholding Welles's legacy, and it's something we take pride in."
As always, proceeds from the event will benefit the Welles Remy Crowther Charitable Trust, which supports organizations committed to assisting young people in becoming exemplary adults through education, health, recreation, and character development. Every year, the Welles Remy Crowther Award is presented to a Boston College senior, with the funds going to a nonprofit of their choice. 
In recent years, the Trust has partnered with the Fetzer Institute to create and launch the Red Bandanna Project, a set of curricula focused on character development and social and emotional learning inspired by Welles' spirit. Developed by a team of current and former educators, the lesson plans have been adopted by schools and youth programs across the country.
Seeing the impact of her son's legacy has been immensely gratifying for Crowther, who has traveled internationally to speak about the Red Bandanna Project. Without the Red Bandanna Run, none of it would be possible, she said.  
"There's a force behind this that's meant for good, and we just want to keep it going as best we can," she said. "To the Volunteer and Service Learning Center, all the runners and donors who participate, and our major sponsors The McLaughlin Family, Aqueduct Technologies, and Rapid 7—we are so grateful. Thank you."
Runners who pre-register will receive a red bandanna-themed buff, inspired by Crowther's trademark handkerchief, as well as an official race bib that they can print at home. To document the event, participants are encouraged to share photos and videos of their run on social media using #BCRedBandannaRun. Content emailed to bcsocial360@gmail.com will be considered for the official race video. 
Alix Hackett | University Communications | September 2020