Members of the University community continue to find ways to stay connected and preserve traditions amid the coronavirus pandemic. The latest example of this creative spirit is a virtual version of Boston College Relay for Life, a popular campus event for more than a decade and part of a major source of support for the American Cancer Society.

Participants in Relay for Life raise funds by pledging to walk laps at the annual 12-hour event, which also includes live entertainment and testimonials from cancer survivors and loved ones. Relay for Life co-presidents Chloe Witt '21, Makayla Lourenco '20, and Tommy Cleary '20 had spent the past year preparing for this year's April 17 marathon, which for the first time was to be held in the Margot Connell Recreation Center after the demolition of its former venue, the Flynn Recreation Complex.

Lourenco said there had been great anticipation about holding Relay in the new recreation center. "We were really excited to change aspects of the event to accommodate the new space. One thing in particular we liked was that the building has windows. Relay for Life uses the sun to symbolize a cancer patient's journey—the setting sun resembles the diagnosis, whereas the rising sun symbolizes hope. However, the Rec Plex did not have windows, so while we still used the sun as a symbol, we never saw it set or rise. This year would've been quite different."

But once the coronavirus forced the University to suspend on-campus classes and shut down residence halls, and state directives prohibited large gatherings, the organizers worked to create a virtual replacement.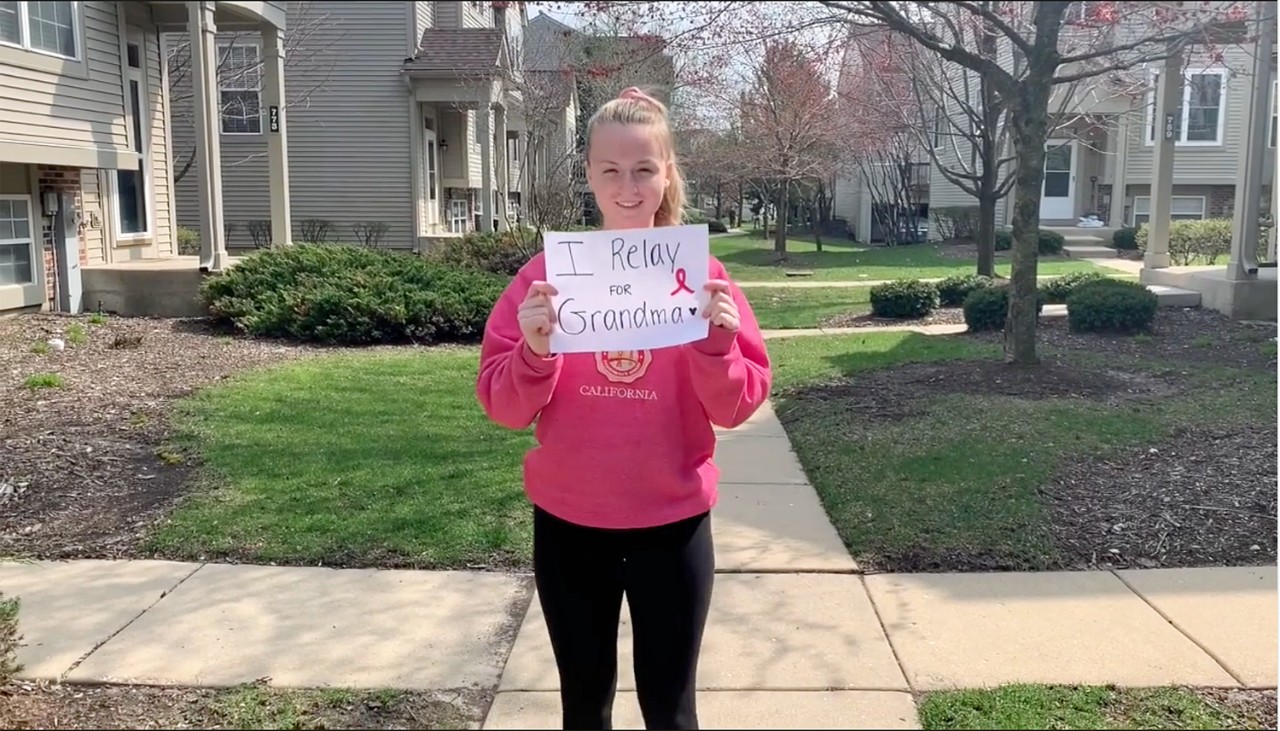 The key elements of a Relay for Life event were shared on social media, including talks by cancer survivors and a Luminaria ceremony to honor those who have been affected by cancer. Relay for Life leaders also encouraged participants to walk 37,000 steps during the weekend in support of the 37,000 people who will be diagnosed with cancer this year in Massachusetts.

American Cancer Society Community Development Manager Amanda Visco praised the co-presidents' efforts. "They made sure the virtual event had all the aspects of an in-person Relay, giving participants a chance to celebrate cancer survivors, honor those lost to cancer, and come together to work toward a common goal. I am grateful to be able to work with students so dedicated to the American Cancer Society's mission."

The co-leaders admitted that they were unsure how the virtual format would convey the sentiment and community feel typical to a Relay for Life, but were pleasantly surprised with the results.

"I was a little skeptical, to be completely honest," said Lourenco. "But we got a lot of views on social media and everyone really liked it, even if it did not compare to the magic of an in-person event."

One positive effect of the digital format, noted the co-presidents, was that friends and family members who typically could not attend an on-campus event were able to tune in and participate.

BC Relay for Life raised $47,257 for the American Cancer Society over the course of the year, and $3,000 during the virtual relay. Although these funds are less than last year's total, the team is still proud of what they were able to accomplish.

"It's hard to ask for money during this time we are in, when people are struggling," said Cleary. "I'm still proud of what we did and I'm proud of the BC community."

"We were able to bring part of the spirit of Relay for Life online and remember the ones we have lost," said Witt. "The event was different, but I still had those feelings of happiness, gratitude, and sadness throughout the event. Cancer, like COVID-19, affects all of us."

Donations can be made to RelayForLife.org/BC.

Christine Balquist | University Communications | May 2020