"It's just so quiet." The Boston College campus, normally bustling with activity, reflects the isolating restrictions imposed by the Covid-19 pandemic. (Lee Pellegrini)

The week of March 9–13 was supposed to be a time for Boston College to kick its collective engine into full gear again following the end of spring break, as students and faculty returned to classrooms to begin the final two months of the academic year.

Normal campus activity resumed, with its schedule of academic, social, athletic, spiritual, informational, and networking events, including a panel discussion on how students can gain experience in the health care field, a seminar on microeconomics, and the weekly Examen at Manresa House.

By the end of the week, everything had changed.

On-campus classes had been suspended for the rest of the semester as of March 11, all but a few hundred students were in the process of leaving University residence halls, and faculty were immersed in preparation for a transition to online and remote teaching.

Covid-19 presented dramatic challenges for the whole BC community—and much of the rest of the world—as April began. But several offices and departments in particular were on the front lines of response during that week and those immediately following, including Residential Life, Facilities Services, Dining Services, and Boston College Police. These employees had to contend with a fluid situation that, mirroring regional, national, and international developments, seemed to change almost hourly.
 
"When our students hurt, we hurt, too"


During a normal academic year, the Office of Residential Life works for two months planning the annual move-out of undergraduates and graduating seniors from campus, which takes place over a two-week period in May.

Instead, during the second week of March, ResLife and its University and external partners spent some 96 hours orchestrating a move-out of nearly 7,300 students that was largely accomplished in three days.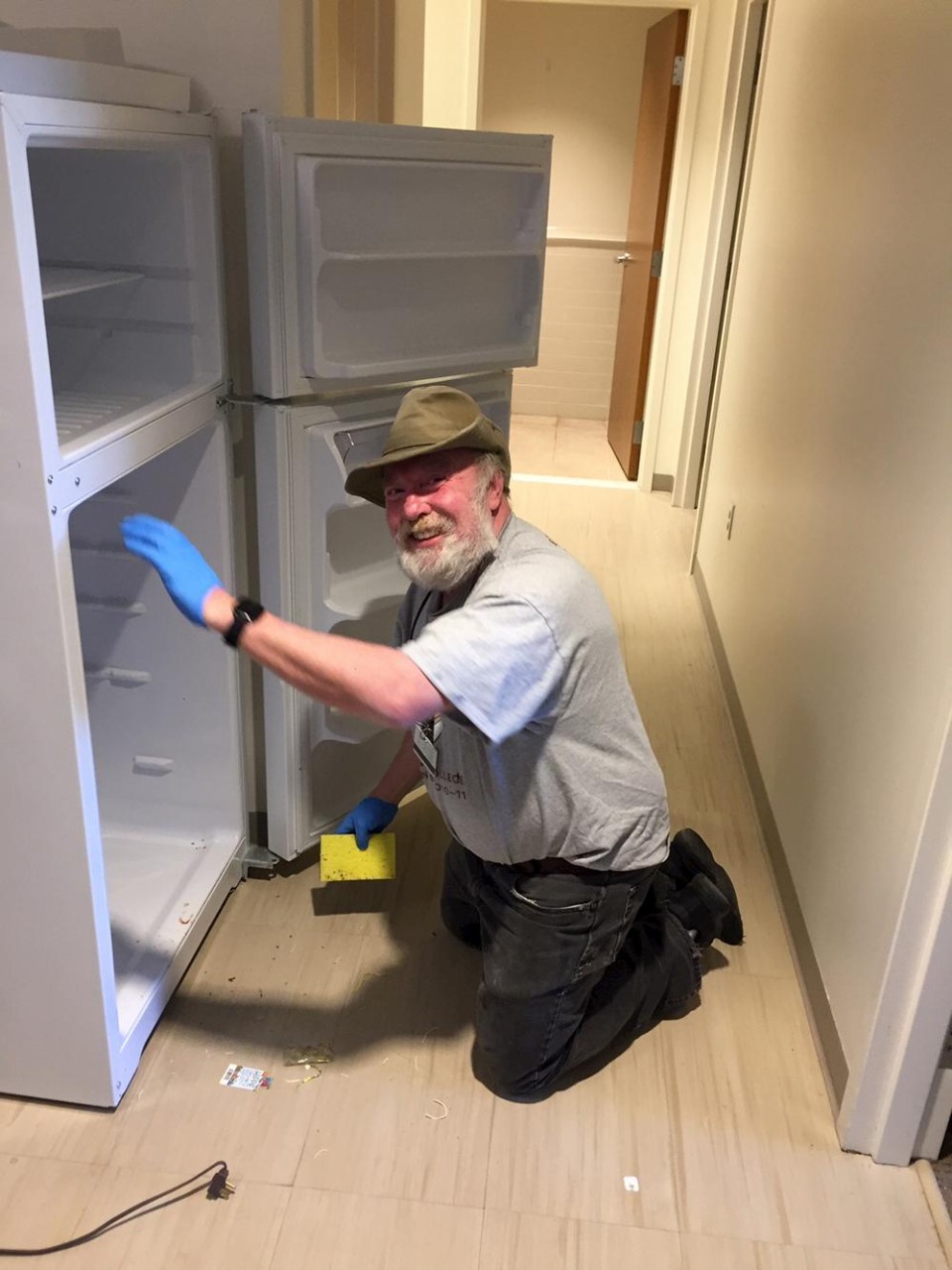 "It's one of the oldest expressions around, but I have to say it: 'Many hands make light work,'" said Associate Vice President for Residential Life and Special Projects George Arey. "Without Dining Services, BC Police, Facilities, Health Services, and the Emergency Management Team, as well as our off-campus vendors, doing all this simply wouldn't have been possible."

Like most large, multi-tiered offices and departments, Arey noted, ResLife incorporates planning and training into its operation—involving senior administrators, office personnel, professional staff, and resident assistants—with the priority, should a crisis arise, of tending to students' basic needs and amassing and distributing information as quickly as possible.

"The goal of our planning and training is to make sure we don't leave anyone in ResLife on a branch alone," he said. "We build our teams with a bandwidth, so that every team will always have people who complement each other's skill sets: someone who's great with data, for example, with another person who's strong on logistics, and somebody else who has the interpersonal skills to deal with questions and concerns."

Once the University announced the suspension of on-campus classes, followed by the closing of most residence halls by 9 p.m. on March 15, ResLife faced simultaneous high-priority tasks in what Arey describes as "Phase 1" of the coronavirus response. Even as the office helped students undertake the move-out, it had to process appeals from about 800 others who asked to stay in University housing temporarily—mainly because of difficulties in arranging transportation—or for a longer period due to international travel restrictions, academic obligations, or personal reasons. In addition, ResLife had to make sure residence halls were emptied of abandoned furniture, clothing, and other possessions, and then thoroughly cleaned.

Arey praises Facilities Services and BCPD, among other University partners, and also points to the office's relationships with its vendors. "As we started planning, we pulled in a dedicated moving company, and within a half-hour the owner was in my office. The company agreed to help with shipping and storage for students, and they provided 30,000 boxes that were stationed at various places around campus for students to pick up."

The three-day move-out was not just logistically and physically demanding, said Arey. Emotions, understandably, ran high among some students and parents—and they weren't the only ones.

"It was an emotional time for everybody. A lot of our staff form close relationships with students, whether through residence hall programming, KAIROS and other student-formation programs, and service trips. So when our students hurt, we hurt, too. And, of course, we're all trying to process everything that's happening, at BC and beyond. But in the end, systematically it worked quite well."

With move-out concluded, ResLife and its partners had to immediately pivot to the next two phases: Relocate the remaining students to Upper Campus, and then work with Health Services to turn the Thomas More Apartments residence hall at 2150 Commonwealth Avenue into an area to quarantine students awaiting COVID-19 test results or isolate for those testing positive.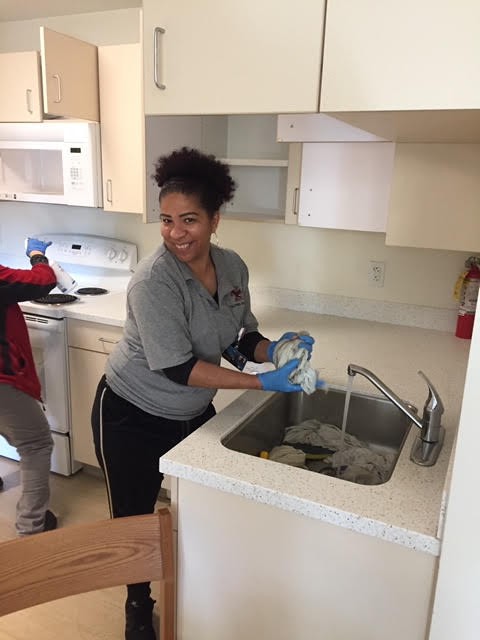 As March drew to a close, ResLife prepared for Phase 4, or "the new normal," as Arey terms it: "How to engage the remaining 300-plus students while being protective of their health, and ours? What resources do they need? How can we support online learning? These are the questions we're addressing with our University partners."

Arey said there will be numerous discussions and critiques in the months ahead concerning ResLife's performance, but these past weeks have reinforced some foundational impressions.

"I've always known ResLife had a great capacity to care, and that was evident in what I saw and heard from Phase 1 on. No matter how tired they were or how difficult some of the interactions were, our staff showed care and concern for others. They did their job."

Work effort, mutual support "exceptional"

"There was a huge emphasis on residence hall clean-up after the students left," said Robert J. Avalle, Jr., associate vice president for Facilities Services, the maintenance and service organization that provides support to the entire Boston College campus. "Led by Custodial Services, in collaboration with Residential Life, over 150 custodians and supervisors accomplished in just a few days what usually takes weeks. Our entire operation was committed to the safety of the campus community "

Avalle explained that when the students abruptly departed, they left behind a larger than normal amount of trash, so collection containers needed to be emptied and replaced constantly, an essential task achieved with assistance from the Landscaping crews.   Many abandoned small appliances and clothing items were gathered and donated to local charities.

"When it was determined how many students would remain on campus and where they would be housed, attention turned to cleaning and disinfecting, and performing any needed repairs at Upper Campus residence halls," said Avalle.  "The technical trades team—carpenters, plumbers, electricians, and mechanics—made quick work of executing the necessary repairs."

Avalle noted that vacated residence halls are undergoing thorough cleaning, sanitization, and repair. One building receiving particular attention is the Thomas More Apartments at 2150 Commonwealth Avenue, which houses students awaiting coronavirus test results and those who have tested positive.

From the beginning of the pandemic, academic, administrative and athletic and recreation facilities were thoroughly cleaned and disinfected, said Avalle, with emphasis on classrooms where faculty have been conducting online classes.  

Avalle was quick to acknowledge Custodial Services Director Gerry Boyle as an administrator who is equally committed to keeping BC and his team safe during this pandemic.

Facilities Services also manages U.S. and campus mail, and package services, all of which are continuing.

"BC seemed well prepared for this crisis," said Avalle, who has been at the University only since mid- January.  "There was constant communication among key leaders and departments in a rapidly changing environment. The cooperative work effort and mutual support was, and continues to be, exceptional."


"Keep calm. We washed our hands."
Although the coronavirus crisis seemed to unfurl rapidly during that week in March, University administrators, offices, and departments were eyeing developments far earlier in the semester. Health Services Director Thomas Nary, M.D., for example, wrote a letter to the BC community on February 2 noting that the BC was closely monitoring information on the virus and in contact with public health officials for Boston and the state.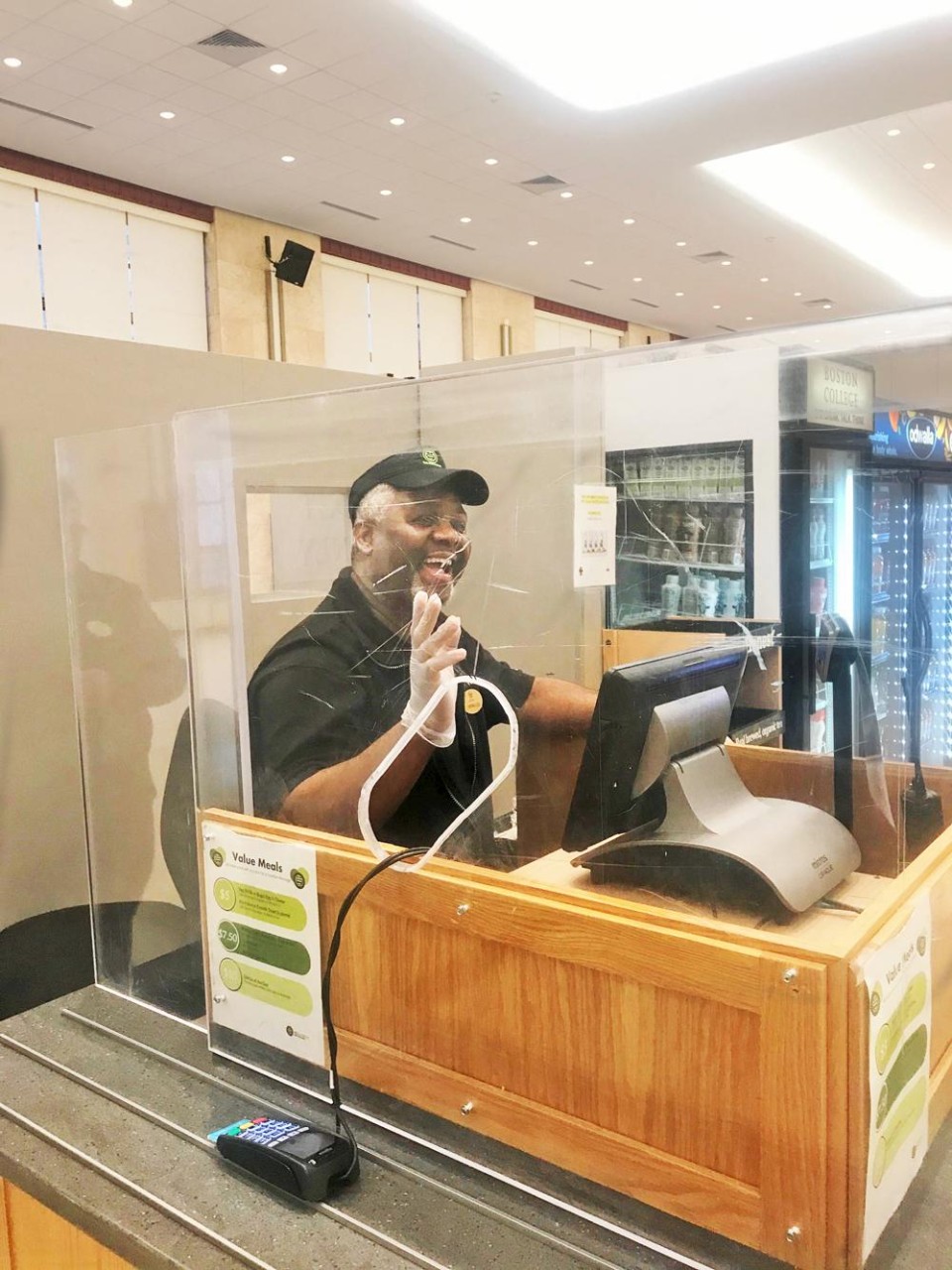 Beth Burns, manager of human resources for Dining Services, pointed out that BCDS staff "had been concerned and working on multiple food safety measures and staff awareness as far back as February."
This entailed very comprehensive discussions about most every aspect of BCDS operations, according to BCDS Associate Director of Operations Megan O'Neill.

"We had to determine what steps we would take, how these would affect operations—wrapping all bakery items individually, getting rid of the salad bars and making individual salads—as we needed to adjust our labor model and staff schedules," she said. "We tweaked our menus to make the lines shorter so as to offer faster serving while still maintaining some 'fan favorites.' We also did a lot of work on the purchasing side: looking into getting more gloves, bulk sanitizer—and little bottles—cleaning supplies and upping our food-to-go packaging."

When students returned from spring break, Dining Services had implemented the additional safety practices in all dining halls: replacing reusable flatware with plasticware, closing self-serve salad and fruit bars, and individually wrapping baked goods. Employees were required to wash their hands every 30 minutes and all frequently touched areas were cleaned every 20 minutes.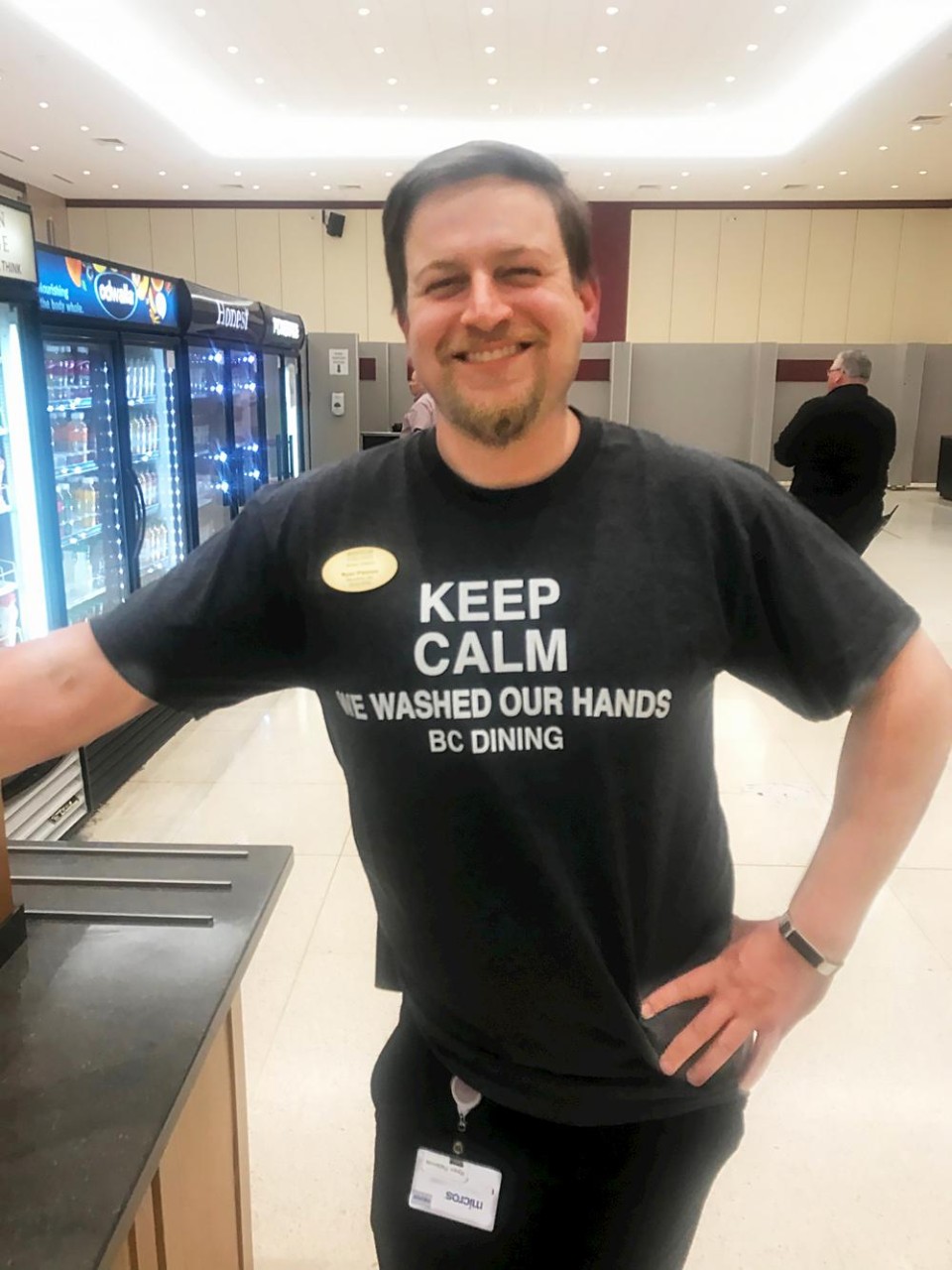 Once the University decided to move to online learning and have students vacate residence halls, BCDS enacted a plan to consolidate operations and close down many dining locations for the semester while taking steps to ensure the safety of customers remaining on campus. Barriers were placed at checkouts to enforce social distancing and, to reassure customers, BCDS staff wore shirts bearing the message "Keep calm. We washed our hands."

When Massachusetts Governor Charlie Baker issued an emergency order limiting the size of gatherings and prohibiting on-premises consumption of food or drink at eateries, BCDS started serving food to go. The team has been working on cleaning and closing down dining locations and concessions operations and training staff working in McElroy Commons.

Every year, O'Neill said, BCDS develops an plan that specifies which dining operations remain open and how staff are to be consolidated in the case of emergencies and other unforeseen circumstances. "We've used it frequently for snowstorms, but never for this long and with such a small but captive audience. We came up with a Plan A through Plan D and tried to think of all the issues that could come up. So far, we've been pretty much on the mark. We're still on Plan A—maybe version number six, but still Plan A."
"Our team of managers has done an outstanding job during this difficult time and our front-line employees are happy to be working," said BCDS Director Beth Emery. "I could not be prouder to work with such an outstanding team—one that is hardworking, dedicated, and appreciative to work for Boston College."


"It's just so quiet"
 
Following the March 11 announcement, the Bosotn College Police Department increased the number of officers on patrol to aid in the unprecedented transition, said BCPD Chief and Executive Director of Public Safety William Evans.

"We had to step up and make sure we were there for the students and help them as best we could as they exited the campus," said Evans. "We put on extra officers to assist. I knew the students were going to be emotional, given the short time frame, especially the seniors. Our goal during that four-to-five-day period was to help facilitate the move-out process."
Despite reports of minor vandalism following the announcement, Evans said, "I thought student behavior, under the circumstances, was not bad at all. It was very emotional for a lot of them."

On March 15, the last day of the move out, BCPD paid close attention to approximately 2,000 students who gathered at the Chestnut Hill Reservoir to watch the sunrise, a tradition typically reserved for graduation day.

"As a parent, I feel bad for the students, especially the seniors," said Evans. "It was a tough way to spend their last days on campus, after all the work they've put into their studies here. So it was very emotional for them seeing their last sunrise."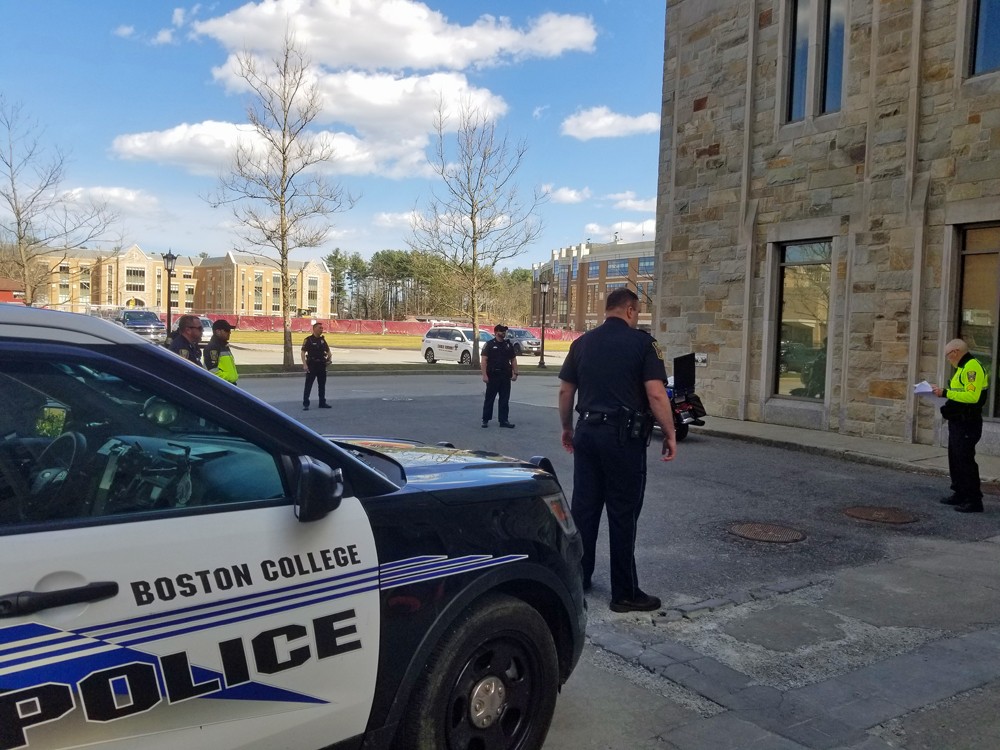 BCPD officers now patrol a university with only a fraction of its normal academic-year population.  Evans said officers are following social distancing guidelines and protective protocols as they interact with individuals. When Eagle Escort is called for a student who needs to go to Health Services, officers wear appropriate personal protective equipment as they assist.

Absent the near 24-7 use of most buildings, officers are devoting extra time to building security on all the BC campuses. In a move designed to halt the spread of coronavirus among the 55-officer force, roll calls are no longer held in the department headquarters in Maloney Hall.

"We do roll calls outside the building so officers won't violate that six-foot spacing guidelines," said Evans. "We are asking officers to maintain social distance as well as wash their hands all the time. We don't want any of our officers getting sick."

Evans, a member of the Boston Police Department for 38 years, and the city's police commissioner for four years, said he's never seen anything like the near-complete shutdown of the state. Absent students and many employees, the campus is uncharacteristically sedate.

"It's just so quiet," said Evans. "It's a campus that normally has so much life and it has come to a standstill. It breaks everyone's heart. We all hope that we can see an end to this illness and a return to normal as soon as possible."

University Communications | April 2020