Students participating in The Academy's first summer enrichment program. (Lee Pellegrini)

The Academy, a cost-free, summer residential enrichment program for Greater Boston-area middle and high school students—one of four components of Boston College's Pine Manor Institute for Student Success initiative—held its inaugural weeklong session this summer.
Forty-three middle school students from 13 partner schools participated in the session, held from July 31-August 7, according to Joy Moore, vice president and executive director of the institute.
The Academy students, who stayed in Williams Hall on Upper Campus, began their typical day at 7:30 a.m. with breakfast, followed by an assembly. Morning classes rotated between STEM (Science, Technology, Engineering and Mathematics), language arts, and enrichment; evenings included small-group reflection, journaling, and quiet time before lights out at 10 p.m.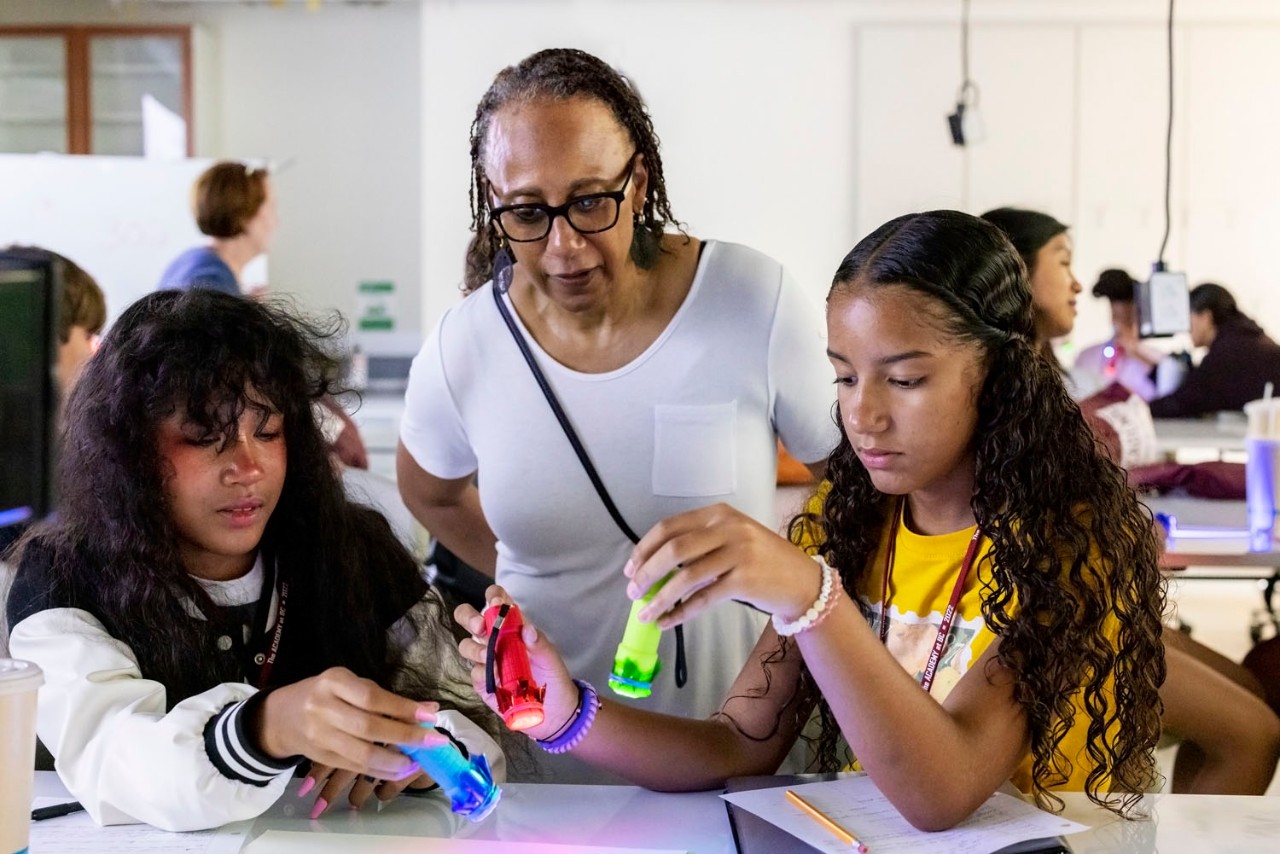 "The inaugural PMI Summer Enrichment Program received high marks from the students who participated," said Moore.  "We sought to create a balance of strong academic work along with lessons focused around three core values: confidence, tenacity, and courage.  Students also enjoyed swimming and playing basketball in the Connell Recreation Center with a few student-athletes, who took the time to be with our students.  Plus, meal times were always a happy time, thanks to the BC Dining team."
Gabriella Potter, an incoming eighth-grader at Lawrence Catholic Academy, thought that the PMI Academy was "a great opportunity to put myself out there," and to do something that would help her academically.

"I had never done anything like this before," said Potter, who hopes to become a physician. "My favorite class was theater and learning about Shakespeare.  I never knew how much I liked it. Plus, I liked meeting new people from the program."  
The Pine Manor Institute was established in 2020 when Boston College and Pine Manor College signed an integration agreement that included a $50-million commitment from the University that has grown to $100 million through investment returns and a $25-million anonymous gift.  

The Academy builds on the respective Boston College and Pine Manor College legacies of providing academic support and personal attention to first-generation students from underrepresented and underserved communities. Beginning in the summer after seventh grade and continuing through grade 12, the one- to six-week program combines academic preparation in English, mathematics, and science with overnight adventures, field trips, and volunteer experiences.  

Throughout the school year, each Academy student's BC Success Coach will provide tutoring and mentoring to help them achieve success in middle school and prepare for high school.  As they head to college or other post-secondary institutions and begin their careers, PMI will continue to provide coaching and mentoring for up to two years, a distinguishing characteristic that's unlike any other enrichment program.

Recruitment materials were distributed to partner schools in Greater Boston this past winter, and principals, teachers, counselors, and community leaders were encouraged to nominate students, whose program acceptance was announced in April.

"The Academy is an opportunity that not that many students get," said Revere's Gabriel Galivanez, an incoming eighth-grader at BC High who was nominated by his guidance counselor for the program. "I really enjoyed my science and English classes, and living in the dorm."

Both Galivanez and Potter plan to continue with the program.

"We didn't have opportunities like this when I was growing up," said Nelisette Rodriguez, Gabriella's mother. "I'm super proud of her, and extremely grateful, particularly for the long-term mentorship as she proceeds through high school and college.  She's looking forward to going back."  
The PMI initiative took another important step forward recently, when the University announced the appointment of Erick Berrelleza, S.J., an assistant professor of sociology at Santa Clara University, as founding dean of Messina College. A two-year division of Boston College, Messina College will offer an associate's degree program for 100 students beginning in the 2024-2025 academic year. The goal of the college—named for the first Jesuit school, founded in Sicily in 1548, and located on the former Pine Manor College campus in Brookline (now known as the Brookline Campus of Boston College)—is to prepare students, in a small setting, for continued studies toward a bachelor's degree program or for professional careers. Students will have full access to BC's campus programs and facilities, and successful students may be eligible to apply to transfer to any of the Boston College undergraduate schools to complete their bachelor's degrees.  

The son of immigrants and a first-generation college student whose scholarship has focused on immigration and urban sociology, Fr. Berrelleza will assume his post this month.

The institute also serves as an umbrella organization for BC's existing programs, including Learning to Learn, the Montserrat Coalition, and Options Through Education. The final component is the ongoing outreach initiative for alumni of the Academy and Messina College, featuring year-round mentoring and coaching.  Combined, these four pillars expand upon Boston College's success in educating under-resourced, first-generation college students, while continuing Pine Manor College's legacy of outreach to underserved communities.

"The research is clear that young people do better in school and gain greater self-esteem when they have mentors who provide support and encouragement," said Moore. "The Pine Manor Institute's programs seek to strengthen each student's academic abilities and prepare them for success in their post-secondary education and beyond."

Learn more about The Academy at the Pine Manor Institute for Student Success website.
 
Phil Gloudemans | University Communications | September 2022