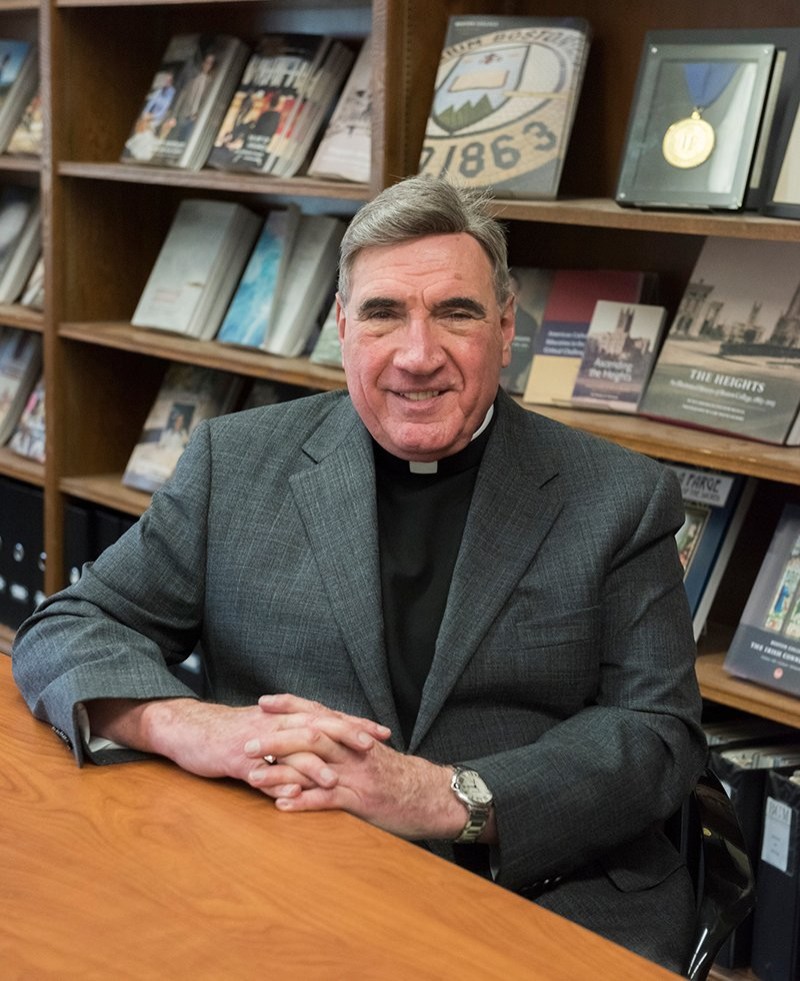 Fr. Joseph Marchese
Positions at BC: Director, Office of First Year Experience; Director, Formative Education for BC parents; theology instructor.
Years at BC:  35
"The thing that's changed the most during my time here is that BC became an 'adult' university. I arrived in 1984, and I saw a need to create a culture that was more intellectually precocious—both for the inside and outside worlds—and to be recognized that way by other people.  We always had bright students but it wasn't recognized; eventually, our graduates were accepted at the best professional and graduate schools, and were recruited by the best companies.  The other need was to understand who we were as a Jesuit, Catholic university, and that identity has become more readily and effectively explored and implemented in an inclusive way. 
"BC had struggled for years because of a lack of resources, but after the most difficult times of the mid-'70s, it became viable again under the leadership of [President] J. Donald Monan, S.J.  The campus, in terms of the grounds, the facilities, and the care, has greatly expanded.  For over 20 years, I'd greet families who'd remark that BC is the most beautiful campus they'd visited.  
"Another important factor is the morphing of the immigrant alumni who originally came to BC. Although they were smart, they were not welcomed elsewhere, and they eventually transitioned into great positions and achieved success—grads like Bill Connell—who then became very generous to the University.
"I'll miss the people and teaching.  I'll miss the conversations with students, and learning from them.  I love my colleagues, and the goodness of the people here."
—Phil Gloudemans
Ruth McRoy
Positions at BC: Visiting Research Professor and Consultant, Boston College School of Social Work; Donahue and DiFelice Professor of Social Work.
Years at BC: 14
"I have absolutely loved my time at BC, due to the wonderfully supportive and friendly academic environment. We have had amazing leadership at the BCSSW, through former Dean Alberto Godenzi and current Dean Gautam Yadama.   I have had the opportunity to teach, collaborate on research, serve on dissertation committees, be involved in committee work, initiate projects, and work with the very dedicated students, staff, faculty, and administration.  
"For example, as students became familiar with my interest in longitudinal research on adoptions, several asked if I would organize a BCSSW Adoption Special Interest Group in 2014. I was excited about the opportunity, and as the number of students who joined the group continued to increase, I proposed to offer an elective course, Contemporary Issues in Adoption and Foster Care.  The response was amazing, and I was delighted to develop and offer this course during the last four years.
"In addition to teaching and research, I truly enjoyed getting familiar with the Boston community, to have the privilege of serving on several boards and advisory groups of community agencies, and at BC to work on a variety of committees including strategic planning, diversity, and promotion and tenure.  The experience has been very rewarding and I have learned so much.  I will always be thankful for the wonderful opportunities offered at BC."
—Sean Smith