Eagles dot Pamela Fraser's family tree: her husband, brother, niece, son-in-law, and three daughters all attended Boston College. 
Asked recently about her 42 years at Boston College, Pamela Fraser '82 modestly replied, "There's really not much to write about." 
 But her former colleagues, along with her three daughters—all of whom she helped put through BC—say there are plenty of reasons to tell her Boston College story.
Fraser transferred to BC from Westfield State College as an undergraduate student and remained at the Heights until her retirement this past October. She began working in the Office of Admissions in 1978 and took classes at BC's Evening College (now the Woods College of Advancing Studies) to finish her degree in sociology. Her experience, which included the former Freshman Financial Aid Office, the Office of Financial Aid, and the Office of Student Services, is like a mini-history of the financial aid operation at BC: At the beginning, for example, Fraser would type out each student's financial aid award letter, a process that is now completely automated.
"For 42 years, Pam was a dedicated employee, co-worker, and friend to so many students and employees," said University Bursar and Director of Operations for Student Services Christopher Cordella. "She brought a level of competency, reliability, compassion, and kindness that became the gold standard for others in the office."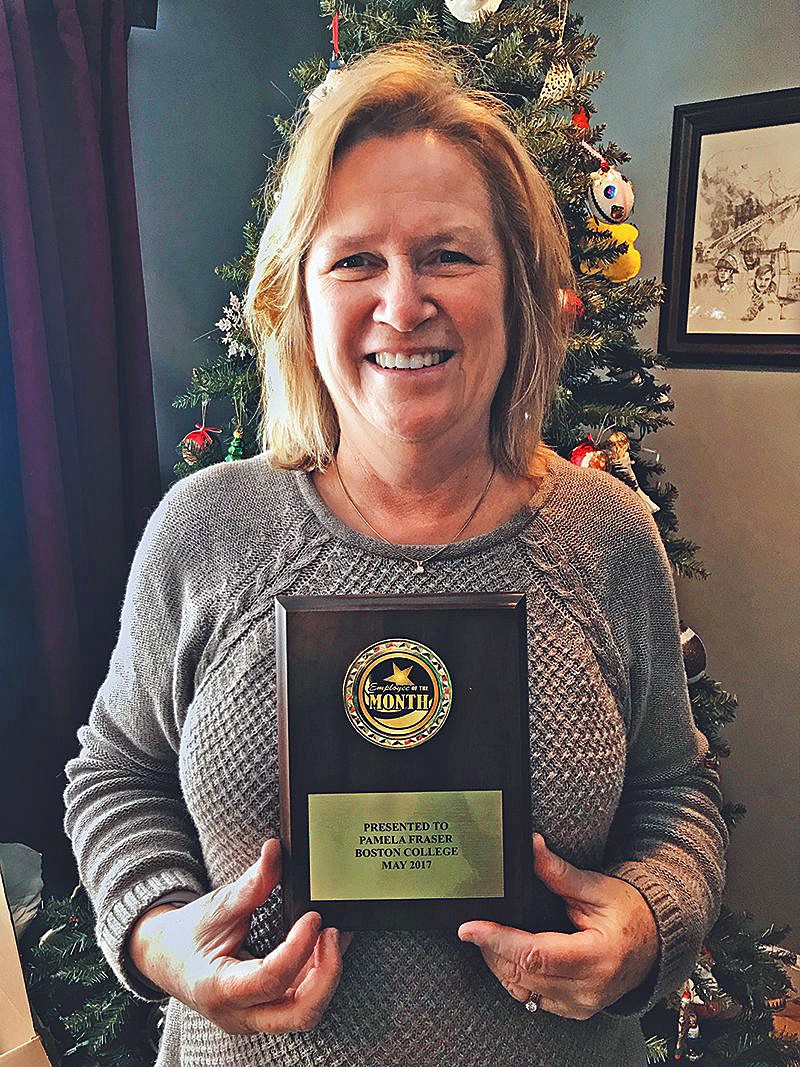 Eagles dot many branches of Fraser's family tree. Her brother Mark Murphy '82 played hockey at BC and his daughter also studied at the Heights. Her husband of 40 years, Joseph Fraser, whom she met in high school, earned undergraduate and graduate degrees (in 1997 and 2000) from BC. Pamela and Joseph's three daughters went to the Boston College Children's Center and graduated from the University years later. Her son-in-law is current BC assistant football coach Rich Gunnell '10, M.S. '14. And one of Fraser's three grandchildren enjoys a special distinction: She became the first child of a BC Children's Center alumna to attend the preschool (she graduated from the center in 2014).
"It really helped make the transition of going to college much easier knowing my mom was only a quick walk away," said Allison Fraser '09. "On her way home from the office sometimes, she would pick up my laundry and bring it back to me the next day." 
"Pamela loves to take care of people and make sure that they have everything that they need," said Gunnell, who is the running backs coach for BC football. "Since we met back in 2007, I've almost been spoiled by her for all she has done for me, which I greatly appreciate."
Fraser's generosity stood out to family and colleagues alike. 
"She was patient and kind to all, especially to the thousands of students and parents she helped over all of those years," said Director of Financial Aid Mary McGranahan. "I depended on Pam a great deal throughout our time together and was never disappointed."
Asked about her retirement plans, Fraser said she is looking forward to babysitting for her three grandchildren and traveling to her timeshare in Aruba once it is safe to do so. She also is eager to return to Alumni Stadium to cheer on the Eagles, and her son-in-law, during football games.
Christine Balquist | University Communications | February 2021