Gasson Hall as seen from Linden Lane—one of thousands of images of the University's signature building captured by Gary Gilbert during his BC career.

Gary Wayne Gilbert, director of photography in the Office of University Communications, leaves Boston College this summer after more than three decades of capturing its people, places, and events through innumerable camera lenses.

His photographs appear across campus websites and walls, and in a host of publications including Boston College Magazine, for which he served as photo editor, as well as Boston College Chronicle, admission viewbooks, annual reports, and two books: one a study of the University's distinctive stained-glass windows, the other an illustrated history published in celebration of BC's sesquicentennial anniversary. He's earned Awards of Excellence from the Council for the Advancement and Support of Education and his work has been featured in Communication Arts magazine.
Gilbert recently reflected on a career spent putting the BC campus, and community, into focus. His final photograph as a Boston College employee is the self-portrait that accompanies this interview.
How did your interest in photography evolve?
When I was very young, I had a plastic Kodak Brownie camera, and a small set-up in the sink to develop film and make contact prints. There was something magical about the whole process of capturing a moment in time as a two-dimensional image. I was fortunate to attend Rhode Island School of Design at a time when the department chair was Harry Callahan—who would later win the National Medal of Arts—and one of the faculty members was Aaron Siskind. Both were very accomplished, and a long list of others with distinguished credentials would come to RISD and spend a week or so going to classes and critiquing student work—photographers like Garry Winogrand and Lee Friedlander, whose work you now see in museums.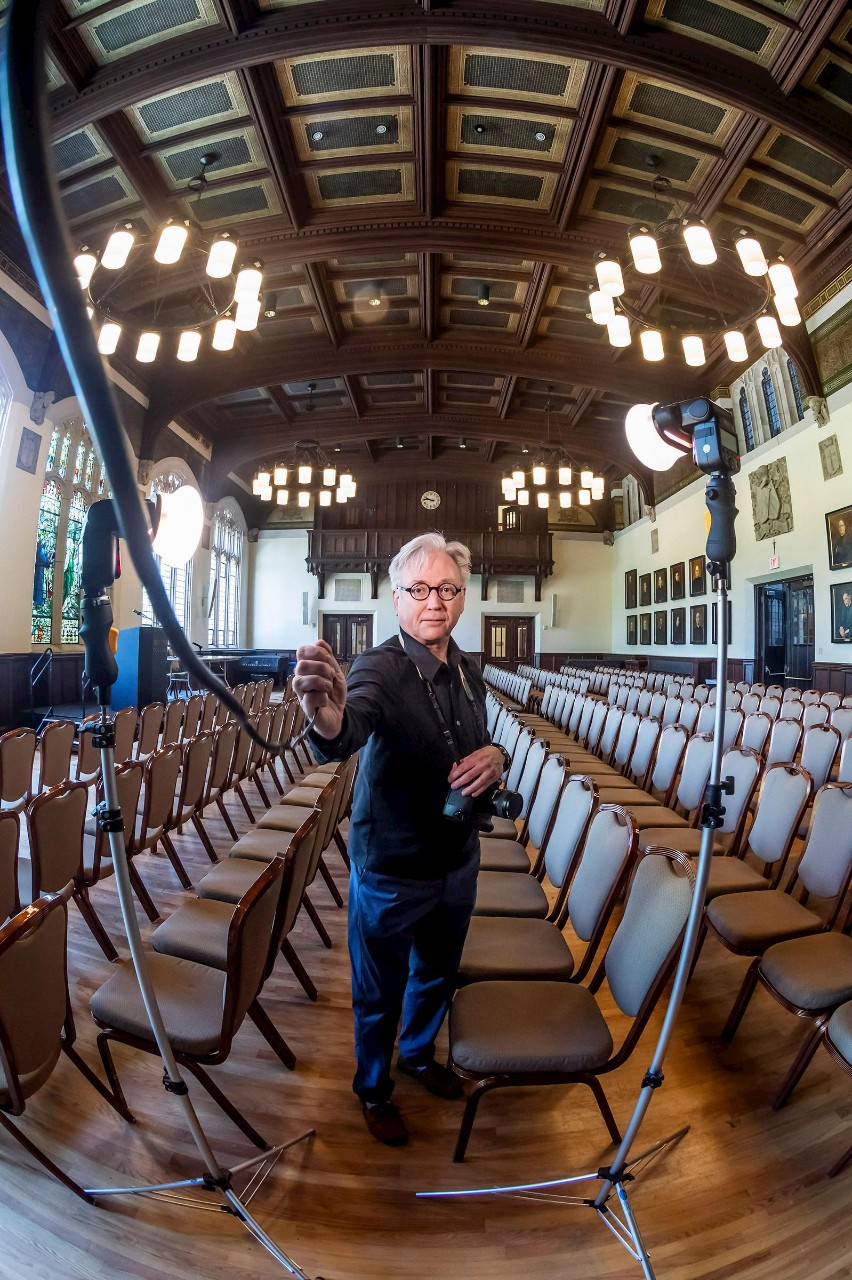 Gary Wayne Gilbert.
And after RISD? What led you to the Heights?
I graduated with a bachelor of fine arts degree; I was interested in pursuing photography as an art form. But I also had to make a living, so I did freelance work in the Providence area, while also working in art galleries and commercial studios. For a while I managed a frame shop; I still enjoy making my own frames. One day in 1985, I came across an ad for a photographer position at Boston College. To be honest, I hadn't heard of BC prior to that; but I was curious to see what working for a university would be like.
At BC, you've taken campus landscapes, architectural photos, portraits, candids—any preference?
I tend to favor portraiture and still lifes, where you can really craft the images. I prefer making, not taking, photos. It's challenging and exciting, especially when the photo is set in an interesting or unusual place—whether it's a beautiful Gothic building on campus, or Christie's auction house or Google headquarters in Manhattan, or a sound stage at Universal Studios in LA. BC offers such a broad range of subject matter. I love history and the arts, and photography related to the sciences is always intriguing. For the latest issue of Boston College Magazine, I worked with the art director to create a portrait backdrop related to forensic investigation, which was great fun.
What have been some of the more enjoyable aspects of the job?
The campus is so beautiful, and the Collegiate Gothic architecture is so impressive, it's hard to imagine a better environment in which to craft images. I've had access to some areas that many people don't get to see⁠—including the view from the very top of Gasson Tower during its renovation. Also, there are so many treasures in the University Archives, Burns Library, and the McMullen Museum. Photographers are lucky to have the opportunity to work with rare things—I've handled a first-edition printing, from 1613, of a book of scientific treatises by Galileo, a copy of Isaac Newton's Principia, and even a Mesopotamian tablet [dated from 2100–2000 B.C.].  I'm used to wearing white gloves a lot.
While most of the work was on campus, I was fortunate to be able to travel for some special assignments: to London, Rome and the Vatican, a Native American reservation in Arizona, the Florida Keys, the U.S. Supreme Court, and the Executive Office of the White House, among other places.
And, of course, there's been the opportunity to photograph such a variety of faculty, staff, and students, as well as alumni and visitors—from Tip O'Neill [Thomas P. O'Neill, Jr. '36], Barbara Bush, and Rep. John Lewis to David McCullough and Bruce Springsteen. It's always interesting. To better frame a photograph of [conservative commentator] Anne Coulter, I had to ask if she could move a little to the left. She didn't laugh.

Also, during the last two years, I've been happy to help showcase BC photography as artwork on campus⁠—for the Office of Undergraduate Admission, the Institute for Advanced Jesuit Studies, and Lyons Dining Hall.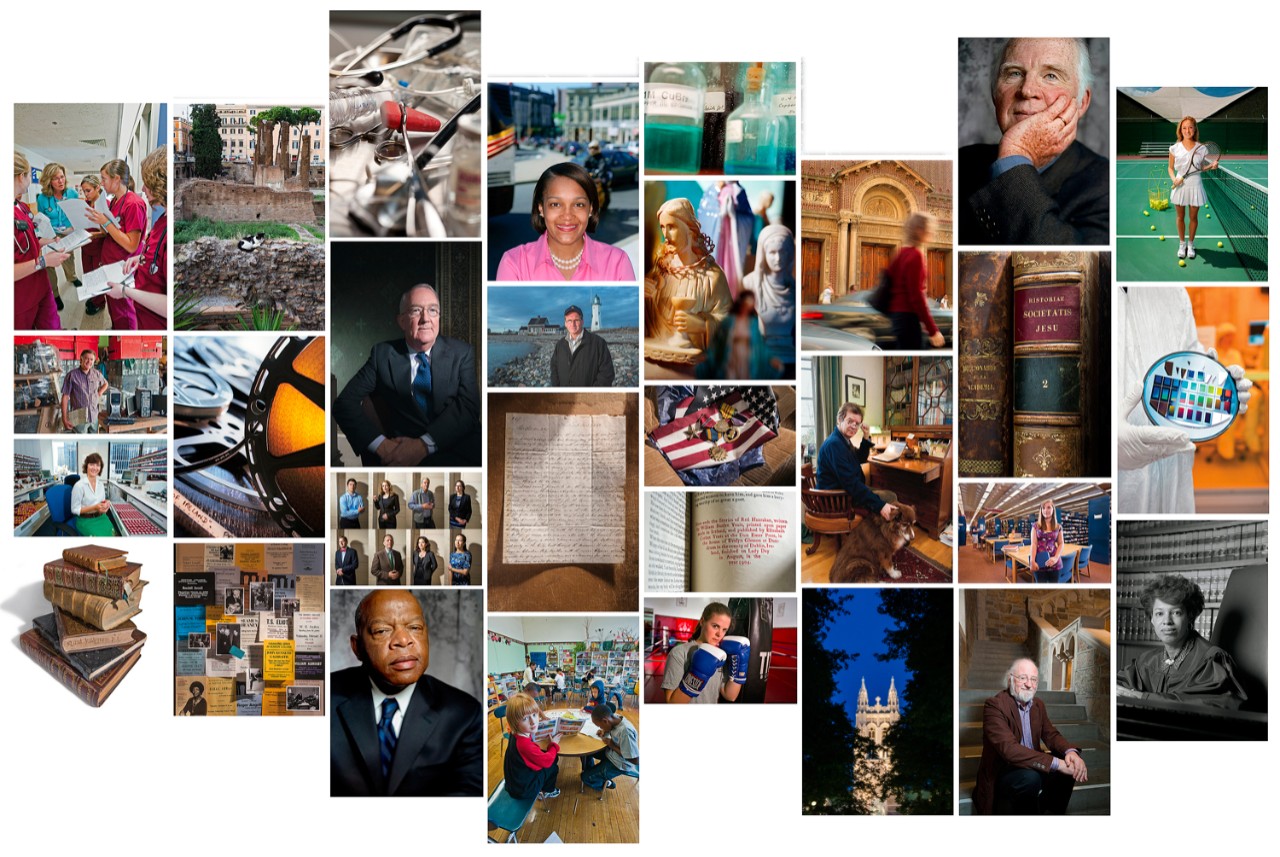 Transforming Light: The Stained Glass Windows of Boston College was one of your most important assignments. How did that come about?
I had used the windows in Bapst and Gasson and St. Mary's as backdrops for many portraits, and always tried to choose the one that best suited the subject, which required looking closely at them. Their artistry and detail is fascinating, as is their range: windows depicting religion, poetry, fine arts, political science, law, medicine, and more. I proposed that BC do a book about them, and was thrilled when it became an actual project. Executing it was challenging, however: the windows are very tall, some as high as 30 feet, which required using a rolling platform ladder to get close enough to shoot the individual panes. I arrived at BC with a fear of heights, but had to get over that. And the weather had to cooperate: cloudy days provided the best lighting; interior illumination wouldn't have the same effect. It was very important to me to get it right, to be true to the artists' work.
You also worked on The Heights: An Illustrated History of Boston College, published for the University's sesquicentennial.
Working with historic photographs and objects and collaborating with such a gifted team—editor, historian, and designer—was a great experience. For that project, I had the opportunity to serve as both photographer and art director, which is an unusual dual role. The biggest challenge was creating 25 one- or two-page still life illustrations. The subject matter for more than one of them was books, yet all the photographs had to look different.
What strikes you about the university you've spent nearly 35 years photographing?
It's changed tremendously, of course, and to document that has been not only fun, but a privilege. BC is a great university with a great mission; I truly believe that. I've appreciated being able to help advance, in some small way, an institution striving to do good in the world.
Most of all, though, it's the people who've made it such a pleasure. I've been lucky to work with so many talented and creative and genuinely nice people, especially the photography team and other colleagues in the former Office of Marketing Communications and now University Communications. And the Jesuits—Fr. Leahy [University President William P. Leahy, S.J.]; Fr. Monan,  [former BC president and chancellor J. Donald Monan, S.J.]; Fr. Neenan, [former academic vice president William B. Neenan, S.J.] who officiated at my wedding [to University Communications senior director Patricia Delaney]; Fr. Barth [former College of Arts and Sciences dean J. Robert Barth, S.J.,]; Frs. Donovan and Duffy [former University Historian Charles F. Donovan, S.J.; Joseph P. Duffy, S.J., former University Secretary]—and more recently, Fr. Beaumier [current vice president, University Secretary, and Institute for Advanced Jesuit Studies director Casey Beaumier, S.J.], among many others. I never had an understanding of the Jesuit tradition until I came to BC, and it was through these friends, to quote Fr. Neenan, that I came to appreciate what was at the core of the BC experience.
What's next for you?
I'm returning to my original interest in photography as an art form. I have a project I'm very excited about, and I'll freelance a bit as well. I'll always be a photographer.
University Communications | June 2019

May 16, 2013: Near the statue of St. Ignatius by Higgins Hall, a photo shoot of BC's sesquicentennial graduating class. (Video by Ravi Jain, Ryan Newton)