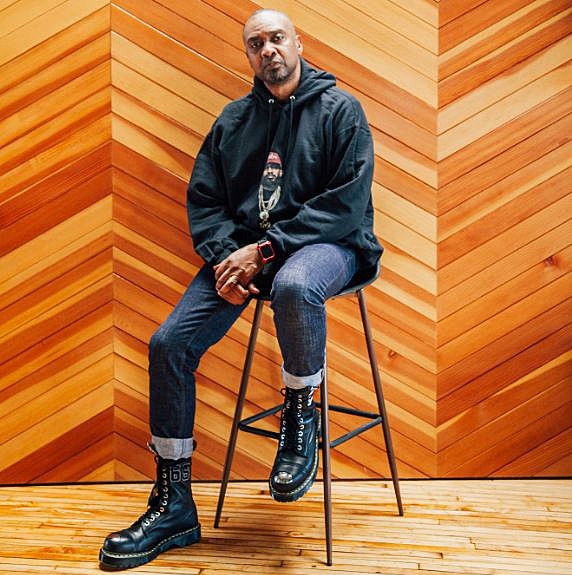 Resmaa Menakem, a social worker and leading voice on racial trauma, will speak to the Boston College community virtually on March 25 at 6 p.m. about his framework for understanding racial trauma and his vision for a pathway to healing and systemic change. Organized by the BC School of Social Work, the event is part of the Boston College Forum on Racial Justice in America, a University-wide initiative to address structural racism in the United States and explore how Boston College can build an anti-racist community.
Menakem is the New York Times bestselling author of My Grandmother's Hands: Racialized Trauma and the Pathway to Mending Our Hearts and Bodies, a self-help book that examines white supremacy in America from the perspective of trauma and body-centered psychology. He is the founder of Justice Leadership Solutions, a leadership consultancy firm through which he coaches leaders through civil unrest, organizational change, and community building and shares the impact of intergenerational and racial trauma.

This event is co-sponsored by the BC School of Social Work, Lynch School of Education and Human Development, Connell School of Nursing, Morrissey College of Arts and Science, School of Theology And Ministry, and BC Law School.

"We're thrilled to be welcoming someone of Resmaa's stature to Boston College virtually," said BCSSW Assistant Professor of Macro Practice Samuel L. Bradley Jr., a co-organizer of Menakem's talk. "His work on trauma and the human body is truly groundbreaking and we're hoping that our faculty, staff, and students will be inspired by his approach to mental health. Resmaa's work not only acts as a signal for how we might tackle the ever more complex problem of racism in society, but will help us to understand how we might, all of us, manage our mental health personally."
Launched last fall, the Forum on Racial Justice in America sponsors speakers, panels, and seminars to address key issues regarding race, and encourages scholarly exploration of conditions that result in racism and racist behavior, while suggesting appropriate responses and solutions. More information on the initiative is available at the Forum on Racial Justice in America website.

Register for the event here.


Christine Balquist | University Communications | March 2021