Boston Public School students listen to a keynote address by Monalisa Smith, the founder, president, and CEO of Mothers for Justice and Equity.
At the inaugural Boston College Conference for Young Women, leadership panelist Lina Cañon offered two pieces of advice to the teenagers in attendance. Number one: Don't be your own obstacle ("the world is already doing that for you"), and number two? Take a nap. 
"There's a lot of pressure on folks from our community to be productive, to get out there and work, but it's exhausting," she explained. "In your daily routine, log off of instagram for an hour and rest. It will open the door for you to think creatively and set what success looks like for you." 
Cañon, who is director of operations at Chica Project and co-founder and chief operating officer of The Nur Collective, was joined by nine other speakers and panelists, all women of color who are experts in their fields, at the one-day conference, hosted by BC's Lynch School of Education and Human Development. More than 80 Boston Public School students ranging in age from seventh to 12th grade spread throughout Gasson Hall on May 26 for sessions on leadership, mental health, and college prep, with a break to tour the Boston College campus.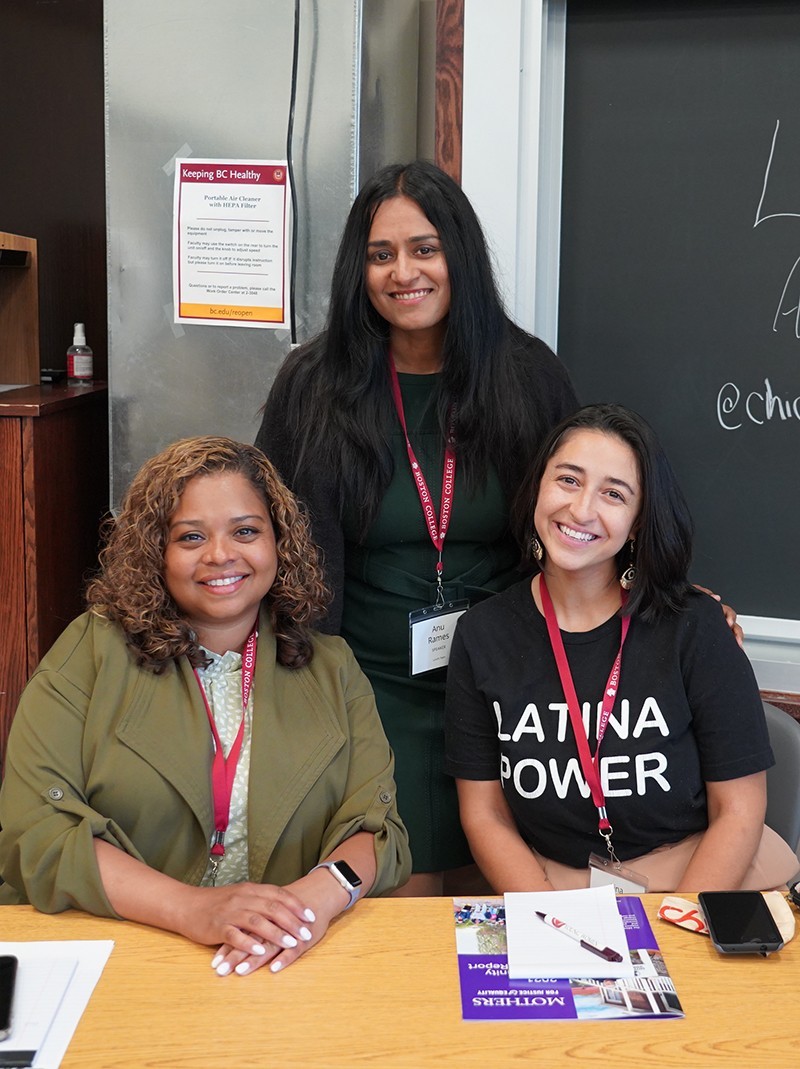 The day kicked off with a keynote address by Monalisa Smith, the founder, president, and CEO of the local non-profit Mothers for Justice and Equity, and included a packed schedule of activities and panel discussions covering topics like identity, building a network, finding a mentor, and curating a positive social media feed. In a session on mental health, students submitted questions like how to handle feeling judged by peers and where to access information on sexual health. They received candid answers from a panel of experts affiliated with Boston Children's Hospital, as well as links to trustworthy and free online resources.
"There's lots of lies but also lots of truths on the internet," said panelist Priscilla Portugal-Moreno, reminding students to look for websites ending in ".gov" as opposed to ".com."
The Conference for Young Women was organized by former Boston College employee Pauline Benninga, who wanted to create an event where teenage girls could learn relevant information from women leaders who had once been in their shoes. In 2019, she approached Associate Dean David Goodman with her idea, and received support from Lynch School administrators and faculty members. When COVID-19 hit in early 2020, Benninga put her plans on hold, but once restrictions were lifted, she sprang back into action with increased urgency.  
"After two years you're thinking, is this still relevant? And in a way it was more relevant than ever," she said. "After such a hard couple of years I think discussion around mental health is especially important."
Amber Kell '17, MEd'18, a science teacher at Jeremiah E. Burke High School, agreed, adding that in addition to the sessions, students benefited from the chance to experience the vibrancy of a college campus first-hand.
"Schools can try as hard as possible to prepare students for college, but it's an altogether different thing for students to be on a college campus and see a glimpse of what their future can be," she said. "Our girls need more opportunities like this conference to recenter their motivation and find mentors." 
The Lynch School is a longtime partner of Boston Public Schools, preparing educators to enter local schools through its Donovan Urban Teaching Scholars Program, but Goodman, who heads up the school's strategic initiatives and external relations, wants to see the relationship grow even stronger. His office is currently working on a memorandum of understanding with BPS to provide a robust pipeline for teachers of color as well as professional development opportunities for the district. Inviting BPS students to campus through the Conference for Young Women complemented those efforts perfectly, he said. 
"We want to maintain strong connections to the global community and the local community," he said. "Proximity to our city, to its needs, and to such a beautiful and important part of our population—these young women who will become significant leaders in the Boston community—that's at the heart and soul of what the Lynch School and Boston College are about."
Alix Hackett | University Communications | June 2022