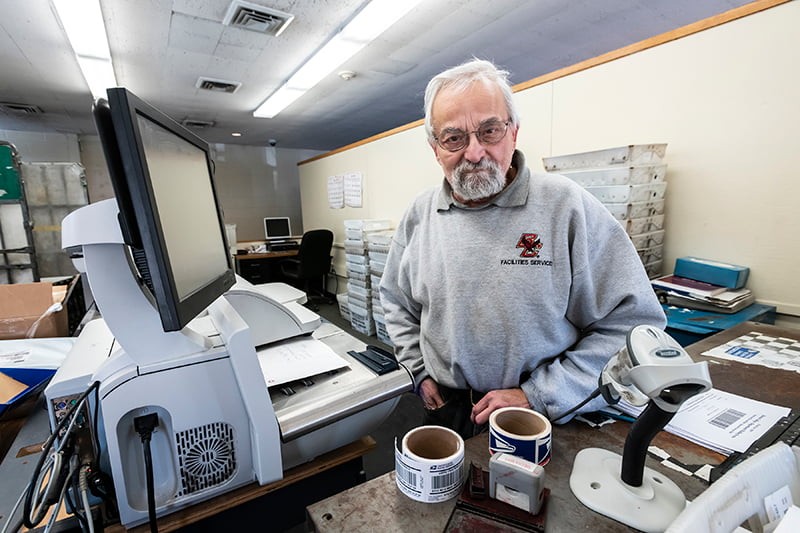 When 72-year-old mail clerk Bob Sforza started working at Boston College as a grounds keeper during the summer of 1968, Lyndon Johnson was president, the Beatles' "Hey Jude" was the hottest single on the Billboard "Top 40" chart, the Vietnam War was raging, and just over 7,000 BC undergraduates would soon head to campus for the start of the fall semester.
Unlike the students, Sforza never left.    
Today, 51 years later, Sforza mans the University's central mailroom operation in the basement of Stuart Hall on Newton Campus, processing an estimated 2,000-3,000 pieces per day.  
"It's always been fun working here," said the Somerville resident, whose grandparents emigrated from northern Italy and share the surname with the ruling family of Renaissance Italy. "I still enjoy it. It's because of the people."  
His late mother was a BC housekeeper who "hinted" to her son that there might be a campus grounds crew job available for the unemployed 21-year-old Boston native. He got the job but stayed just eight months; he found the long hours, particularly during the frigid winter months, grueling. He swapped his shovel and rake for the mailroom's warmth and regular hours, and began an unanticipated half-century on the job.
"Fifty-one years! You just don't see that anymore," said Thomas Clarke, manager of Mail Services, and Sforza's supervisor. "People usually stay five or six years at a company, and then they leave to climb the ladder, but that's not always the case at BC. We have many employees who have worked here 20, 30, and 40 years, just like Bobby. At BC, there's loyalty to the worker which doesn't exist anymore, which I think is based in Jesuit principles."
"I get four weeks of vacation, but I never use all of it," reported Sforza, who never married and drives himself to and from Somerville every day, typically a 45-minute commute. "I usually take two weeks off in the summer to spend time at the Cape with my younger brother, who's a retired special education teacher, and his wife." 
When he's not working, he enjoys watching sports on TV and exercising at his gym. He regularly gets together with friends he's known since childhood on weekends. Although his co-workers recently staged a party in his honor, it wasn't a retirement celebration.
"Maybe I'll retire in one to two years, but when I do, I'll still work part-time somewhere."
—Phil Gloudemans | University Communications | April 2019