On June 23-25, Boston College will host a meeting of the ACC Academic Leaders Network, a program designed to facilitate cross-institutional communication and collaboration among the 15 universities that comprise the collegiate athletic Division 1 Atlantic Coast Conference.

"The ALN utilizes the network of the ACC to create distinctive leadership programs and collaborative opportunities that no single university can provide on its own. We are fortunate to be part of such a great athletic and academic community," said Vice Provost for Faculties Billy Soo, BC liaison for the ACC-ALN. "These sessions are designed to build management awareness and effectiveness in the higher education context, and to facilitate conversations over a range of topics that support personal growth."  

In addition to BC, which joined in 2005, current ACC members are Clemson, Florida State, Louisville, North Carolina State, Notre Dame, Syracuse, Wake Forest, Duke, Georgia Tech, Miami, North Carolina at Chapel Hill, Pittsburgh, Virginia, and Virginia Tech.

The annual program consists of three on-site sessions hosted by a different ACC member over the course of a calendar year. It began in 2018, but was suspended in 2020 and 2021 due to the pandemic, then resumed in March when Virginia Tech staged the first session of 2022.  The University of Virginia will host the third convening in October.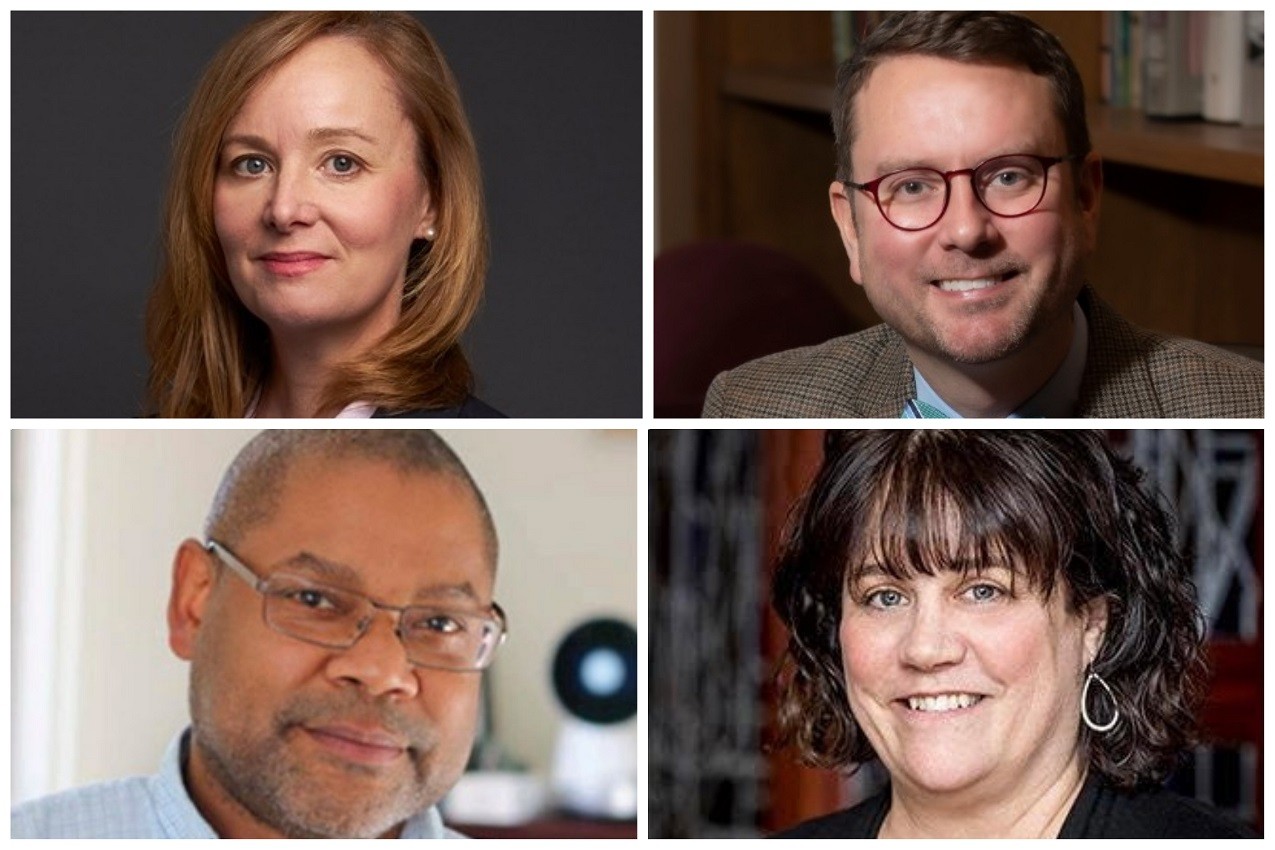 Boston College will be represented by (clockwise from top left): Treseanne K. Ainsworth; Joseph B. Desciak; Jane M. Flanagan; and Brian K. Smith.
Representing the University at the meeting on campus, titled "Leading Others," will be Morrissey College of Arts and Sciences Associate Deans Treseanne K. Ainsworth and Joseph B. Desciak; Connell School of Nursing Associate Professor and Department Chair Jane M. Flanagan; and Brian K. Smith, the Honorable David S. Nelson Chair and associate dean for research at the Lynch School of Education and Human Development.

"The ALN offers a wealth of knowledge and provides a fantastic opportunity to connect and learn with colleagues at other institutions," said Smith. "I'm working with a group examining opportunities and challenges for transdisciplinary research and teaching, and these collaborations give me new insights that I hope will be helpful as BC moves forward with the Schiller Institute and similar initiatives."

Ainsworth characterized the March ALN conference at Virginia Tech as "a great experience," adding, "We connected with our ACC colleagues on a wide range of topics that are important to our work with students, and we are currently working on follow-up to 'Communities of Practice,' which will be continued at our meeting here in June."

The target audience is faculty who have received foundational leadership training, and who have had at least one or two years of experience in their current administrative role, explained Soo. Faculty who are interested in program participation should contact their academic deans to be nominated.

The first BC cohort was Lynch School Professor and Associate Dean of Faculty and Academic Affairs Ana M. Martinez-Aleman; Sociology Professor and Associate Dean for the Core Brian Gareau; and Ethan Sullivan, senior associate dean for undergraduate programs at the Carroll School of Management.  In 2019, participants included Julia DeVoy, associate dean of undergraduate students and programs at the Lynch School; Sociology Professor and Chair Andrew Jorgensen; Professor of Art History Stephanie Leone, chair of the Art, Art History, and Film Studies Department; Morrissey College of Arts and Sciences Associate Dean Rafael Luna; and Connell School of Nursing Clinical Professor M. Colleen Simonelli, associate dean for undergraduate programs.

"The ACC-ALN experiences have played a momentous role in [becoming] the associate dean and faculty instructor I am today," said DeVoy.  "I was involved in three different programs during 2019-2020, and it's been transformative for students and for me."
Phil Gloudemans | University Communications | June 2022