One of Boston College's senior administrators, Vice President for Student Affairs Shawna Cooper-Gibson, is among members of the Boston College community preparing for this year's Boston Marathon.
For Cooper-Gibson, who joined BC last year, competing in the 26.2-mile trek—the world's oldest annual marathon and among its most prestigious races—has long been a goal. She has already run the New York, Chicago, Berlin, Tokyo, and London marathons, so adding Boston will enable her to complete the "World Marathon Majors," a championship-style competition for marathon runners founded on six major races recognized as the most high-profile on the calendar.
The fact that the Boston race runs through what is now her workplace only adds to her anticipation.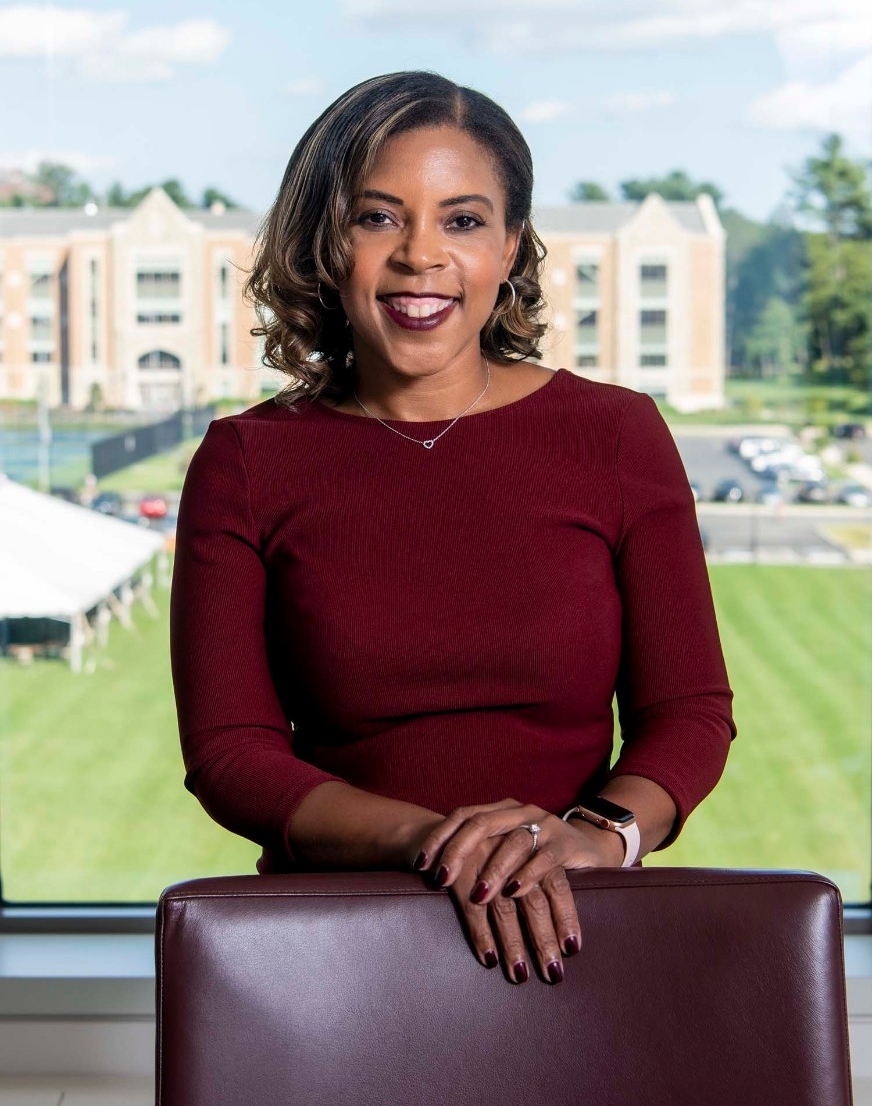 "I am most excited to get to Mile 21 where I will be at home at BC," she said. "Part of my challenge will be about the timing: I am generally an early morning runner—5-6 a.m. starts—so an 11:15 a.m. 'wave time' is a different vibe for me, but I am looking forward to it."
More importantly, Marathon Monday is "a celebratory time for our community. We have the Undergraduate Government of Boston College leading a cheer section on Commonwealth Avenue and the Christian Life Community hosting a prayer service and blessing over all Boston College marathon runners," said Cooper-Gibson, noting that Student Affairs is partnering with Athletics and University Mission and Ministry to enhance the Marathon Monday experience on campus.
Cooper-Gibson's interest in marathoning was relatively late blooming, she explained. "I always like to work toward a goal. When I finished my dissertation, I wanted to focus on my physical health. Having been a runner in my younger days, I thought it was an easily accessible sport for me to pick up again. As a former sprinter, the idea of running a 5K seemed like a good start. After completing races over the course of a year from the initial 5K to a half-marathon, I wanted to try something even more challenging and a marathon was the natural next step."
The physicality involved in running marathons is best complemented by adopting a philosophical view, she said. "Do not let the distance overwhelm you. Like life, the marathon is one step at a time. It is important to note that not every training run or race will go smoothly. It is a journey and the challenges you experience during this time will help you meet the end goal."
Lest there be any doubt, Cooper-Gibson avers that she will "absolutely be decked out in BC gear" if anyone is looking for her at Mile 21.
"Is there any other way for me to run the marathon?"
 
Sean Smith | University Communications | April 2022