The socially distanced classroom of Associate Professor of Communication Michael Serazio. (Lee Pellegrini)

Boston College resumed classes on Monday, August 31, more than five months after the COVID-19 pandemic forced the University to shut down on-campus classes, sending most students back home for the remainder of the spring semester.

Just as the end of the last academic year had been out of the ordinary, the start of the new semester witnessed significant changes, with classes being taught by faculty in a mix of in-person, online, and hybrid modes, using Zoom or other technologies. Classrooms have been reorganized to ensure social distancing, and are limited to 50 percent capacity. Face masks are required in classrooms and common areas throughout campus. A number of University offices and departments are operating on alternate-day or staggered schedules. Dining halls are providing meals on a grab-and-go basis.
The past three weeks have seen the start of the University's COVID-19 testing program, with tests administered at Conte Forum to faculty, staff, undergraduates, and graduate and professional students. As of Tuesday morning, the University had conducted 18,700 tests of BC community members—including nearly all of BC's approximately 9,000 undergraduates—with a total of 12 positives recorded, including 10 undergraduates. All individuals went into isolation, and contact tracing was conducted through University Health Services and state and local departments of public health.

BC has contracted with the Broad Institute to analyze the tests, which are shipped to the institute three times a day; the tests are processed within six to 26 hours of being received by the Broad laboratory. Faculty, staff, and students all received wristbands at the completion of their test, which they are asked to wear until Sept. 12.

Last week, the University began to roll out the BC Community Daily Self-Health Check Tool, created by BC Information Technology Services, to enable community members who are on campus this fall to conduct daily symptoms monitoring to prevent the spread of the virus. The tool, available at bc.edu/check, directs users—who must log in through the Agora portal—to answer six health-related questions; the app will give a "Cleared" or "Not Cleared" response with related instructions on how to proceed. Students, staff, and faculty may be asked to show the "Cleared" screen on their mobile device to enter a range of sites on campus, including dining halls, the Margot Connell Recreation Center, and O'Neill Library.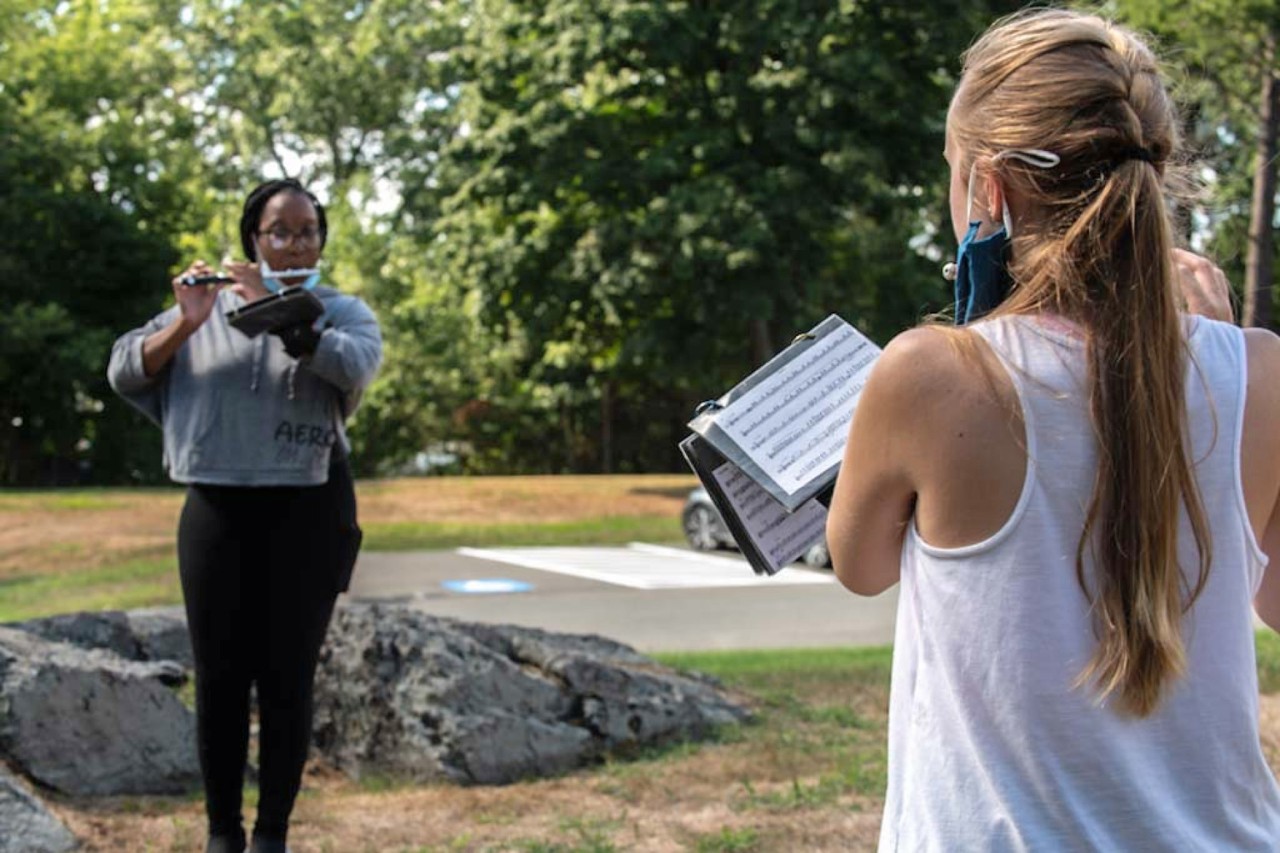 The University began asymptomatic surveillance testing on September 2, which University Health Services and Primary Care Sports Medicine Director Dr. Douglas Comeau said "is critical in enabling the continued health and well-being of our community." This testing will take place in the Margot Connell Recreation Center on Mondays, Wednesdays, and Fridays throughout the fall semester from 8 a.m. to 3:30 p.m. Individuals selected will be notified of their required asymptomatic test via an email from University Health Services.

 "We will be doing a mix of robust symptomatic and asymptomatic testing on a weekly basis, supported by the Broad Institute and our on-campus lab," said Comeau. "As with any large-scale testing effort, there will be positive cases, but early identification, and the ability of the University to isolate individuals who test positive, will help us keep the community safe."

"

When I see masked students happily reunite on campus, I'm reminded of BC's strong community and the joy we feel when we're together.

"
For all the coronavirus-related changes, on Monday BC faculty and students expressed delight and relief in a return to some degree of normalcy.

Abigail South, a Lynch School of Education and Human Development senior from Montclair, N.J., looked forward to her first Microeconomic Theory class—a hybrid of in-person and remote instruction—taking place later that day.

"Considering my only class today is online, there's no doubt that waking up on the first day of my senior year was different than I pictured," said South, who is majoring in applied psychology/human development and communication. "But different doesn't necessarily mean bad or disappointing. My roommates and I have been able to spend more time together as a 'family unit' and decorate our apartment to feel even more like home. When I see masked students happily reunite on campus, I'm reminded of BC's strong community and the joy we feel when we're together.

"My time away from campus has given me a greater appreciation for the time I do get to spend with my classmates."

By mid-day on Monday, Carroll School of Management Associate Dean for Undergraduate Curriculum Amy LaCombe had finished teaching two of three in-person sections of the Portico course for Carroll School first-year students. LaCombe said she and her students—including one participating remotely because she was unable to travel to campus—were excited to be working together.

"It was great," said LaCombe. "These freshmen lost a lot in the last six months—spring sports, their theater and music performances, graduation ceremonies, and proms. They were just so happy to be here. The mask thing is awkward and you can't move around. But they are excited. They are glad we are in-person. It's just nice to see other people."

LaCombe said she had been concerned about how to manage the discussion groups that are central to the course, which examines the ethical dynamics behind critical issues across the management fields. But based on her observations Monday, she was confident that the students would be able to hold substantive exchanges. She credited Facilities and Space Management planning efforts over the summer for providing her with rooms she could teach in safely and confidently: "The University did a really, really good job of upgrading the in-person rooms."

"

We're here with friends who have become like family, we're soaking in the treasures of a New England fall, and we're finishing up degrees in close proximity to the professors, mentors, and classmates that have shaped so many parts of our lives in these past three years.

"
Monday was the "weirdest 'last' first day of school" for Patrick Halm, a senior political science and history major from Great Falls, Va.  "I woke up to familiar texts from friends at BC wishing everyone good luck with their first day of classes, but they landed differently this time. Tinged with irony and a little bit of sadness, these messages communicate how we're all feeling about starting our last year of college during a pandemic. While we're happy to be here, it's hard to ignore the many big and small things we're missing out on: tailgating, catching up over coffee with friends, early morning commutes to class.

"Although these absences are hard to miss, they also inspire gratitude and attention to the things we have," Halm added. "We're here with friends who have become like family, we're soaking in the treasures of a New England fall, and we're finishing up degrees in close proximity to the professors, mentors, and classmates that have shaped so many parts of our lives in these past three years."
"I loved being back," said J.D. Biagioni '21, a math and economics major from Arlington, Mass. His first class was Differential Equations with Xin Jin held in Gasson Hall. "Half the class was in attendance Monday. Wednesday the other half goes in. There were sanitation stations, and every other desk was flipped backwards to indicate desks we could sit in and maintain proper social distance.  It was definitely different, as the teacher had to deal with both Zoom and in-person students. As much as I didn't mind being on Zoom, you can't replace the in-class experience. This is especially true in a math class. It's not like a writing class where you just hand in papers. Solving equations and doing proofs has a whole different feel on the blackboard." 
Associate Professor of Communication Michael Serazio, who had three in-person classes on Monday, said, "I always feel a little nervously excited before teaching a class and a little exhausted after. This semester being the strange, daunting undertaking that it is, all those sensations were heightened. The rush of energy back on campus traditionally invigorates the first day of fall, but felt subdued this year—as it had to be, for safety's sake. So delighted, though, to see students' faces (the uncovered half, at least) and to hear their voices (garbled as that seems to be through shroud). Nevertheless, we persisted!"

Associate Professor of Romance Languages and Literatures Regine Jean-Charles, who teaches in the African and African Diaspora Studies (AADS) Program, had experienced strong emotions leading up to Monday, some having to do with the pandemic, others with the turmoil over racial issues in the U.S., including the shooting of Jacob Blake.

As she and AADS Director Shawn McGuffey prepared to start their class, she reflected on her attempts to imagine how different things would be when BC reopened—not only teaching with a mask or listening to others speak through their masks, but not being able to hug her returning students, or even to shake the hand of an undergraduate introducing herself. But the unsettled feelings began to dissipate when Jean-Charles read aloud a selection from Toni Morrison's Beloved about the necessity for self-love in the face of violent anti-Blackness: "They do not love your flesh. You got to love it. Hear me now, love your heart. For this is the prize."

"I hadn't anticipated how much that reading would offer us something to hold on to in the face of all of that difference," said Jean-Charles. "We wanted our students to know that despite physical distancing, despite masks, despite fewer in-person gatherings, we plan to bring our hearts to the classroom and invite them to do so also. Because though many things will inevitably different this semester, why we teach and why we teach this class in particular, remains the same."

For updates on the University's reopening, see bc.edu/reopen.


University Communications | September 3, 2020