File photo of First Flight Procession. (Peter Julian)

Elizabeth (Liz) Hauck '00, M.Ed. '09, whose memoir Home Made: A Story of Grief, Groceries, Showing Up—and What We Make When We Make Dinner, was given to all incoming first-year Boston College students this summer, will be the featured speaker at First Year Academic Convocation on Thursday, September 8, at 7 p.m. in Conte Forum.

Home Made recounts Hauck's experience leading a cooking program at a residential home for adolescent boys who were living in state care. The residence, dubbed "The House," was part of a Boston nonprofit agency where Hauck's father, Charlie Hauck '69, had devoted more than 30 years of his professional life.

Hauck and her father originally talked about doing the project together, but then Charlie Hauck died. Liz Hauck decided to proceed with the cooking program as "an offering" to her late father.

Home Made touches upon topics such as grief, community, service, and accompaniment.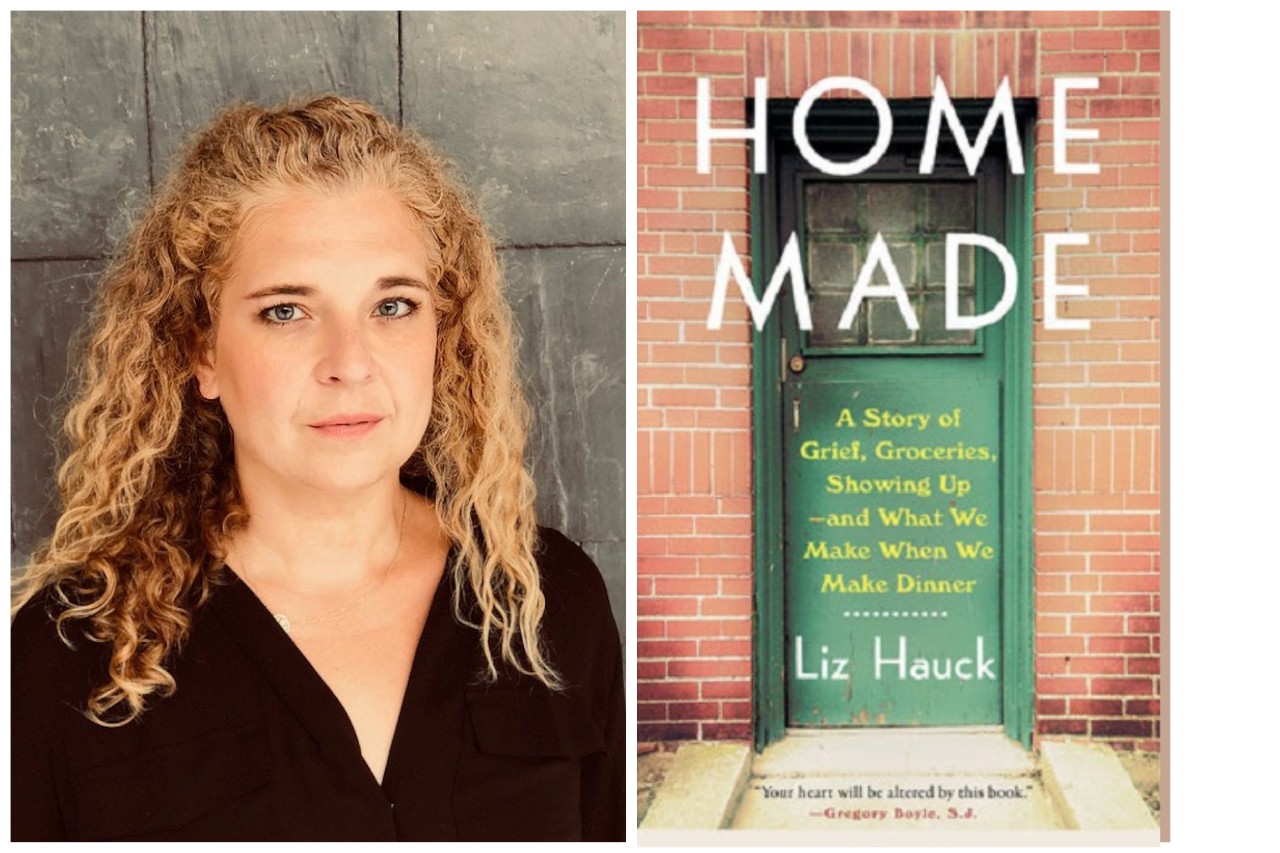 Liz Hauck (Photo by Carrie Lloyd)
"Her focus throughout the book stays on the boys themselves, and her gratitude toward them for welcoming her into their house. It turns out that showing up to cook and eat with people once a week allows for startlingly deep moments of connection and community. That's all that happens. And it's extraordinary," a New York Times review of Home Made noted.

Gregory Boyle, S.J., M.Div. '84, founder of Homeboy Industries—an intervention and rehabilitation program for gang members—also praised Hauck's book: "With grace and tenderness, this memoir utterly affirms that it is the relationship that heals. Food brings us to the table, but cherishing leads us to joy and bravery. This is an important book because it reminds us not to venture to the margins to make a difference, but to allow the folks there to make us different."

"My hope for students is that they meet the kids I cooked with at the House within the pages of my book," said Hauck via email, "and feel compelled to venture beyond their own comfort zones to show up for their neighbors—for an hour, or a few hours a week, or a week over spring break, or every spring break, or even more regularly in a care profession. I hope students take away from Home Made that community service is community care and every little thing makes a difference; the little things are also the big things that matter."
Hauck, who earned a bachelor's degree from the Morrissey College of Arts and Sciences and an M.Ed. from the Lynch School of Education and Human Development, is the third BC graduate to address First Year Academic Convocation since the program began in 2004.
"It's so exciting to think that the Class of 2026 has read Home Made," said Hauck, who praised the Office of First Year Experience with creating a thoughtful reading guide for students that helps situate her story in the context of larger Jesuit traditions. "I vividly remember moving into a triple in Kostka Hall on Upper Campus in September of 1996; it doesn't feel like a lifetime ago, even though it is. We didn't have a common read book or Convocation in those days—but what a great addition to the Boston College experience for more recent classes. I'm so honored to be part of the tradition this year."
Hauck offered a preview of some of the touchpoints from her address, such as what it means to show up (and how faith and love are inherent in that showing up), how listening and conversation are the best part of any story, and grief is the hardest part of any life.
"I will also tell [the Class of 2026] the thing they've heard before but might not yet understand how true it is: every one of them has the power to write—and edit—their own story, and this is only the beginning."

Immediately prior to Hauck's address, the Class of 2026 will take a torch-lit walk from Linden Lane to Conte Forum in the First Flight Procession, mirroring the same walk they will make on their graduation day. The first-year students will be sent off on First Flight with a blessing and a call to take up the words of Jesuit founder Saint Ignatius of Loyola to "go set the world aflame."

First Year Academic Convocation is organized by the Office of First Year Experience, part of the Division of University Mission and Ministry.

Read more about Hauck's book.

Kathleen Sullivan | University Communications | September 2022