There is no conventional campus memorial at Boston College to Robert Parsons, S.J., who taught chemistry and oversaw several musical activities at the Heights during the late 1910s/early 1920s—no statue, no plaque, no historical marker.

But Fr. Parsons' memory lives on every time the BC Screaming Eagles Marching Band struts across the Alumni Stadium field, the Pep Band strikes up a tune from the stands, the BC bOp! jazz ensemble performs at Robsham Theater, or the University Wind Ensemble or Symphonic Band plays in Gasson 100.

Fr. Parsons essentially laid the groundwork for what is now the Boston College Bands program, working with student conductor J. Carey Martin of the Class of 1921 to convert what had been a military band—which Fr. Parsons had founded in 1918—into the contemporary concert and athletic-event ensemble model. The Boston College Band made its official debut on Oct. 20, 1919 for the BC-Yale football game, leading a snake dance prior to the kick-off on the BC football field and down Commonwealth Avenue to Lake Street.
This semester, the BC Bands program is marking its centennial, a formal celebration having taken place in October with a weekend of events including an concert by the University Wind Ensemble and BC Symphonic Band, a "field rehearsal" for marching band alumni and their children the morning of the BC-NC State football game at Alumni Stadium, and a dinner and dance with BC bOp! and bOp! alumni.

As a complement to the centennial, BC Bands—with assistance from graduate student and office assistant Nicholas Arata '19—established a website that includes a section devoted to the program's history, with a timeline; an archive of bands-related memorabilia, such as publicity posters, playlists, commemorative patches, tickets and passes to bowl games and other events; photos from 1919 to the present; biographies of band directors; and band alumni memories.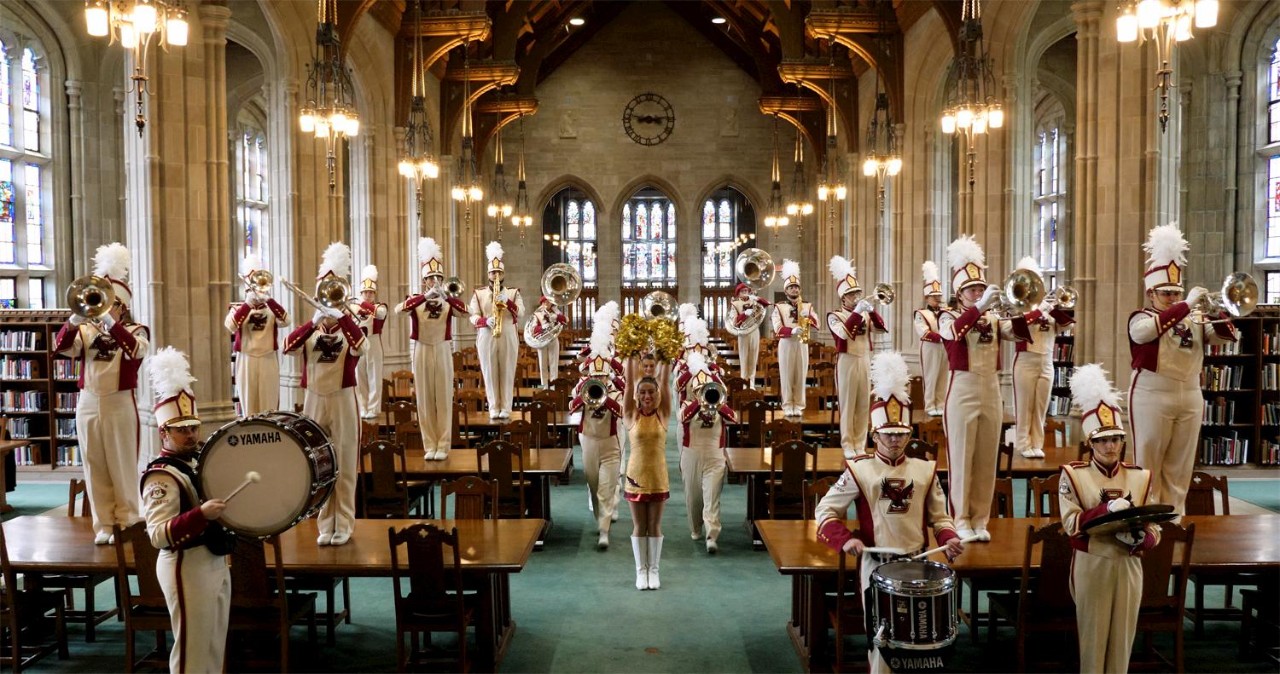 The 100-year milestone has prompted reflection from one of Fr. Parsons' successors, current BC Bands Director Sebastian Bonaiuto, on the band program's place in the University. Far from simply providing entertainment, he said, BC Bands are in harmony with BC's educational and formative mission.

"One of the foundations of a liberal arts education has long been that experience in and knowledge of the arts is integral to being an educated person," he said. "BC has many excellent students from all over the world who come here with considerable musical experience and skills, and want to be able to use them. Making these opportunities available makes these students' college lives more meaningful, and helps them fulfill their passions."

The BC Bands program also contributes to the University's sense of community, noted Screaming Eagles Marching Band director David Healey '90, since its various ensembles appear at major campus gatherings, including Commencement Exercises, Pops on the Heights, the Christmas tree-lighting, and sporting events. Another signature highlight was the University's 2013 Sesquicentennial Concert in Symphony Hall, which included performances from BC bOp! and the Wind Ensemble.  

"The bands are an embodiment of student spirit—it's difficult to capture that in other settings," he explained. "There's also a connection for alumni: They tap into the undergraduate experience just by hearing the Marching Band or Pep Band, because it brings back memories of their student days."

Like many student organizations, BC Bands fosters fellowship through shared experiences, traditions, and rituals. Before each home football game, the Marching Band recites Psalm 150 and sings "Amazing Grace" (in four-part harmony) in the Band Room. Prior to its Robsham concerts, BC bOp! members form concentric circles, extend their arms to the center and then raise them with a shout of "Ehhhh, bOp!" Bonaiuto offers Wind Ensemble musicians a simple affirmation before their performances: "My wish for you is that you play with joy, give voice to your hearts, and nourishment to your souls."


BC Bands' fanfare extends well beyond the Heights. The Marching Band has performed for the Red Sox, the Celtics, ESPN College "Game Day," and the Heisman Trophy Dinner, marched in the Macy's Thanksgiving Day Parade and the 2013 inaugural parade for President Obama, and appeared at the College Football Classic in Ireland. The Pep Band has traveled to basketball and hockey (men's and women's) games, including regular, post-season, and tournaments, across the country. The résumé for BC bOp! includes New York City's Carnegie Hall, Downbeat magazine's Jazzfest in Florida, and the Reno Jazz Festival in Nevada.

Throughout the band program's history, various ensembles have been created due to necessity, student demand, or other factors, though not all have survived. Under Bonaiuto—who became the first full-time BC Bands director in 1989, and is the longest-tenured head next to the late Peter Siragusa, who served from 1955-87—and Healey, whom he appointed Marching Band director in 1999, BC Bands added the University Wind Ensemble and the Symphonic Band, popularly known as "SymBa."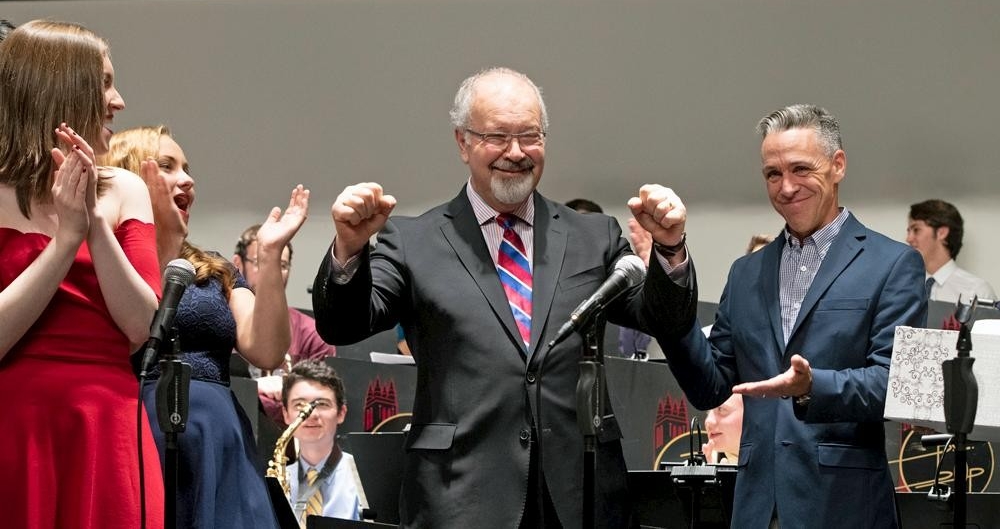 The two also were responsible for BC bOp!, although its history dates back before Bonaiuto's administration: In 1987, Healey—then an undergrad—and other student musicians had organized a jazz band, and asked Bonaiuto, then an MBA student at BC, to be its director. Despite no University funding, rehearsal space, or instruments (students had to use their own), BC bOp! attracted a large campus following, and Bonaiuto made it an official part of the program when he assumed the BC Bands directorship.  

"The convention among college jazz bands is separate jazz and vocal bands, even though history is full of such ensembles, like Glenn Miller or Count Basie," said Bonaiuto. "I wanted to include that tradition in BC Bands, and it's proven to be a wonderful combination."

Another aspect of BC Bands underscores its identity as a college bands program: Besides playing standards and crowd favorites, the ensembles frequently champion new, less familiar music.

"One of the hallmarks of a research university is that it's where ideas grow," explained Bonaiuto, noting that the Wind Ensemble is inaugurating a new series focused on under-represented communities of composers. "There are composers out there creating new works, but few symphonies are likely to perform them. College band directors, however, see this music as something fresh and challenging for students. In that sense, the BC Bands are like laboratories, helping to generate and exhibit new music."

With the official centennial observance over, BC Bands are back in the flow of an always busy schedule. "These are talented, committed students who bring a lot to the University community, both academically and artistically," said Bonaiuto.
Learn more at the BC Bands Centennial website.

Sean Smith | University Communications | November 2019