Provost and Dean of Faculties David Quigley has named Adam Poluzzi, the associate dean of enrollment management in the School of Theology and Ministry, as assistant vice provost for graduate enrollment management, effective June 1.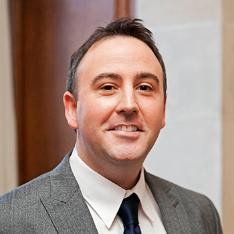 In his new role, Poluzzi will provide leadership and expertise across all of the University's graduate and professional schools in the areas of enrollment planning, admissions, recruitment, financial aid, and innovation.
Specifically, Poluzzi will engage BC's graduate programs and key partners to attract and enroll a talented and diverse graduate student population. He is charged with developing data-driven strategies related to recruitment and financial aid, while building a strategic enrollment plan to assist the schools in achieving their enrollment goals.     
"Adam brings more than a decade of experience in graduate admissions in the Morrissey College, Lynch School, and School of Theology and Ministry, and he has excelled in every step along the way," said Quigley. "The University will benefit from his creative approach to designing and implementing enrollment strategies for our graduate and professional schools."
Poluzzi began his professional career at Boston College in 2003, working in the Morrissey College of Arts and Sciences as admissions systems administrator for the online application system, before serving the Lynch School as director of admissions and financial aid, and the School of Theology and Ministry as associate dean. He also received three degrees from Boston College, including a bachelor's in English in 2003, a master's in history in 2009, and a Ph.D. in higher education in 2015.
Among his responsibilities as assistant vice provost, Poluzzi will work with Student Services and Information Technology Services to effectively utilize Slate, the University's CRM System for enrollment, and with the Provost's Office, external vendors, and individual graduate schools in their digital advertising campaigns on behalf of key graduate programs.  He will also monitor peer and competitor schools to evaluate BC's programmatic offerings and identify new opportunities through online, hybrid, or on-campus programs, while working with the Office of University Communications to effectively market BC's existing graduate and professional programs.   
"This is an exciting opportunity to share my approach to graduate enrollment management, which has already been successful at a number of schools at BC, across the entire University," said Poluzzi.  "My work takes a personalized approach to the graduate admissions process, which I think is an important reflection of the Jesuit value of care for the whole person. Thinking about how we best communicate with applicants every step of the way, addressing concerns and supporting good decision making—that's what I do, and I'm excited to collaborate with the schools on this important effort."

Graduate programs at Boston College and peer institutions nationwide have faced increased challenges in recent years as demographic shifts and competition from online programs have reduced applications.  The changing landscape has forced colleges and universities to embrace new technologies and strategies to achieve their enrollment and revenue goals.  

Poluzzi said he is looking forward to meeting regularly with graduate school enrollment officers to share best practices and provide training, coaching, and mentoring to new graduate admission employees, while collaborating with the Office of Financial Strategies and individual schools to develop effective financial aid policies to meet budget and enrollment expectations.

"I'm looking forward to spending the summer meeting with each school to learn more about their specific cultures and admissions processes—especially where there have been recent successes or challenges," said Poluzzi. "I also want to make sure we are utilizing Slate—with all its potential for marketing, communication, data collection, and workflow management—to its fullest capacity.

"I am eager to serve as a connector between the schools, which share many of the same admissions needs and processes. As we think ahead to adding more cross-disciplinary programming, new degrees and certificates, and hybrid or online options, these connections will help make launching new programs and initiatives much easier."


University Communications | June 2019