Charles I. Clough Millennium Professor of History Emeritus James O'Toole, a scholar of Boston history and an expert on American religion and American Catholicism, has been appointed University Historian of Boston College.

Only the third person to hold the position, and first since 2012, O'Toole joins a distinguished legacy of University Historians: Thomas H. O'Connor '49, MA '50, H '93, a professor of history considered the "dean of Boston historians," and Charles F. Donovan, S.J. '33, who was founding dean of BC's School of Education and served in other key administrative positions in the University, including as academic vice president.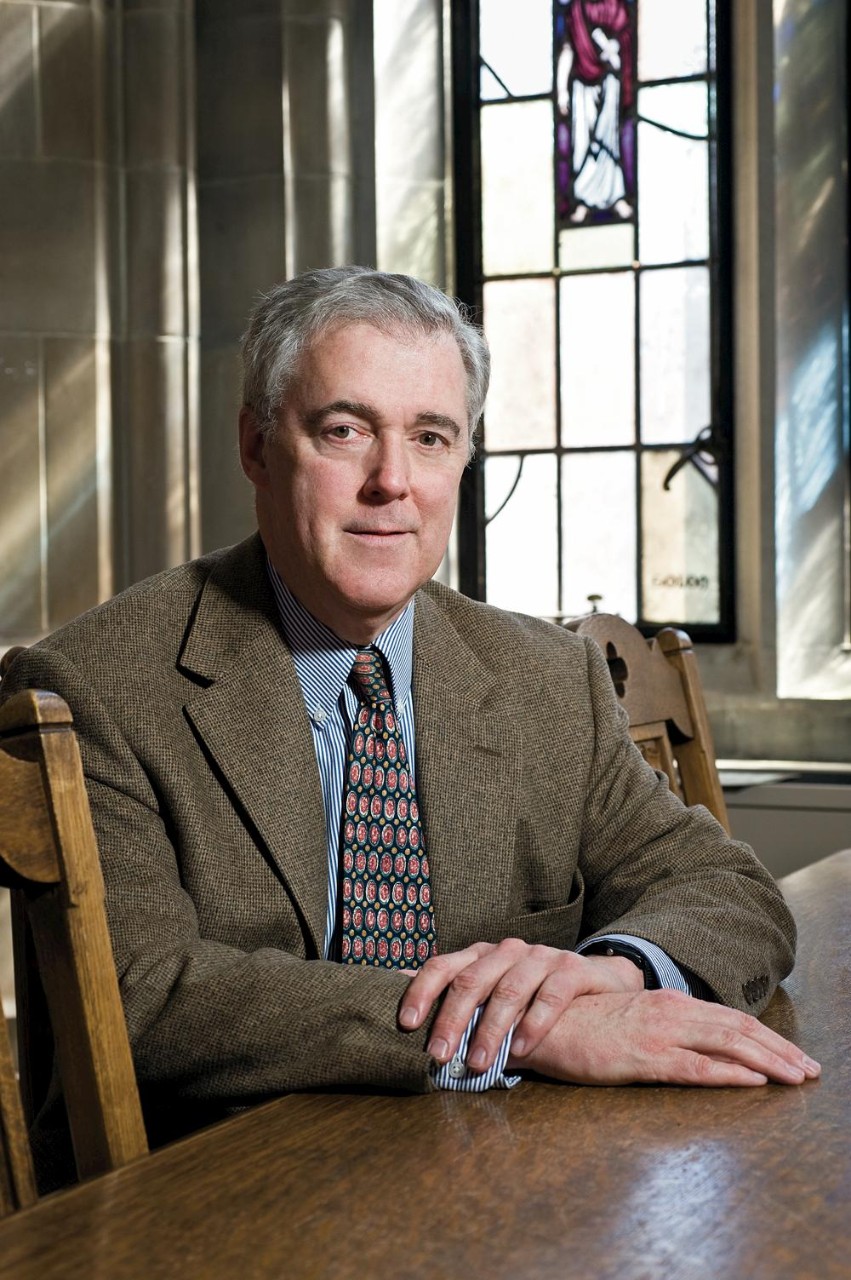 O'Toole, who earned a bachelor's degree and doctorate from Boston College, is a former archivist for the Archdiocese of Boston and the Commonwealth of Massachusetts. After 12 years as director of the University of Massachusetts-Boston M.A. program in history and archives, he joined the History Department faculty in 1998 and in 2006 became the inaugural Clough Professor; he retired after this past academic year.

"Jim O'Toole has been a part of the Boston College community for nearly 50 years, and brings experience, wisdom, and knowledge to his position as University Historian," said University President William P. Leahy, S.J. "His skill as a historian and commitment to Boston College make him ideally suited to serve in this new role."
"I'm very happy to maintain my relationship with Boston College," he said. "I enjoy the people, and I enjoy being on the campus. It's also a tremendous honor to be serving in a position held by Tom O'Connor, who was a mentor to me when I was a student as well as a faculty member. No one will ever fill his shoes, but I look forward to helping tell the story of Boston College."  

Each previous University Historian put his individual stamp on the position. Fr. Donovan published The History of Boston College: From the Beginnings to 1990, the first chronicle of the University since 1947, and produced a series of shorter "occasional papers." O'Connor issued a shorter, updated book on BC history in 2009, Ascending the Heights: A Brief History of Boston College from Its Founding to 2008, and was involved in a project to put historical markers at select locations on Main Campus.

Although his duties will be "loosely defined," O'Toole said, he plans to publish a new history of the University next year and create public programming that include lectures and walking tours of campus—the latter he organized while a faculty member.  

Examining Boston College's history requires a large lens, O'Toole said. "It is intimately connected with the history of Boston, as well as the Catholic community and the immigrant community. While their particulars are different, of course, and have changed over time, these institutions are all intertwined.

"Historians look at change, but also continuity, because in that continuity we see larger, overarching themes that define major institutions."

For his envisioned book, O'Toole said he seeks to "reimagine the story of BC" by looking at less-explored topics: "The curriculum. What went on in the classroom. The core requirements. The development of BC's academic departments. The professionalization of the faculty. Student research. These are the things which give a university its distinctiveness.

"I'm also trying to focus on individuals, such as the students from BC's early years: Which of them were immigrants? Which were second-generation? Where did their families come from? I'm hoping this will provide for a broader social history of BC."

O'Toole has researched and written on the history of Catholicism in the United States, using as a focal point not only major figures like Boston Archbishop Cardinal William O'Connell—the subject of his book Militant and Triumphant William Henry O'Connell and the Catholic Church in Boston—but also the lives of everyday Catholics seeking, and gradually gaining, acceptance in a country that often viewed them with suspicion and prejudice.

In The Faithful: A History of Catholics in America, O'Toole documented the experience of lay Catholics in the New World, beginning with the first settlements in the original 13 colonies. American Catholics, he noted, had complicated relationships with both the Catholic Church leadership in Rome and their own nation. Examining prayer, ritual, and other expressions of faith by the laity, O'Toole recounted the gradual arrival of Catholics into the American mainstream, as well as their responses to crises, including the recent clergy sexual abuse scandal.  

The presence of racial as well as religious prejudice in America formed the backdrop for another O'Toole book. Passing for White: Race, Religion and the Healy Family, 1820-1920 chronicled the lives of the children of a multiracial couple from Georgia who were sent to the north in the hopes of concealing their racial identity and affording them a chance for a better life. Three of the family's sons became priests, including one who was appointed rector of Boston's Cathedral of the Holy Cross.

O'Toole also served as editor and contributor to Habits of Devotion: Catholic Religious Practices in Twentieth Century America, which traces the causes and development of some significant changes in religious practices in the American Catholic Church between 1925 and 1975.  

Technological advances, such as digitization of research materials, give O'Toole capabilities his predecessors could scarcely have imagined. "I was recently browsing through the online resources in the University Archives via my home computer, looking for a particular item in a BC catalog from the 1950s, and it took me a matter of minutes. Before this, I would've had to get in my car, drive to campus, go to Burns Library and then spend time combing the archives until I found what I needed. That could've taken me half the day, if not more."

O'Toole lauds the Burns Library staff for their digitization program, which during the University's sesquicentennial celebration in 2012-2013 made original sources for understanding BC history more widely available.

"It's remarkable how technology has made things easier. Of course, you still have to have a good idea of what it is you want to find out, and what its significance is to the work you're doing. That aspect of history has not changed."
Sean Smith |  University Communications | September 2020