Boston College's new recreational facility will be named the Margot Connell Recreation Center in honor of one of BC's most generous benefactors, whose civic and philanthropic endeavors have made her a role model for BC students, the University announced today.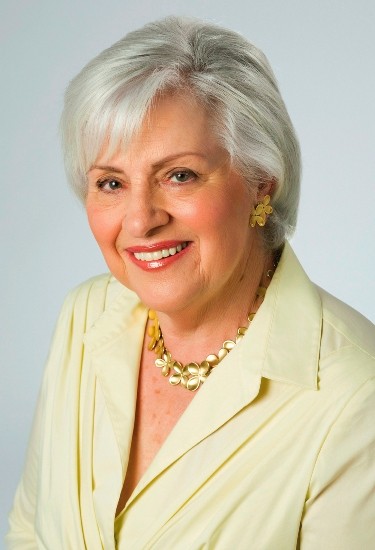 A trustee associate, honorary degree recipient, mother of six—all of whom are BC graduates—and the grandmother of 17, including four alumni grandchildren, Connell has been described by University President William P. Leahy, S.J., as a "matriarch of the BC community," whose $50 million leadership gift—one of the largest in University history—enabled the recreation center to shift from a longstanding campus need to a gleaming reality that will open on the Lower Campus this summer.

The only unresolved issue was what to call the 244,000 square foot, four-story facility that stands on the former site of Edmond's Hall on Thomas More Road.

The six Connell children—Monica Healey '88, Lisa McNamara '89, Courtenay '91, William C. (Bill) '94, Terence '02 and Timothy '03, J.D. '12—all wanted to have the facility named after their mother. Margot, however, preferred that it be called the Connell Family Recreation Center to honor the whole family and complement the Connell School of Nursing, named after her late husband, former BC Trustee William F. Connell '59.

In the end, the Connell siblings won out.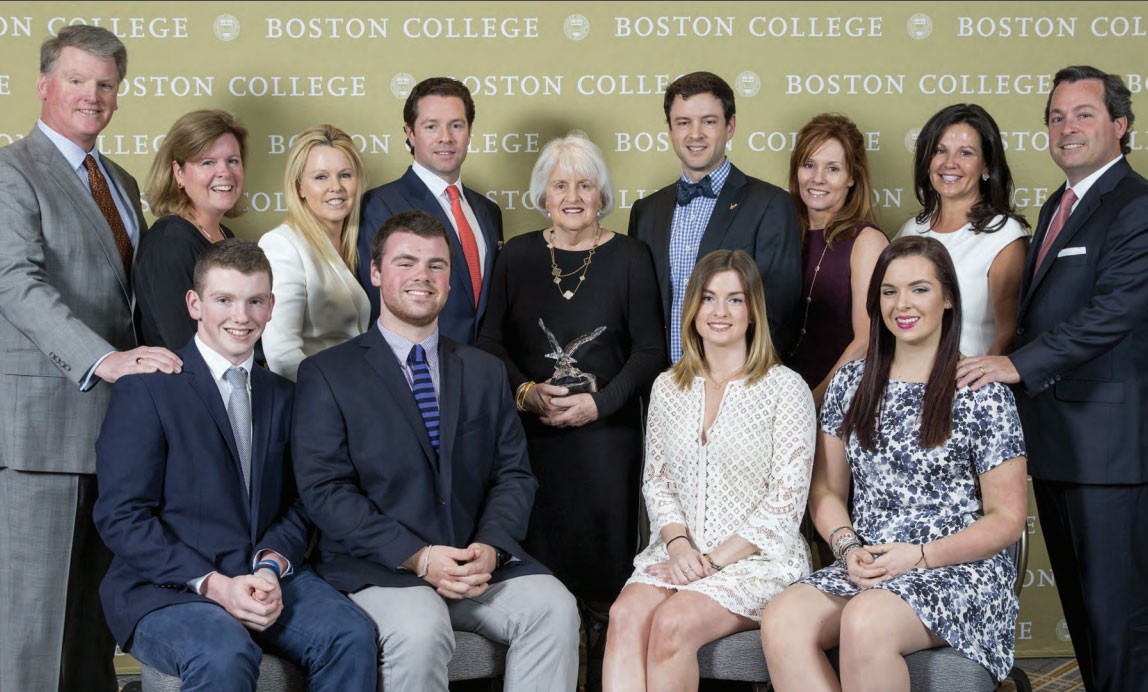 "Mom attributes a lot of our family's good fortune to our time at Boston College," said Bill Connell, a partner at High Road Capital Partners in New York City and a member of the BC Board of Trustees. "Having witnessed firsthand the impact the BC experience has had on our entire family, she wanted to do something to further enhance the student experience, and felt that the recreation center was a great way to do so. As a parent, athlete, and sports fan, she was thrilled to help BC enhance its recreational offerings through this new facility. She deserves to have the building bear her name. We could not be more proud of her."

"It is a perfect fit to have our mother's name on something that epitomizes fitness, health, and wellness," said Lisa McNamara. "Our mother loves BC and everything about it. She tailgates with us, and sits in the stands at every football game. Her grandkids' friends call her 'Nana,' because she takes such an interest in them and their experience as students. It is a wonderful tribute to have her name on a recreational facility that will serve the entire campus. I can't think of anyone who deserves it more."

Added Monica Healey, "The Margot Connell Recreation Center is a testament to a family's fierce loyalty for all that is Boston College. I love that my mother will share with my father the distinction of having her name grace something so important to BC. Having parents who regularly demonstrated the significance of family, faith, and education is a gift, one that will sustain a legacy for the Connell family well into the future."   
The Margot Connell Recreation Center will feature an aquatics center with lap and instructional pools; a gymnasium for basketball, volleyball, badminton, fencing, and general recreation; an indoor jogging track; tennis courts; a spin studio; a climbing wall; a mind-body studio, and fitness neighborhoods where guests can pursue their own workout routines.  
It is double the size of the 47-year old Flynn Recreation Center, and will provide an additional 60,000 square feet of usable program space.

"

Mom attributes a lot of our family's good fortune to our time at Boston College...As a parent, athlete, and sports fan, she was thrilled to help BC enhance its recreational offerings through this new facility. She deserves to have the building bear her name. We could not be more proud of her."

"
An avid golfer and sports enthusiast who has observed many of BC's most memorable sports moments alongside her family, Connell said she chose to fund the recreation center to provide an outlet for today's students engaged in the rigorous demands of a BC education.

"I truly believe athletics and academics go hand-in-hand, and that fitness and recreation lead to a healthier lifestyle," said Connell.  "I grew up in a sports- minded family where everyone played sports, watched sports, and talked sports. This custom continues today with my immediate family. This beautiful facility will enhance the sense of community and camaraderie that is ever present on the Boston College campus. This recreation center is so much more than just a workout facility. It's a place to meet up with friends; join a team; be a part of something; have fun. I have faith that this recreation center will be a place to enhance the body, mind and spirit."

Director of Campus Recreation Catriona Taylor said that the recreation center will have a transformative effect on the Boston College campus, providing state-of-the-art facilities to be used by students, faculty and administrators, as well as BC's 27 club sports and 997 intramural teams.

"The Margot Connell Recreation Center will be a key gathering space for students and the entire BC community," said Taylor. "It is a place where we will care for our physical fitness, but also for each other, reinforcing the values of teamwork and collaboration that are at the heart of the BC experience."

In a university where many buildings bear the surname of past Jesuit presidents, the Margot Connell Recreation Center is the first major building constructed on campus to be named after a female benefactor.

"It is a strong and nurturing building, which epitomizes Margot Connell," said Taylor. "That it will help to cultivate a commitment to health and wellness and an active lifestyle among BC students is a fitting symbol and appropriate tribute to its namesake."

A native of Ossining, NY, Connell attended Michigan State University and taught math and science in New York and California. Most recently, she served as chair of the advisory board of Connell Limited Partnerships, a company founded by her late husband, and as a convening co-chair of Boston College's Light the World capital campaign. In addition to her support of Boston College, she established the Connell Nursing Research Scholars Program and the Connell Ethics Fellowship at Massachusetts General Hospital's Institute for Patient Care and, along with her husband, funded the Connell and O'Reilly Families Cell Manipulation Core Facility and the Connell Family Fund for Melanoma Vaccine Development at Dana-Farber Cancer Institute.

"Margot Connell is such an inspiration to all of us at Boston College," said Senior Vice President for University Advancement Jim Husson. "In all that she has done as a trustee, volunteer, philanthropist, BC parent, and grandparent, Margot's priority has always been our students. And so it's especially fitting that BC's new recreation center, a building made possible thanks to Margot's generosity and perhaps the most student-oriented space on our campus, will now bear her name."

Learn more about the Margot Connell Recreation Center here.

Jack Dunn | University Communcations | January 17, 2019