Edward D. "Eddie" Miller '57, M.B.A. '68, Ph.D. '90, a popular figure in Boston College Athletics for decades who also directed public relations for the University, died on July 5. He was 91.

A wake for Mr. Miller will be held on Monday, July 11, from 4-7 p.m. at Dolan Funeral Home in Milton, Mass.; a Mass of Christian Burial will be celebrated on Tuesday, July 12, at 10:30 a.m. at St. Agatha Parish, also in Milton.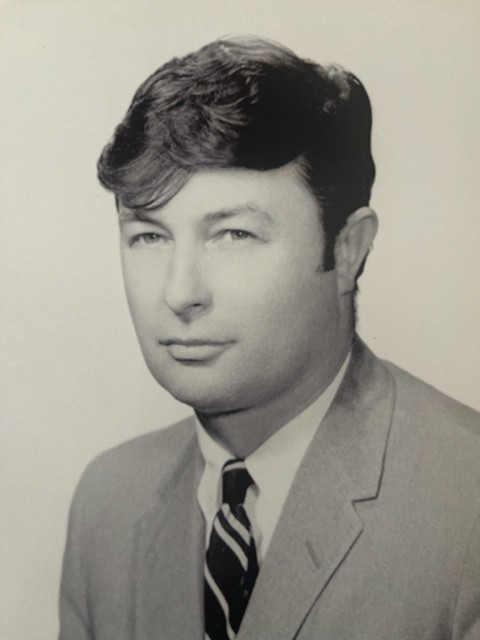 A Dorchester native, Mr. Miller came to BC's College of Business of Administration in 1953 after a 14-month stint with the Marine Corps in Korea, and made an immediate impression on the Eagles varsity baseball team as a good-hitting left fielder with exemplary defensive skills. A bout with polio the summer after his sophomore year landed him in the hospital for 10 months, during which time he kept up with his course work by listening to reel-to-reel tapes of his classes. With one leg completely paralyzed and the other partially immobilized, Mr. Miller's athletic career at the Heights was over, but he had just begun to forge strong ties with BC Athletics.

For some years, BC had played a majority of its home football games at Fenway Park, but at the end of the 1956 season the Boston Red Sox ended the arrangement. In January of 1957, then-BC President Joseph R. N. Maxwell, S.J., announced the University would build a new football stadium to open that fall. As fundraising efforts for the new facility began, Mr. Miller—who had been elected Class of 1957 president—spearheaded a "Dollar Per Student" campaign that yielded $2,600.

That was not the extent of Mr. Miller's or his fellow undergraduates' involvement in the opening of Alumni Stadium, as he recounted in a 1982 interview with BC's undergraduate newspaper, The Heights: Students supplied labor—especially in reconditioning the stands from Alumni Field, the old venue for BC football—and as the stadium's debut on September 21, 1957, drew nearer, they aided in painting, cleaning up "and tying loose ends," he said.

"We painted the stands just a day or two before the game; little did we know, but some of the paint didn't dry fast enough. We had people coming in the athletic office all of the following week demanding that we send their clothes to the cleaners or buy them new clothes."

When, with just a few days left, the fire marshal said there were not enough exits in the stands, "we just took out a few rows," Mr. Miller added—which wound up creating another problem: "What nobody thought of was that the game was a sell-out and that the seats we removed had already been sold. People wondered what was going on when they came looking for the missing seats."

During the Alumni Stadium campaign, Mr. Miller had met William Flynn '39, who at the time was secretary for BC's Alumni Association. Later in 1957, Flynn was appointed athletic director, and he offered Mr. Miller the position of business manager for athletics.

But the job Mr. Miller coveted was sports information director, and when it became available in the fall of 1960, he put his name in. While he lacked the journalistic background of most SIDs, Mr. Miller had developed friendships with Boston-area sportswriters as well as athletics personnel at other colleges. An acumen for public relations, combined with his in-depth knowledge of, and love for, his alma mater made him the ideal candidate, as a Heights columnist noted almost three years after Mr. Miller's appointment.

"[He] has earned the close friendships of countless alumni, old and young. The number of Boston sportswriters that don't count Eddie as a friend are few. His easy-going smile and dynamic personality have brightened many a room dimmed by the cigar smoke of writers."

The 1960s and early '70s were a transformative period for collegiate athletics, especially football, marked by increased coverage from television and other media and, in the wake of the civil rights movement, a greater spotlight on Black athletes. It was an eventful time for sports at Boston College as well, with plenty of activity to keep Mr. Miller busy: BC football established itself as a solid regional program; the men's basketball team enjoyed success under the tutelage of Boston Celtics legend Bob Cousy, making it to a regional final in the 1967 NCAA Tournament; the men's hockey team reached the NCAA Frozen Four in 1963, 1965 (losing the championship game), 1968, and 1973; and the baseball team made three appearances in the College World Series during the 1960s.

Despite the difficulties travel posed for him, Mr. Miller made it a point to be on hand for as many BC sporting events as possible—even after his years as SID—whether to hockey games at Cornell and St. Lawrence, basketball games at Syracuse and Georgetown, or down south for Eagle football games in Texas and Alabama.

Mr. Miller's contribution to BC Athletics was recognized when he entered the BC Varsity Club Athletic Hall of Fame in 1977, three years after he had moved on to become the University's director of public relations. Speaking with The Heights after his appointment, Mr. Miller said he saw his task, and that of his colleagues, to tell the story of Boston College "on a wider spectrum," not only through Boston-area media but also that of "New York, Washington and the national press."

Mr. Miller asserted that BC's story was one worth reporting: "The excellence of our academic program, faculty, and our students are probably where we are going to get the most mileage. We should also gain recognition because we are one of the top two or three Catholic universities in the country, and our alumni are successful in a great variety of fields." He added that it was important to make clear "that BC is not just a small college but actually a university."

Among other accomplishments during his years as public relations director, Mr. Miller revamped several University publications and founded Boston College Colleague, a biweekly newspaper to present campus news, events, and features aimed at University administrators, faculty, and staff. Colleague became Boston College Biweekly in 1980 and Boston College Chronicle in 1992.

Mr. Miller also played an integral part in obtaining support for the University, through his network of relationships formed with BC alumni in the business and political communities, during what would be a period of major growth during the presidential administration of J. Donald Monan, S.J., for whom he later served as special assistant.

Mr. Miller, who retired from the University in 1996, co-authored with his daughter Michelle a biography of his friend Wallace E. Carroll, the entrepreneur, businessman, philanthropist and namesake of BC's Carroll School of Management. His honors included the Sports Information Director Award from the All-American Football Foundation and the Press Box Award from the New England Writers.

When he earned a doctorate in higher education of administration, he wrote his dissertation, "Fulfilling a Mission: Profiles of Outstanding Student Athletes at Boston College," on the role Jesuit education played in the formation of BC's student-athletes across several decades.
"Eddie Miller was an 'old-fashioned' public relations professional who perfected his trade in the days before texts, emails, and cable television networks took over the industry," said Reid Oslin '68, M.S.P. '71, who succeeded Mr. Miller as SID in 1974.

Oslin noted that Mr. Miller was not shy about showing his affection for BC, whether sporting a maroon-and-gold tie or—when Massachusetts first offered vanity plates to drivers in the late 1960s—obtaining an "EAGLES" plate for his shiny white convertible.

Mr. Miller also maintained his connection to BC Athletics, Oslin added, and was a familiar figure at Eagles football games and other events for many years.

"He was a marvelous 'in-person' representative of Boston College, always with a sincere handshake, a warm smile, a funny story, and a genuine eagerness to promote the University that he so loved."

Mr. Miller is survived by his wife, Patricia (Klier), whom he married after his release from the hospital following his bout with polio; his children—all of whom have a Boston College degree—Jeannie Hynes, Stephanie Greene (a professor in the Carroll School of Management), Edward Jr., Christine, John, Michelle, Gretchen Johnson, Gregory, and Julie Freking; 23 grandchildren and 12 great grandchildren.

Burial will take place at Milton Cemetery.
In lieu of flowers, donations may be made to:
The Edward D. and Patricia K. Miller Scholarship Fund for Boston College
Giving Account number: 1269338
University Communications | July 2022