A funeral Mass was celebrated for John F. Wissler, who guided the Boston College Alumni Association for more than three decades during its largest growth in University history, on March 10 at St. Ignatius of Loyola Church in Chestnut Hill. Mr. Wissler died on March 5 at the age of 85.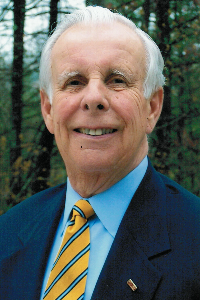 Recalled by friends and former colleagues as gregarious and ever smiling, Mr. Wissler kept his affection for BC literally close to the heart, often sporting a maroon and gold tie.

"I've had one of the greatest jobs in the world," Mr. Wissler told the Boston College Chronicle when he announced his retirement in 1998. "Not everybody can say that they truly love the place where they work. I loved Boston College from the very first day I stepped foot on campus."

Yet when Mr. Wissler applied for the position of BC Alumni Association executive director in 1967, he wondered how much of a shot he had at the job. Up to that point, as he would later recall, all the previous Alumni Association directors were Bostonians who had graduated from BC's College of Arts and Sciences, whereas he was a native New Yorker and an alumnus of the School of Management (where he would later earn an M.B.A.).

But, perhaps presaging BC's transition from its commuter college roots to a nationally focused university, the selection committee unanimously chose this self-proclaimed "outsider" to head up the Alumni Association.

At that time, the association counted some 30,000 alumni; when Mr. Wissler stepped down, the number had grown to nearly 120,000 members —the most of any Catholic college in the United States—who were all over the world. During that span of time, Mr. Wissler oversaw an expansion of alumni services, from the traditional receptions and class reunions to innovative programs of social service, mid-life employment counseling and retirement education classes.

One of his first acts was to ensure the involvement of Boston College's growing number of female graduates in the Alumni Association. In 1967, 17 percent of BC alumni were women, a significant increase for the once all-male institution, and Mr. Wissler encouraged women to take a leadership role in alumni affairs. The first female member of the Alumni Board of Directors, Wilma Fallon Lane '59, was elected within four years of Mr. Wissler's appointment.

In addition to traditional activities, Mr. Wissler and his leadership group added extensive opportunities to provide a wide variety of benefits to alumni. These included issuing them Boston College library cards, and the establishment of a career advisory network and numerous alumni-driven community service projects such as "Second Helping," a food collection and redistribution program that benefited Boston's homeless citizens. The association also established a series of seminars on a wide variety of topics of interest to seniors and those in retirement.

In 1994, the Alumni Association was named winner of the Grand Gold Award for alumni programming, the highest honor in its field accorded by the Council for the Advancement and Support of Education. But Mr. Wissler made a point of sharing credit for the association's accomplishments, and expressed pride that many staff members had gone on to prominent positions in the alumni, development, and business world.

Approaching retirement, Mr. Wissler reflected on the association's relationship with its members. "At some universities, the alumni are looked on as 'people that you want to try to keep happy.' At Boston College, we've always tried to keep our alumni informed, educated, involved, and connected. I have always emphasized that the alumni are the biggest constituency in a university. They are the longest-lasting one, too."

One BC graduate in particular made a difference in Mr. Wissler's life: his wife, Jeanne, whom he met three weeks into his freshman year. They were married in St. Ignatius Church in 1957, the year he graduated.

"She's been by my side the whole way," he said. "She's been a huge, huge help."

A graduate of a Jesuit prep school in Brooklyn, Mr. Wissler served as senior football manager during his undergraduate years at BC. After service as an Army officer, he entered the New York City business world as a sales representative for the 3M Corp, but he always kept close ties to his alma mater. In fact, it was during his return to campus for his 10th anniversary reunion that Wissler learned of the search for a new Alumni Association executive director, and after thinking about it for three weeks, he became one of about 30 candidates for the job.

"They took a chance on me. I was a New Yorker, an outsider," he recalled in 1998. "Although I probably have 'broken a few eggs' along the way, we have always strived to have programs that reach out to the alumni. To me, the more services we can offer, the better."

In addition to his wife, Mr. Wissler is survived by his daughter, Anne Merrow; son, Thomas Wissler; three grandchildren and one great-grandson. He was predeceased by his son John Francis Wissler and sister, Valerie Bartolacci.

"John's steadfast commitment and devotion to our alumni was evident throughout all that he did," said Associate Vice President for Alumni Relations Leah DeCosta Spencer. "We are forever grateful for his remarkable leadership of the Boston College Alumni Association and the many ways in which he ensured our alumni were offered meaningful engagement opportunities while maintaining a lifelong connection to one another and the University. My prayers and heartfelt condolences go out to John's wife, Jeanne, his children Anne and Tom and their entire family."

Burial is at the New Hampshire State Veterans Cemetery in Boscawen, NH.

In lieu of flowers, memorial contributions may be made to the Pine Street Inn, Boston or New York Foundling Hospital, New York City. Send a condolence message or find more information at the Peabody Funeral Homes website.
 
University Communications | March 2021