Donald Brown, who served as director of Boston College's Office of AHANA Student Programs for 27 years and led efforts to support first-generation, underrepresented students, died on April 2. He was 75.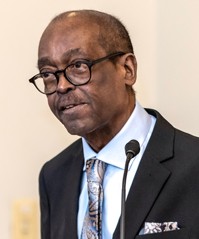 In 1978, Dr. Brown came to BC as director of what was then the Office of Minority Student Programs. He changed the office's name to incorporate "AHANA," an acronym for "African-American, Hispanic, Asian, Native American" created by BC undergraduates Valerie Lewis-Mosley '79 and Alfred Feliciano '81 as an inclusive alternative to the term "minority." The office is now part of the Thea Bowman AHANA and Intercultural Center.

Dr. Brown is credited with championing initiatives such as the Options Through Education Transitional Summer Program, the Thea Bowman Scholars Program, the Benjamin E. Mays Mentoring Program, and the Jaime Escalante Tutorial Program.

Interviewed by the Boston College Chronicle in 2004—the 25th anniversary of the "AHANA" acronym, which was adopted by other higher education institutions and programs, and eventually trademarked by BC—Brown said, "Dr. Martin Luther King talked to us about the need for people of good will coming together, and the need to launch coalitions. What Alfred and Valerie talked about back then was the need for Blacks, Latinos, Asians, Native Americans and progressive whites coming together. That's what undergirds this AHANA concept."

In 2007, the University established the Dr. Donald Brown Award, presented annually to a senior who, throughout his or her undergraduate career, has made extraordinary contributions to the BC community in ways that have benefited AHANA students in the areas of leadership, service, and academic development.

"Don was a great friend and mentor to so many people, especially students at Boston College," said Dan Bunch, a retired BC administrator and former director of BC's Learning to Learn program who worked closely with Dr. Brown. "He was a consummate professional, excellent father, and devoted husband. We are going to miss him."

AHANA Alumni Advisory Council Chair Robert Marshall '88, P'17 issued a tribute to Dr. Brown, whom he described as a steady presence for many colleagues, AHANA students, and alumni who have passed through Chestnut Hill.

Dr. Brown "embodied what it truly means to be a person for others. Undoubtedly, his work was a calling, a mission, and a pursuit led by his abiding faith," wrote Marshall. "All of us stand on his shoulders given the decades he spent advocating for members of the AHANA community."

A memorial service will be held for Dr. Brown on May 13 at 11 a.m. at the Loveland Church, 17977 Merrill Ave., Fontana, Calif.

University Communications | April 2023