On a normal day, the warehouse of Rustic Marlin, a home decor business in Hanover, Mass. founded by Boston College alumna Melanie O'Neil, is bustling with activity, the company's 40 employees busy designing, crafting, and shipping whimsical wooden signs to customers across the country. 
But with the coronavirus outbreak forcing the closure of non-essential businesses everywhere, normal days are an increasingly distant memory. In March, O'Neil and her husband, Brian, shut down production and furloughed their workforce. Then, they got to work figuring out how to bring hope where it was needed most.
"We started thinking about how we could make protective equipment, but we're really not set up for that operation," said O'Neil. "So we decided, let's do what we know how to do best. And that's how Signs of Hope started."
Inspired by people hanging homemade hearts in doorways to show support for healthcare workers, O'Neil, a 2003 graduate of BC's Woods College of Advancing Studies, and her husband designed a collection of heart-themed signs emblazoned with messages like "Hope" and "Hero." Working side-by-side in the empty warehouse, they produced enough signs to fill a small self-serve kiosk, and invited customers to stop by for contact-free purchases. The proceeds, they decided, would go to supporting small business employees affected by the virus.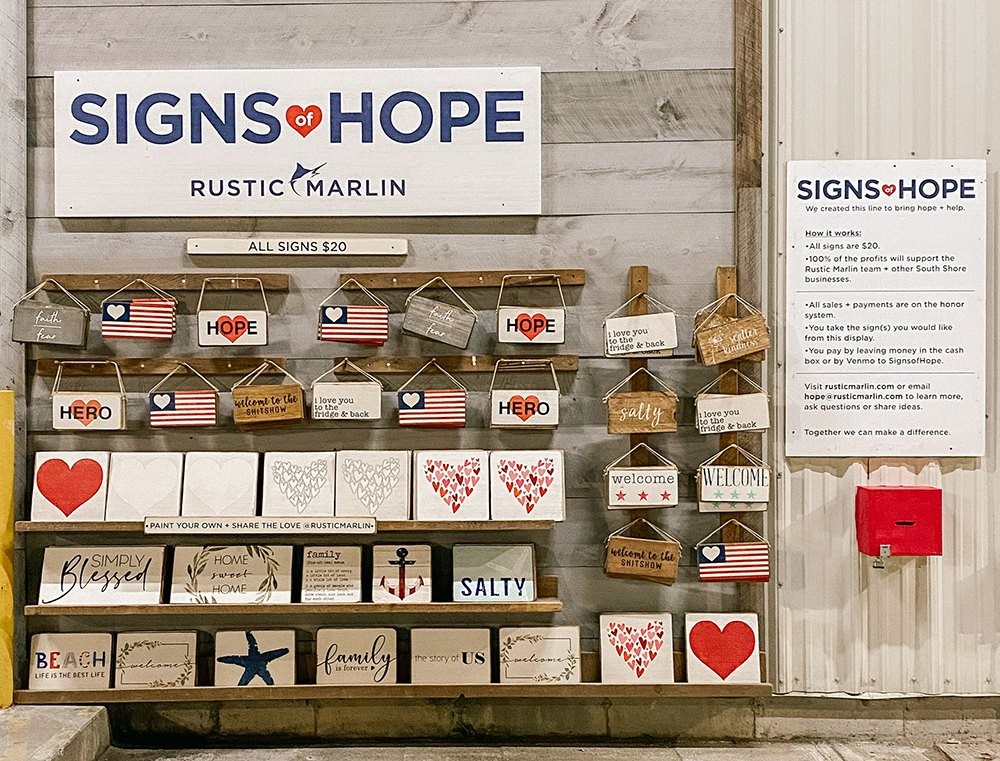 Signs of Hope was an immediate success, raising $30,000 in the first two weeks. Small businesses that usually carry Rustic Marlin merchandise began requesting kiosks outside their storefronts. Emails from grateful customers flooded O'Neil's inbox, and CBS Boston/WBZ News 4 highlighted the project. 
"All of a sudden people started loving it and it just started to really grow," said O'Neil. "People are driving hours to come to the kiosks."
These days, operations inside Rustic Marlin's 50,000-square-foot workspace look dramatically different, but the company's sense of purpose has never been stronger. Small groups of employees work in shifts wearing full protective gear. The masks have made communication more difficult, but everyone is happy to be back. 
To keep up with demand, O'Neil has enlisted her father's help cutting the lengths of twine used to hang the signs. His efforts have earned him a new quarantine nickname: Twine King. 
"He basically spends his days cutting all the twine and then we meet 10 feet apart from each other," said O'Neil. "It's sad to not be able to go too close to my parents, but it's been a family bonding experience for sure."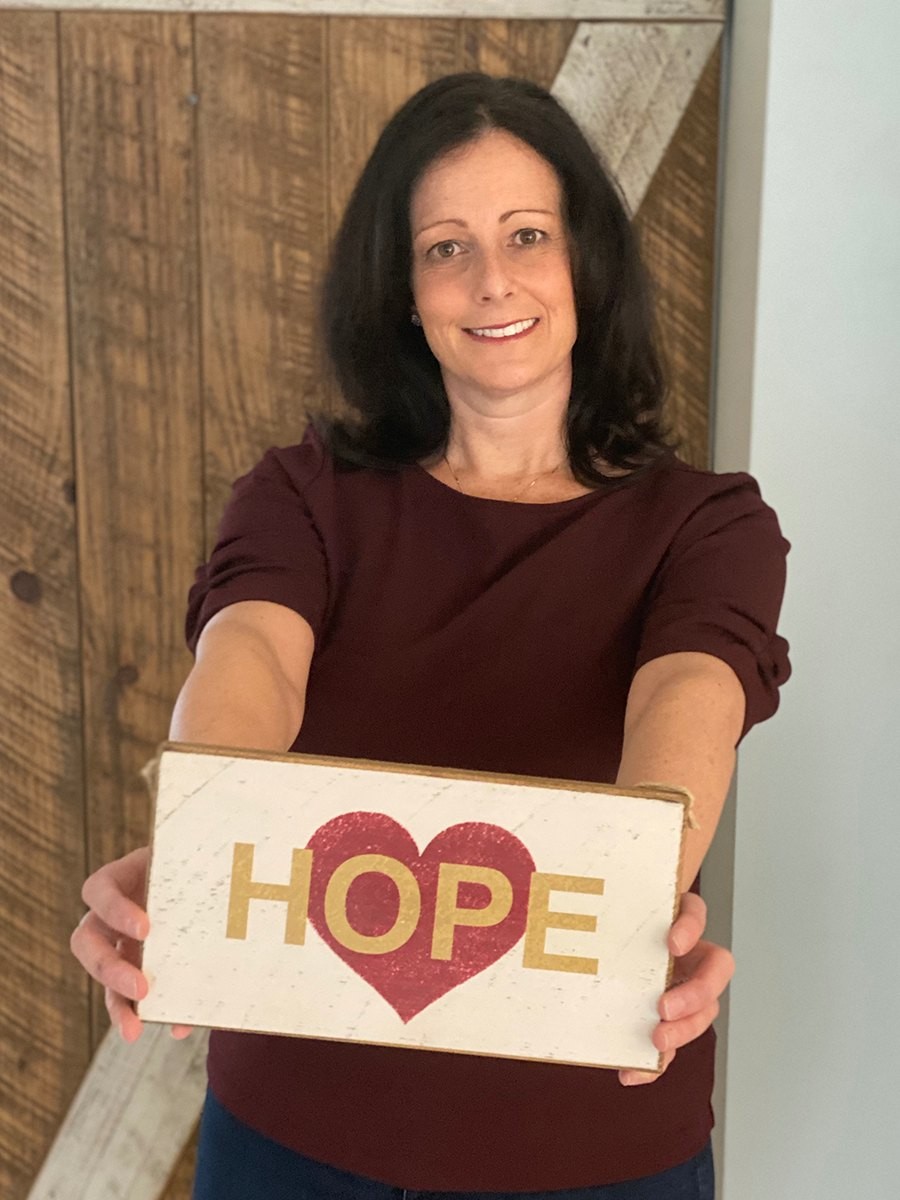 The idea for Rustic Marlin emerged in 2012 when O'Neil and her now-husband wanted signage for their wedding, and decided to create it themselves. That led to a business operated out of their garage, and eventually a spot on Inc. magazine's list of the fastest growing companies in America. Today, their team of designers, artists, and craftspeople make custom signs celebrating life milestones: weddings, graduations, the birth of a child. Many are purchased as gifts.
With Signs of Hope, O'Neil encourages customers to consider buying a sign as a token of appreciation for essential workers, either by displaying it on their door or delivering it to someone they know. The idea has resonated with people searching for ways to show their gratitude. 
"Sometimes it's a nurse, sometimes it's a great friend, sometimes it's a teacher," said O'Neil. "I have chills when I see nurses holding one of our signs, sharing the hope that people have brought to them. It's truly amazing."
Since the project took off, O'Neil and her husband have been working 20-hour days restocking kiosks, fielding questions, and meeting with a nonprofit advisor to determine the best way to distribute the funds raised. It will likely be months before Rustic Marlin is back to regular production—all efforts are currently focused on Signs of Hope—and staying busy has helped O'Neil keep a positive attitude.  
"It keeps my mind truly focused on making sure that I'm bringing hope to other people, and not just home consuming the news," she said. "I do wonder how long will this last and how long we can continue this way, but it really has helped me to feel like I'm contributing to the community."
Alix Hackett | University Communications | April 2020