Anthony (Tony) C. Simboli '50, M.A. '50, a successful real estate developer and longtime University benefactor, died on December 29, 2020. He was 91.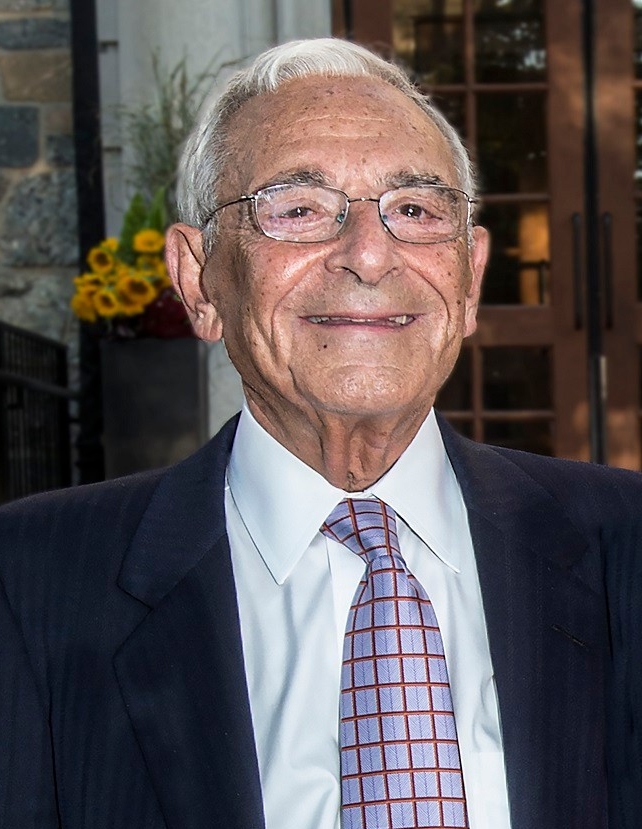 Nine Lake Street, home of the Boston College School of Theology and Ministry and Institute for Advanced Jesuit Studies, was dedicated Simboli Hall in honor of Mr. Simboli, a longtime University benefactor and the founder and retired chairman of ACS Development Corporation, and his wife, Gloria, on September 16, 2015.
A Mass of Christian Burial was celebrated for Mr. Simboli on January 7, 2021 in the STM chapel, with University President William P. Leahy, S.J., presiding.
"It was very appropriate that we gathered for the Mass in the STM chapel in the building that bears Mr. and Mrs. Simboli's name," said STM Dean Thomas D. Stegman, S.J., who concelebrated the Mass. "Fr. Leahy gave a beautiful homily that paid tribute to Mr. Simboli for his Christian witness and that brought comfort from the Scripture readings to family and friends."
"Tony Simboli was a cherished friend, thoughtful advisor, and true University champion," Senior Vice President for University Advancement Jim Husson said in a remembrance. "Among Boston College's 'greatest generation' of alumni, he played an integral role in shaping the BC we know today. And through Simboli Hall, a most fitting tribute to Tony's faith and philanthropic vision, his legacy will remain evergreen here at the Heights. He will be deeply missed."
"Tony and Gloria Simboli join some of the other important family names…who have left a legacy at Boston College," said University President William P. Leahy, S.J., at the 2015 Simboli Hall dedication ceremony. "Their generosity is a call for all of us to rededicate ourselves to faith, service, and intellectual excellence, the hallmarks of a Jesuit, Catholic education."
During the ceremony, Mr. Simboli reflected on the role his alma mater played in his personal and professional life.
"The Jesuit education I received provided my moral compass," said Mr. Simboli. "BC taught me discipline, offered me guidance, and it was there I learned to get along with people."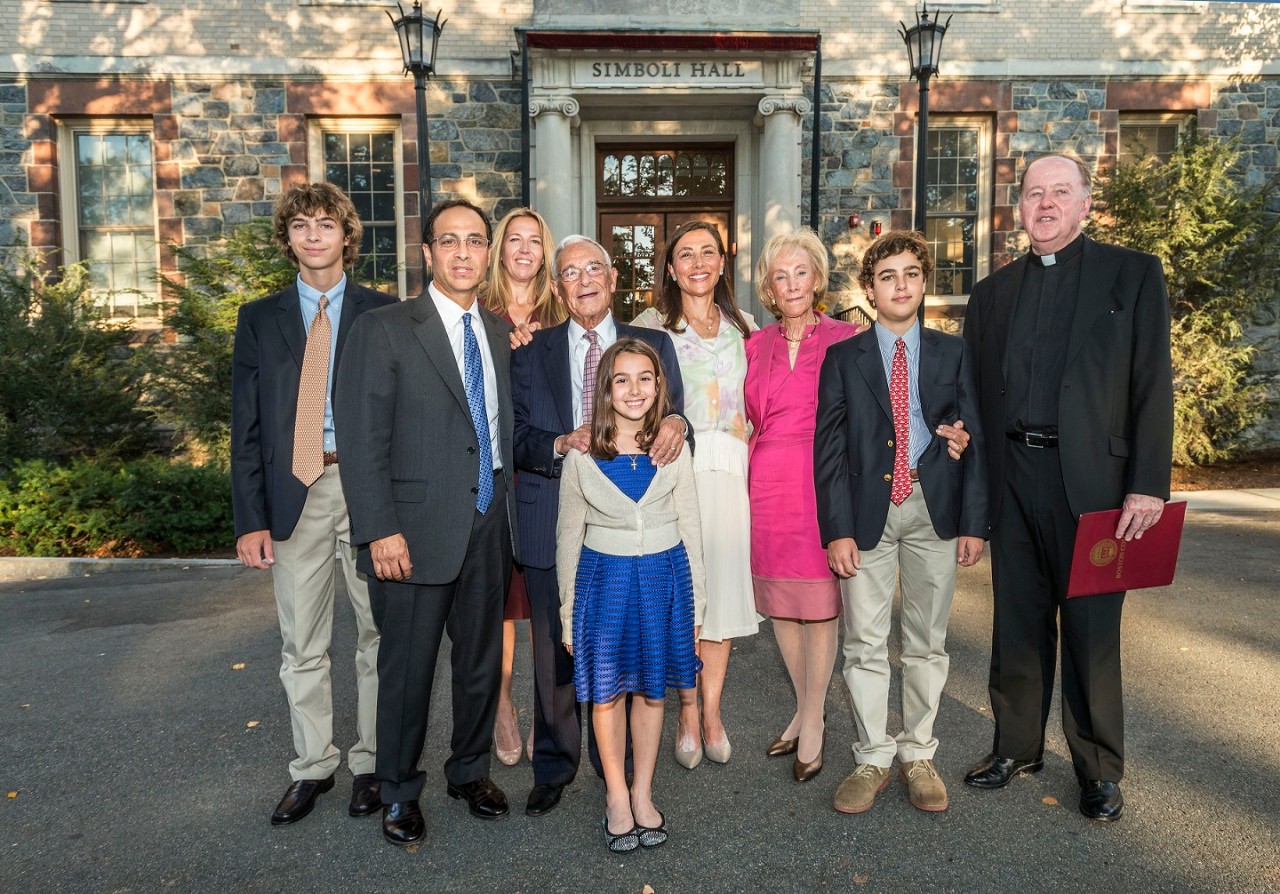 Mr. Simboli grew up in Boston's North End and was the first in his family to attend college. He commuted to Boston College, where he earned a bachelor of science degree in chemistry and master's degree in philosophy—both in 1950.
After graduation, Mr. Simboli joined the Central Intelligence Agency. He lived in Washington, D.C., but spent several years in Japan.
When he left the CIA, he returned to the Boston area and bought a drug store in Wakefield Center. He opened drugstores in several locations, launching his business and real estate career. He followed that by expanding into the convenience food store business, operating a successful chain under the name Sunnyhurst and SunnyCorner Farms. In 1980, he sold the company and focused exclusively on real estate development, founding ACS Development Corporation.
Mr. Simboli formed a special connection to the city of Chelsea, championing it when few others saw its appeal. His first speculative real estate development was a 60,000 square-foot office building in Chelsea, the first new building in the city since the Great Chelsea Fire of 1973 had destroyed 18 city blocks a decade earlier. He and his children developed more than a dozen additional parcels of land in the city, including the site of what now is the location of the FBI Boston Division. His support of Chelsea extended to its civic and educational causes. He founded the Simboli Family College Award, which has provided financial support for more than 150 Chelsea High School graduates attending college. In 2011, the City of Chelsea presented Mr. Simboli with a Lifetime Achievement Award in recognition of his decades of commitment to the city.
A little over a year ago, Mr. Simboli spoke to a group of Boston College students who had traveled to Chelsea to tour examples of the urban renewal as part of an outing organized by the Carroll School of Management and the Corcoran Center for Real Estate and Urban Action.
In addition to Boston College, Mr. Simboli and his wife supported health care institutions, such as Dana Farber Cancer Institute, Mount Auburn Hospital, and Brigham and Women's Hospital, where they endowed the Gloria M. and Anthony C. Simboli Distinguished Chair in Asthma Research.
In the family's obituary, Mr. Simboli was remembered for his radiant smile, humble intelligence, and eternal optimism and for living his life with "passion, determination, resilience, and courage."
Mr. Simboli is survived by Gloria, his wife of 69 years, a daughter Patricia, a son Anthony, and three grandchildren, A.J., Trevor, and Daisy.
Donations may be made in honor of Mr. Simboli to the Boston College Anthony C. Simboli Scholarship Fund, University Advancement, Cadigan Alumni Center, 140 Commonwealth Avenue, Chestnut Hill, MA 02467.


University Communications | January 2021