The Council for Women of Boston College, which marked its 20th anniversary in 2022, will undergo a change in leadership effective this spring. Kathleen McGillycuddy NC'71, who has chaired the CWBC since its founding in 2002, will step down from that role, and be succeeded by current vice chairs Patricia Bonan '79 and Elizabeth Vanderslice '86, who will serve as co-chairs.

"We are very fortunate to have in Pat and Beth two such talented leaders ready and able to lead the CWBC," said McGillycuddy in an email to members announcing the leadership transition. "I admire and appreciate all they have already done and all I know they will continue to do for our success."

McGillycuddy, who said she plans to continue as an active, dedicated CWBC member, expressed gratitude for the support she has received over the years.

The Council for Women of Boston College connects the women of Boston College within and beyond the BC campus, advancing the role of alumnae as leaders and engaged members of the BC community and strengthening their involvement and influence to support the University's mission, female students, and one another.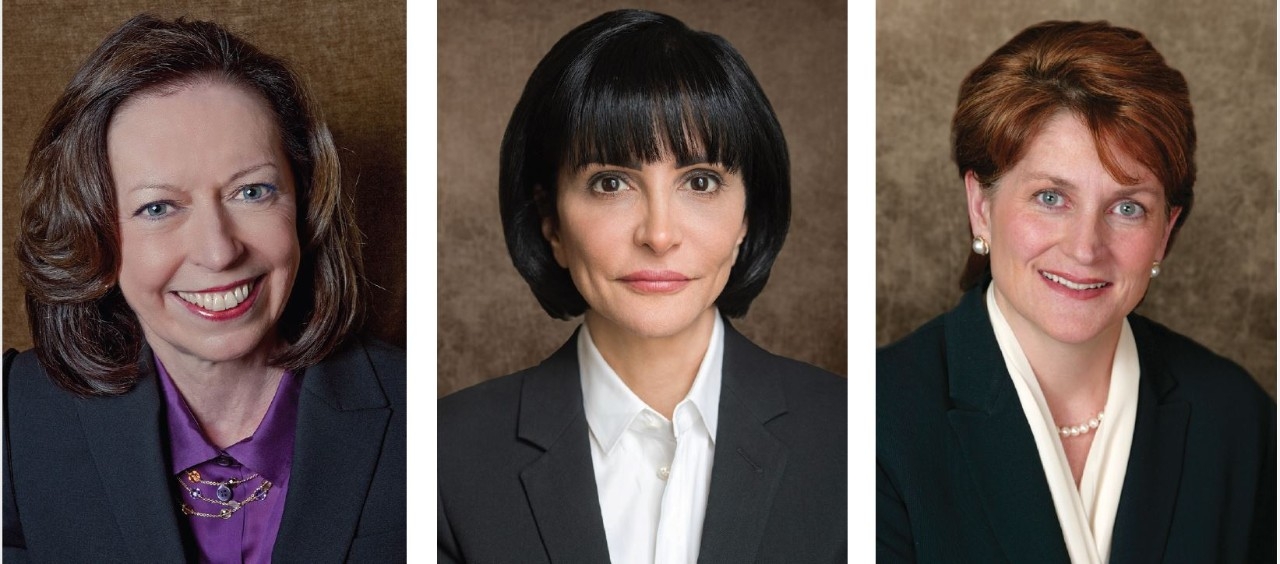 (Left to right) Kathleen McGillycuddy, founding chair for the Council for Women of Boston College, will step down this spring; Elizabeth Vanderslice and Patricia Bonan will become council co-chairs. Photos by Lee Pellegrini (McGilllycuddy); Mia Isabella (Vanderslice).

The retired executive vice president of the Wealth Management group for FleetBoston Financial, McGillycuddy was the first woman to chair the Boston College Board of Trustees, serving from 2011 to 2014. She and her husband, Ronald Logue '67, M.B.A. '74, made a gift to the University to establish the McGillycuddy-Logue Center for Undergraduate Global Studies.

Under her leadership, the CWBC has grown to more than 180 members and 1,800 associate members, representing 44 states, Washington, D.C., Puerto Rico, and seven countries. Members are accomplished and diverse graduates from all Boston College schools and represent a wide range of professional fields and personal and philanthropic interests.

The CWBC hosts events and programs designed to offer professional development, career advice, and mentoring and networking opportunities, as well as exploration of topics such as spirituality, volunteerism, and lifelong learning. Other council events support specific University endeavors such as the McMullen Museum of Art and women's athletics.

In 2015, the council, with support from the Institute for the Liberal Arts, established the CWBC Colloquium, which brings to campus outstanding thought leaders to consider contemporary issues through the lens of women's leadership. Colloquium speakers have included former Secretary of State Madeleine Albright, Olympic gold medalist Mia Hamm, and Mae Jemison, the first woman of color to travel into space. In 2020, the council established an endowed scholarship and the CWBC Pops scholarship fund.

Like McGillycuddy, Bonan and Vanderslice are founding members of the CWBC. They have served as CWBC vice chairs since 2019 and are both members of the BC Board of Trustees.

After retiring from a 29-year career in investment banking, Bonan is now the managing member of her family's commercial real estate holdings. "Over the last 20 years, the CWBC has grown, evolved, and thrived under Kathleen's leadership. I am excited about the future of the CWBC and honored to partner with my good friend Beth as co-chair of this terrific organization."

Vanderslice is a partner at Trewstar Corporate Board Services, a search firm specializing in corporate board placements. "Pat and I are blessed to carry Kathleen's wisdom and support with us as we dedicate ourselves to fulfilling and continually expanding the council's mission in the years to come. Serving the Boston College community alongside Pat will be a true joy and privilege."
To learn more about the CWBC, visit bc.edu/cwbc. 

Kathleen Sullivan | University Communications | January 2023