Boston College Law School Dean Vincent Rougeau will be the keynote speaker at the annual Martin Luther King Jr. Memorial Scholarship Banquet on Feb. 19 at 5:30 p.m. in the Yawkey Center Murray Room. 
Highlighting the event—which draws administrators, faculty, staff, students, alumni, and friends of the University community—will be the presentation of the Martin Luther King Jr. Memorial Scholarship, honoring a Boston College junior who has demonstrated superior academic achievement, extracurricular leadership, community service, and involvement with the African American community and African American issues. This year's candidates are Sydney Boyd, Thair Brown, Nwamaka Nnaeto, Michael Osaghae, and Omonosagiagbon Owens.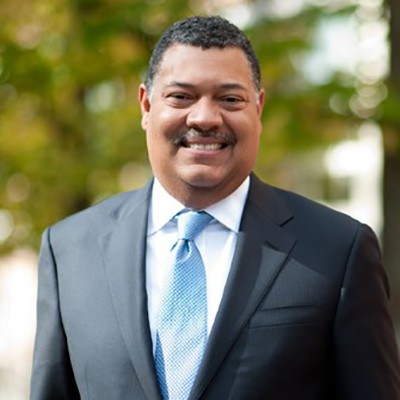 Rougeau, who is in his eighth year as BC Law dean, is recognized as an advocate for legal education reform. He has led a reorganization in leadership structure at BC Law that supports a more holistic approach to student services, expands the school's national and international recruitment of a diverse student body, and enhances the school's commitment to experiential learning and global engagement. BC Law was 26th in the most recent U.S. News & World Report rankings of "Best Graduate Schools," an eight-point improvement over the previous two ranking cycles.
Under Rougeau, the school has introduced the Center for Experiential Learning, which brings all BC Law's hands-on training programs under one roof, and the Global Practice Program, an initiative that builds on the school's longstanding presence in Europe with new opportunities for students in Dublin, Germany, Chile, France, and other locations around the globe.
An expert in Catholic social thought, Rougeau is author of Christians in the American Empire: Faith and Citizenship in the New World Order. His current research and writing examines the relationship between religious identity and notions of democratic citizenship and membership in highly mobile and increasingly multicultural democratic societies.
–University Communications | February 2019