'Hamilton' Tony and Grammy Award winner Leslie Odom, Jr. was the special guest artist at BC's 2019 Pops on the Heights scholarship gala. (Justin Knight)

Pops on the Heights, Boston College's annual Barbara and Jim Cleary Scholarship Gala, which this year featured "Hamilton" Tony and Grammy Award-winning performer Leslie Odom, Jr., along with Keith Lockhart and the Boston Pops Orchestra, raised $12.3 million for the Boston College Scholarship Fund in support of needy students.
Held September 27 in Conte Forum, the 27th annual Pops on the Heights was co-chaired by BC Board of Trustees  Vice Chair John Fish and his wife, Cyndy, P'13'18, Trustee Associate Phil Schiller '82 and Kim Gassett-Schiller, and Rob and Karen Hale P'22.
Since its inception, Pops on the Heights has evolved into the University's largest fundraising event for financial aid, as well as one of Boston's most successful philanthropic events. The gala, always a highlight of Parents Weekend on campus, has made a Boston College education a reality for more than 2,500 students.
"It's hard to describe the Pops on the Heights experience, and it's even harder to describe what this gala means to Boston College," said BC Senior Vice President for University Advancement Jim Husson.
"At its core, Pops is about family, because we are all there to support BC students. We are incredibly lucky this year to have the dedication of three co-chair families. Thanks to their leadership, Pops will result in hundreds of student scholarships for students in need. They, along with our table benefactors, are the real stars of Pops on the Heights."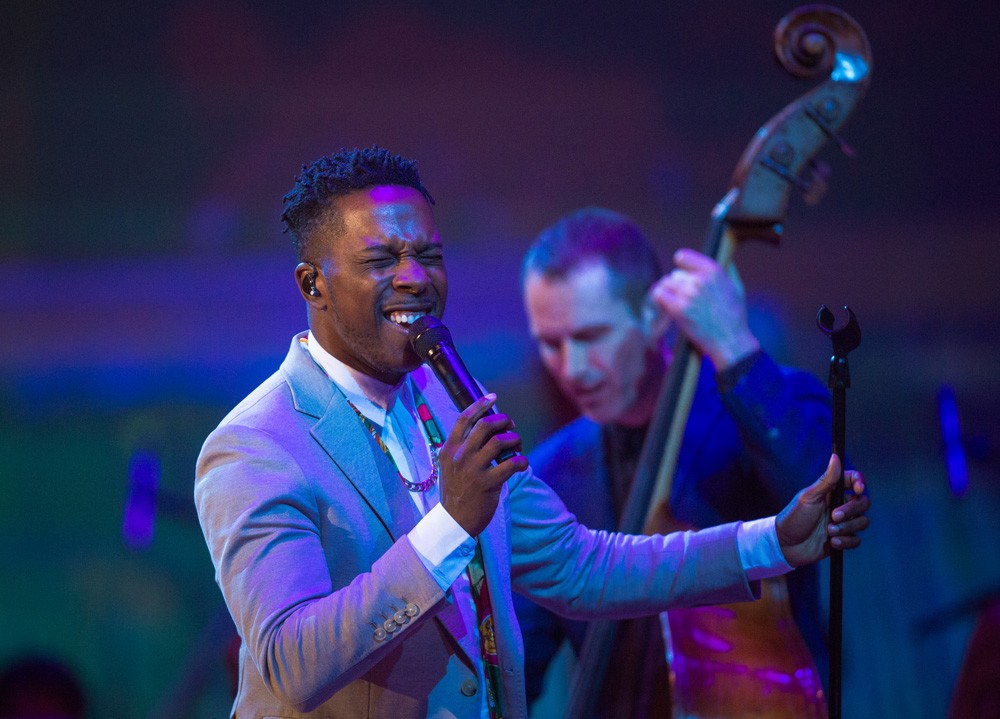 Lockhart and the Boston Pops treated the audience to an array of favorites, including numbers from Broadway and Disney musicals. This year's special guest artist, Leslie Odom, Jr., who won the Tony Award for best actor in a musical for his performance as Aaron Burr in original cast of the Broadway smash "Hamilton," drew cheers from the sellout crowd as he opened with a number from the show and followed with a set of jazz and popular songs.

Student participants included the Boston College Marching Band, the University Chorale, and soloist Natalie Marsan '21.

The Pops on the Heights gala was founded in 1993 by the late Barbara and James F. Cleary '50, H'93, a BC trustee. Today, their children—Kara '84, MA'91; Kristin '89, JD'93; and Jim Jr.—continue their legacy as Pops benefactors.
University Communications | September 2019