Ukraine's Ambassador to U.S. Oksana Markarova addresses the graduates. (Photo by Lee Pellegrini)

Ukrainian Ambassador to the United States Oksana Markarova urged members of the Boston College Class of 2023 to find their inner strength—as her country has done in its struggle against Russia—to fight for a just and fair world.

"Freedom is not a given. Opportunities are not a given. Democracy is not a given," Markarova told the Alumni Stadium audience at Monday's Commencement Exercises. "We all have many battles to fight in, many obstacles to overcome, many challenges to see through. Where will we get the strength? In our responsibility to take action for what we love.

"Choose to do that, and in that moment, you will become truly extraordinary," said the ambassador, who was awarded an honorary Doctor of Laws degree in recognition of her "courageous and unwavering devotion" to her country and its people.
Following the main Commencement event, the 4,405 members of the Class of 2023 received their undergraduate and graduate degrees at separate ceremonies held around campus.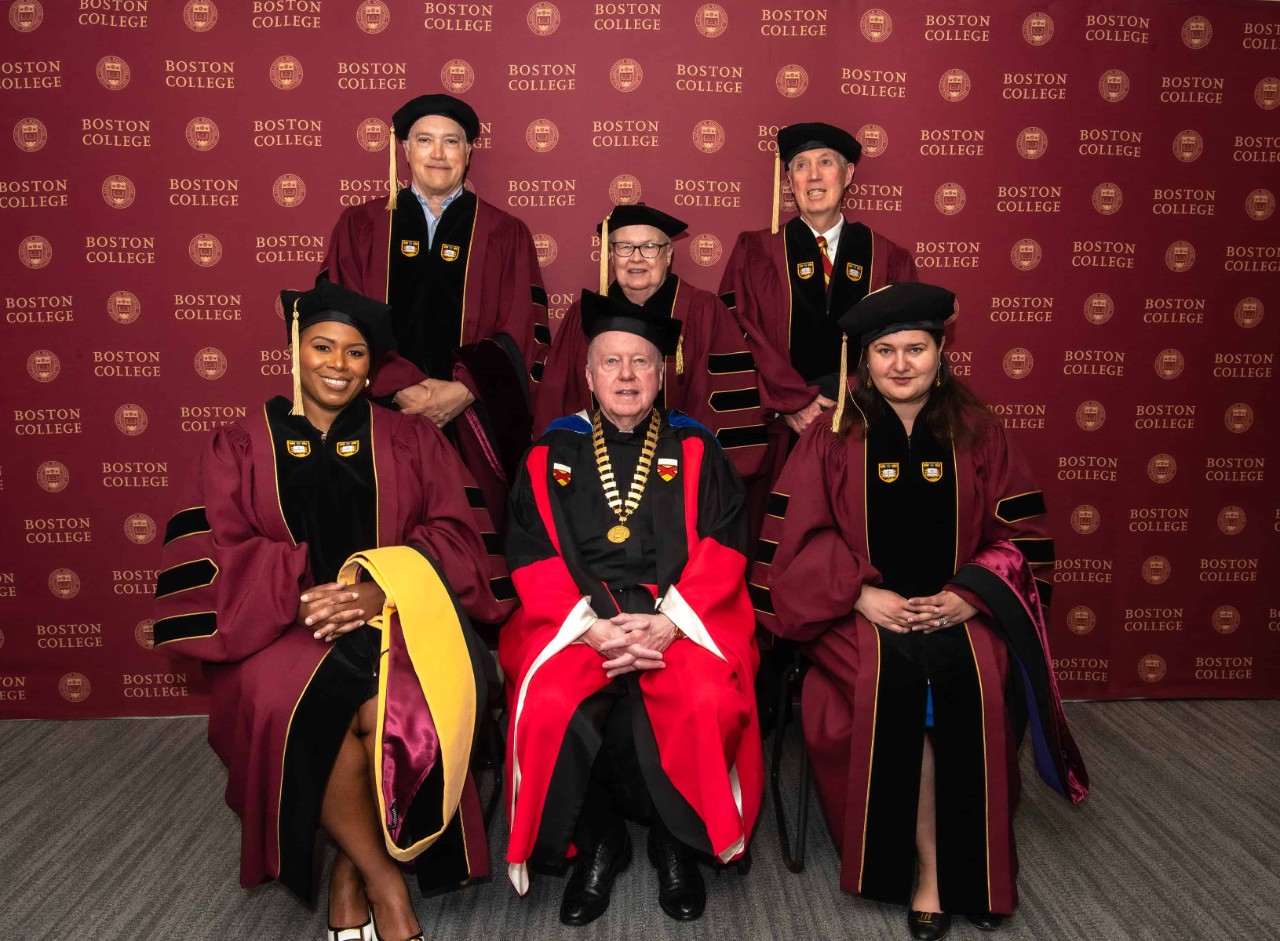 In addition to Markarova, the University presented honorary degrees to: Sister of Saint Joseph Jeanne McGowan M.Ed. '90, president of La Salle Academy in Philadelphia; Herb Scannell '79, a leader in broadcast media and diversity advocate; Katrina Shaw M.S.W. '98, a nonprofit leader and force for social justice in Boston and beyond; and retired BC men's hockey coach Jerry York '67, one of the most successful coaches in NCAA history. Read the honorary degree citations.
Morrissey College of Arts and Sciences student Huel (Trey) Cox III was honored as this year's recipient of the Edward H. Finnegan, S.J., Award, presented to the graduating senior who best exemplifies the University's motto, "Ever to Excel." Mary Walsh, the Daniel E. Kearns Professor in Urban Education and Innovative Leadership at the Lynch School of Education and Human Development, received the Saint Robert Bellarmine, S.J., Award, which recognizes a distinguished faculty member whose contributions have significantly advanced the mission of Boston College.
In his greeting, University President William P. Leahy, S.J., noted that Commencement is not only an occasion to offer appreciation—to parents, spouses, families, friends, faculty, staff, alumni, benefactors, and others who contribute to students' BC experiences—but to consider our response to compelling issues and events, as individuals and as members of a global community.

"Today we are especially mindful of the war in Ukraine, the thousands of soldiers and civilians on both sides killed in it, and the devastation it has caused for millions of people," he said.

"

Freedom is not a given. Opportunities are not a given. Democracy is not a given. We all have many battles to fight in, many obstacles to overcome, many challenges to see through. Where will we get the strength? In our responsibility to take action for what we love.

"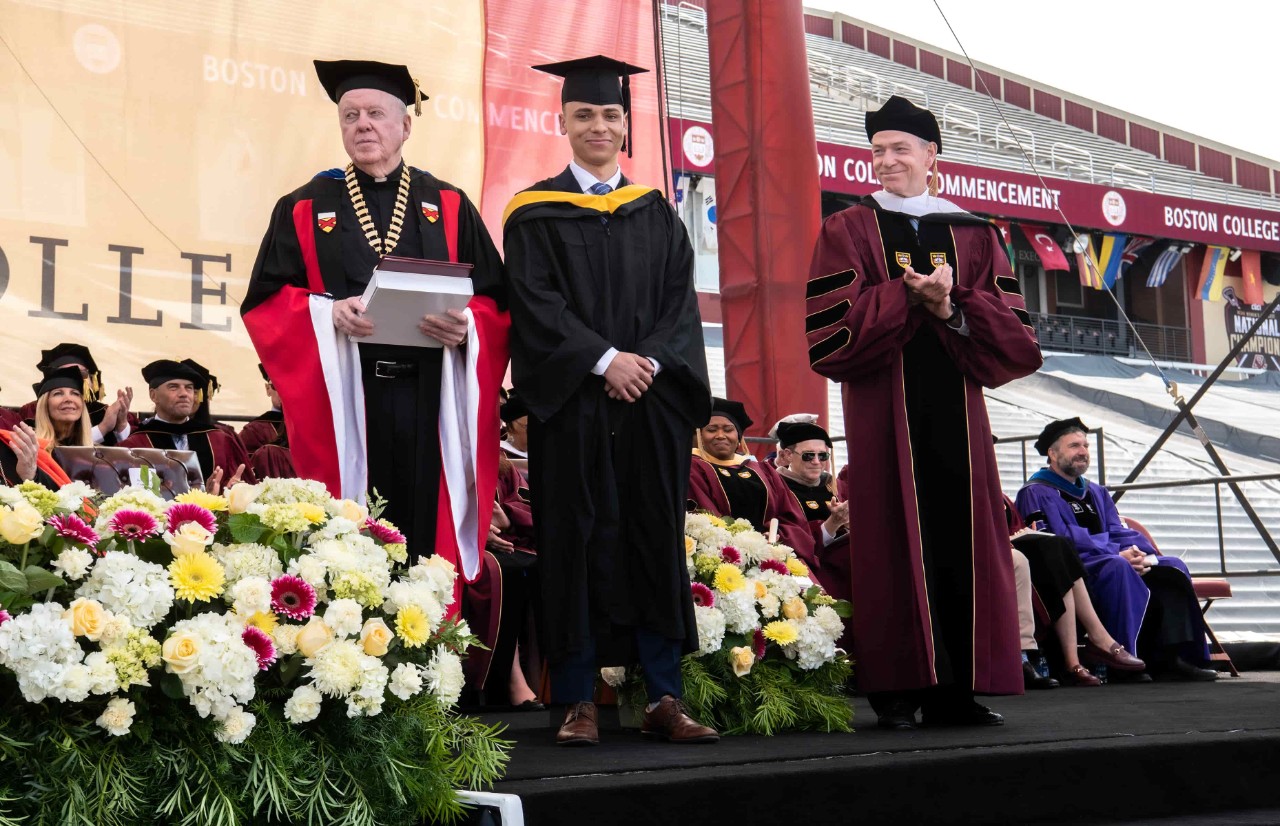 Markarova pointed out that Monday marked the 452nd day of Russia's invasion of her country, which "many experts across the globe" had predicted would fall in three days. She touched on recent developments—including the liberation of Kherson and other towns in southern Ukraine and a "heroic stand" against Russian forces in the town of Bakhmut—as indicative of her country's steadfastness: "Ukraine is still standing. We're still fighting."

The question she hears every day, said Markarova, is "what gives us strength?"—the title of a poem written more than a century ago by Ukrainian poet Lesia Ukrainka at a time when publishing in the Ukrainian language was punishable by prison. Ukrainka's poem recounts the story of a poor carpenter in Jerusalem hired to construct crosses for the crucifixion of three criminals, she said. After doing the job, the carpenter laments his lot in life, until he sees the three prisoners trying to carry the heavy crosses to the place of their execution. The carpenter comes to the aid of one, saying "I made this cross so heavy," he says, "It's my job to carry it."

She continued, "He straightens his spine, his arms find their old strength, and his eyes burn with determination as the carpenter bears Jesus' cross to Golgotha."
What gave the carpenter such strength, said Markarova, and what is the relevance to Ukraine today? She singled out three sources of strength for her and her people, the first of which is responsibility. Ukraine's hard-won democracy "was, like that poorly crafted cross, still unwieldy, and rough in places. But it was ours. We could not bear losing it. Just like the carpenter in the story rose up to take the responsibility for his craft, we rose to stand against the threat to our democracy."

Another exponent of strength is taking action, Markarova said: Once the carpenter took action, he changed from victim to hero. Similarly, she said, in the first day of the Russian invasion, thousands of men flocked to military recruitment offices. Citizens began collecting donations and procuring military equipment for the army, while caring for those who had fled their cities and villages. Businesses relocated to safer areas. Software programmers wrote code in bomb shelters. Teachers taught students in subway stations and food courts.

"That moment when you decide to act is when you stop being an ordinary person and become truly extraordinary," she said. "You excel!"

Love, continued Markarova, is the third source of strength (not as in "hearts and flowers," she added, "although as a happily married woman I can tell you it helps, too"). She cited many instances of love in this time of war: People sharing food and water with neighbors while sheltering together, or caring for others. Countries that took in Ukrainian refugees. Those who supported aid for the wounded—psychologically as well as physically.

"This is how we become strong. By being there for other people, so that they are there for us when we need it. By showing love, giving love, by simply loving. Loving our family, loving our country, loving each other."
Sean Smith | University Communications | May 2023