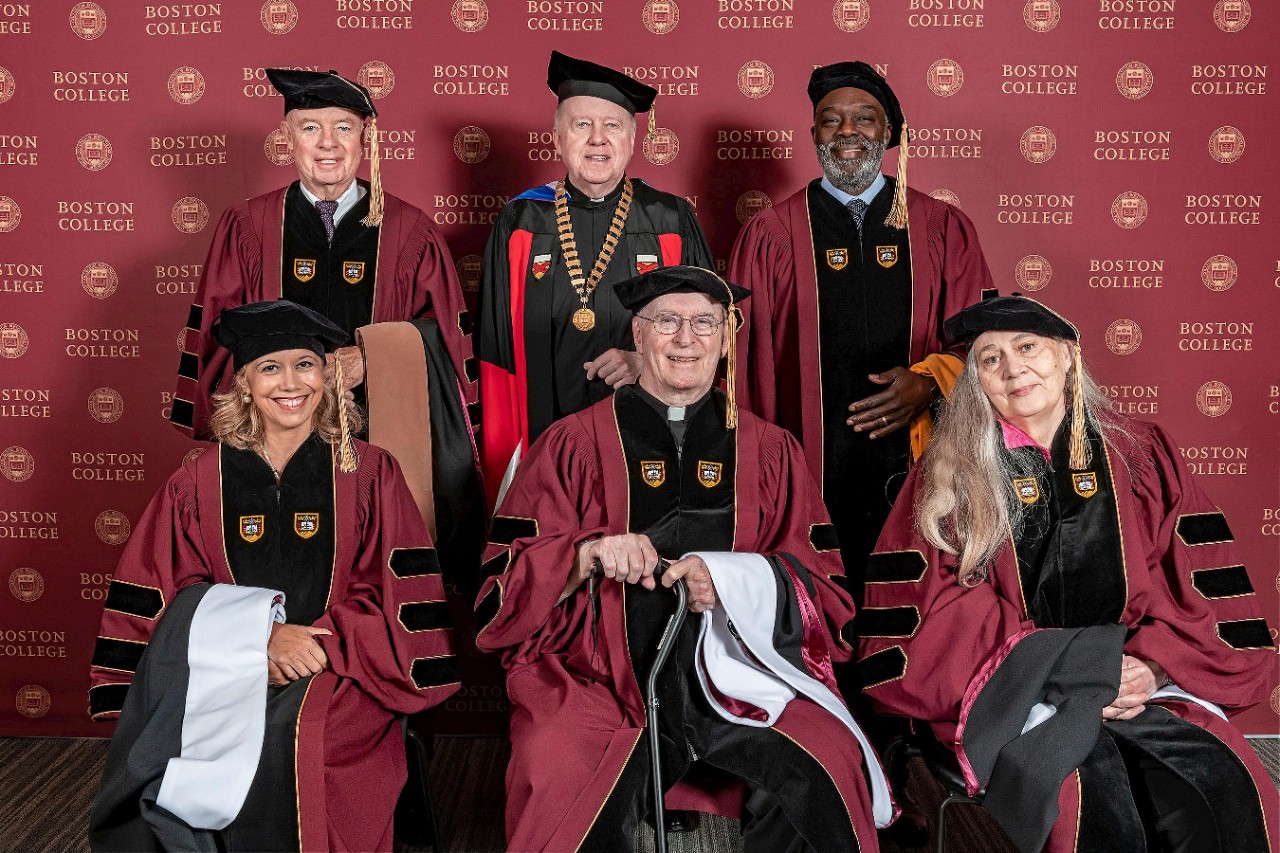 At its 143rd Commencement Exercises on May 20, Boston College presented honorary degrees to Isabel Capeloa Gil, the first female president of the International Federation of Catholic Universities, who also addressed the Class of 2019; retired Boston College administrator Dan Bunch '79, BCSSW '81; former assistant dean and professor Reverend Robert D. Farrell, S.J., MA '58, STM '65; benefactor and former Boston College Trustee Thomas D. O'Malley P '87, P '89, P '00; and Pulitzer Prize-winning author Marilynne Robinson.

Read about the honorees here; their degree citations are below.
ISABEL MARIA DE OLIVEIRA CAPELOA GIL
Isabel Capeloa Gil made history last year as the first woman to be elected president of the International Federation of Catholic Universities, the world's leading organization of Catholic higher education institutions. Upon her election, she pledged "to make the power of the few the strength of the many."
As IFCU president, she champions efforts to promote research and academic exchanges among the member schools, enhancing the image and impact of Catholic higher education around the world.
Her career has been marked by the conviction that global engagement in higher education is critical to create a more just society. She has held numerous visiting professorships and fellowships, including in China—where she spent her childhood—as well as Germany, Brazil, Italy, and the United States.
Rector and professor of cultural studies in the School of Human Sciences at the Catholic University of Portugal, she studies issues concerning diversity and conflict, and her research—published in the five languages she speaks fluently—explores the boundaries between literature, the arts, and other disciplines. Last fall, she joined an international group of Catholic education leaders invited by the Vatican to launch the Strategic Alliance of Catholic Research Universities, of which Boston College is a member.
For her service to research, teaching, and the Catholic intellectual culture, Boston College awards Isabel Capeloa Gil the degree of Doctor of Humane Letters, honoris causa.
---
DAN BUNCH
For more than 35 years, Dan Bunch made certain that Boston College students who faced obstacles on the path to graduation had the support they needed to succeed. A native of Hayneville, Alabama, he first came to Boston College as a student in the Black Talent Program, earning both his bachelor's and master's degrees at the Heights.  In 1982, he began working at Learning to Learn, which teaches BC students the learning skills and problem-solving techniques necessary to thrive in the classroom and in life.  During his 30 years as program director, Learning to Learn earned honors from the U.S. Department of Education and was replicated at more than 100 colleges across the country.
Later, as special assistant to the vice president for student affairs, he worked effectively to foster a deeper sense of community on campus among students, faculty, and staff.
A true University citizen, he served on the Martin Luther King Jr. Memorial Scholarship Committee, the Black Faculty, Staff, and Administrators Association, and the AHANA Alumni Council. He received the 2015 Boston College Community Service Award for his volunteer efforts with the Massachusetts Avenue Baptist Church, and the Concerned Black Men of Massachusetts, a nonprofit mentoring organization he co-founded. The AHANA Alumni group presented him with the inaugural Keith A. Francis Inspiration Award in 2016.

In recognition of his role as a mentor, advocate, and friend to generations of BC students, Boston College confers on Dan Bunch the degree of Doctor of Social Sciences, honoris causa.
---
REV. ROBERT D. FARRELL, S.J.
Influenced in college by a talk given by a Jesuit priest, Rev. Robert D. Farrell, S.J., entered the New England Province of the Society of Jesus in 1951. After earning his bachelor's and master's degrees from Boston College, he was assigned to teach at Baghdad College in Iraq in 1958.
While there, he grew in his appreciation of the intersection between Christianity and Islam, the faiths represented by the school's student body. After returning to America, he taught English to young Jesuits at Shadowbrook and high school students at Cranwell School in Lenox, Mass., and directed the English Department at Cheverus High School in Portland, Me., for 15 years.
He joined the faculty of his alma mater in 1990 to teach writing in the College of Advancing Studies, now known as the Woods College. Ever attentive to his students, he preferred to correct papers in plain pencil, which he viewed as a gentler form of criticism than red ink. After a distinguished 28-year career at BC, he retired from teaching in 2018.
His caring, inspired teaching led students, alumni, and friends to establish the Rev. Robert D. Farrell, S.J. Scholarship Fund in 2003 to support local, part-time students enrolled in the Woods College.
For a lifetime of service and ministry that introduced thousands of students to literature and the art of quality writing, Boston College awards Rev. Robert D. Farrell, S.J., the degree of Doctor of Humane Letters, honoris causa.
---
THOMAS D. O'MALLEY
Thomas D. O'Malley grew up in a working-class neighborhood in New York's Staten Island, and rose to become a successful Wall Street executive and one of the nation's most accomplished entrepreneurs.
He paid his Manhattan College tuition by driving a taxi and a school bus, and working in the school's cafeteria. In gratitude for his education, he served his alma mater as a trustee for 15 years and board chair for seven, and he and his wife Mary Alice are recognized as the most generous donors in the Catholic college's history.  
He began his professional career in commodity trading in New York City in 1964, and went on to become vice chair of the investment banking firm Salomon Brothers. He then spent 32 years as a senior executive in the independent energy sector, before retiring in 2016.
The parent of three Boston College graduates, he was a BC trustee and trustee associate for 14 years.  In 2015, the family's foundation established the O'Malley Family Athletics Endowed Scholarship Fund to support BC student-athletes.
The O'Malleys' philanthropy extended to their local community in Connecticut as well, including support for Greenwich Hospital, and scholarships at Trinity Catholic High School in Stamford for the children of police officers, firefighters and nurses.
For his business leadership and commitment to Catholic education and community organizations, Boston College awards Thomas D. O'Malley the degree of Doctor of Business Administration, honoris causa.
---
MARILYNNE SUMMERS ROBINSON
For "her grace and intelligence in writing," American novelist and essayist Marilynne Summers Robinson was awarded a National Humanities Medal by President Barack Obama in 2012. It is one of many honors bestowed upon this celebrated author, whose novels include Housekeeping, a 1982 Pulitzer Prize finalist; Lila, a finalist for the National Book Award; and Home, also a National Book Award finalist, and winner of the Women's Prize for Fiction.
Her novel Gilead, part of an acclaimed trilogy set in a fictional Iowa town, won the 2005 Pulitzer Prize for Fiction and the National Book Critics Circle Award. Her prose also garnered her the Library of Congress Prize for American Fiction in 2016. The same year, Time magazine named her to its list of 100 most influential people, and in 2018 described her as one of the foremost figures in American letters.
Her essay collections demonstrate wide intellectual range, addressing such subjects as the relationship between religion and science, nuclear pollution, sixteenth-century theologian John Calvin, and contemporary American politics. In addition to captivating audiences and critics, she shared her talents with aspiring writers. Now professor emerita at the University of Iowa, she taught in its writer's workshop for two-and-a-half decades.
For her creativity, inspiration, and commitment to literature and the humanities, Boston College confers upon Marilynne Summers Robinson the degree of Doctor of Humane Letters, honoris causa.
University Communications | May 20, 2019