Hariharan (Harry) Shanmugam, a member of the Boston College Class of 2021, is driven to use his knowledge, interests, and skills to make society a better place by addressing health disparities and advancing public health. At Boston College's 144th Commencement Exercises on May 24, University President William P. Leahy, S.J., presented Shanmugam with the Edward H. Finnegan, S.J., Award, given annually to the graduating senior who best exemplifies Boston College's motto "Ever to Excel."

A member of the Gabelli Presidential Scholars Program, Shanmugam has a stellar academic record and graduated summa cum laude from the Carroll School of Management, with a concentration in accounting for finance and consulting and a major in biology.

The Hopkinton, Mass., resident fell in love with BC during his senior year of high school when he visited campus as a prospective Gabelli Presidential Scholars Program student.

"I remember being blown away by the people I talked to. We stayed up late in the dorm talking about God, politics, and architecture. It was one of those quintessential college moments, and I remember thinking, 'I want this.'

"BC was so clearly that place where I was going to have people who cared about me, a real sense of community, mentors who want to see you succeed, and friends who challenge you and make you grow. It's been borne out every single day I've been at BC."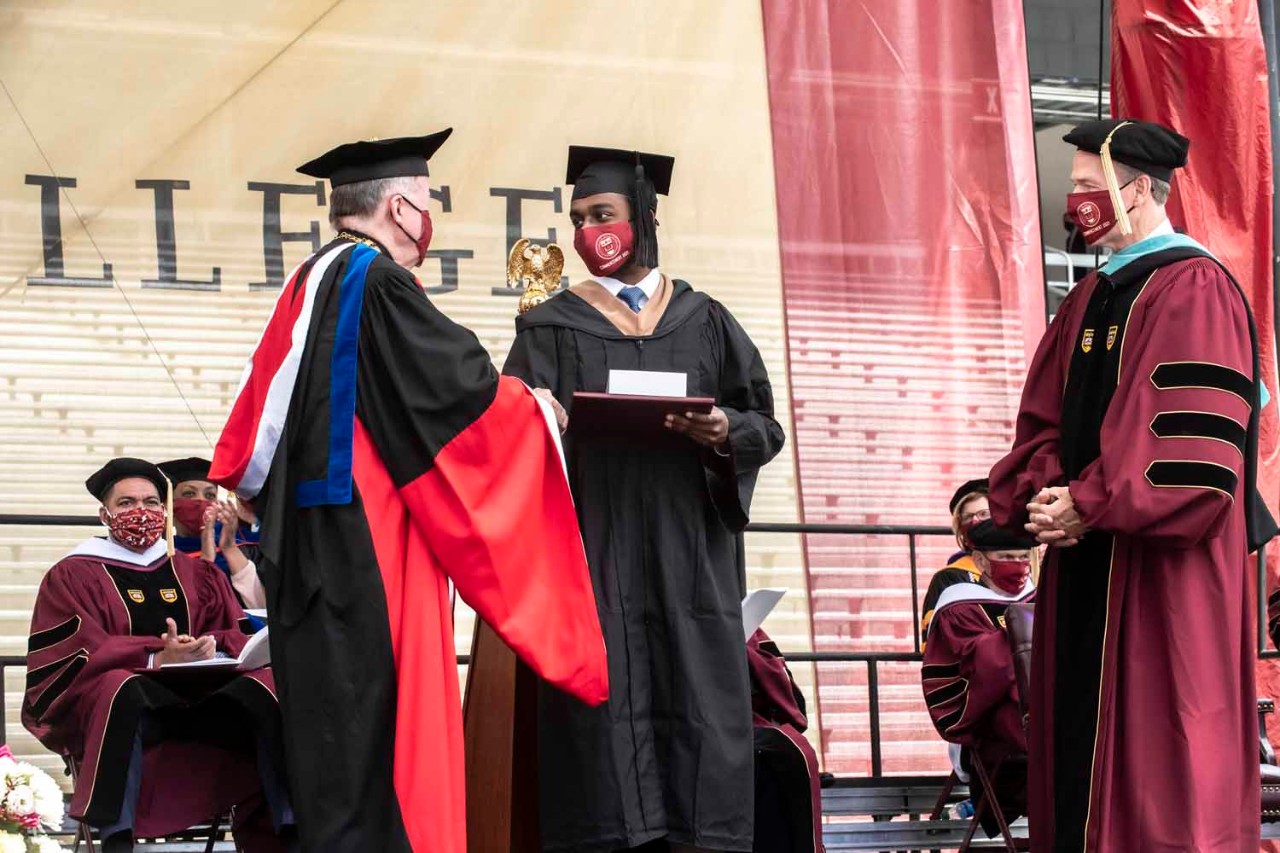 Shanmugam has combined his interests in medicine and science, business, and policy in his academic work, which includes two published articles and another under review.

As an Undergraduate Research Fellow for BC's Global Pollution Observatory, he was a member of an interdisciplinary team of more than 40 scientists from 18 countries who developed a major report on "Human Health and Ocean Pollution." Shanmugam worked with Global Public Health Director Philip Landrigan, M.D., and scientists at the Woods Hole Oceanographic Institution to develop a case study of the health and economic benefits that resulted from the Boston Harbor restoration. He was a contributing author to a paper from the study that was published in Annals of Global Health.

Said Landrigan, "Harry's background in management and accounting enabled him to contribute uniquely to this endeavor by computing the return on investment from the Boston Harbor clean-up, information that is of critical importance to policy makers who need to understand that the large up-front costs of a major environmental restoration such as the Boston Harbor clean-up can be recovered many times over through such benefits as the rebuilding of fish and shellfish stocks, increased tourism, and improvement in human health and well-being."

Shanmugam spent the summer of 2019 in Mexico as a research fellow for the National Institute for Public Health where he conducted research, in Spanish, on dietary fiber intake and urinary creatinine. He was primary author of an article about the study that was published in Environmental Science and Pollution Research.

"[Harry] is thoughtful, caring, and deeply committed to making the world a better place," said Landrigan, who was the advisor for Shanmugam's senior honors thesis, which looked at the role socioeconomic status and race played in the COVID-19 vaccine coverage in Massachusetts.

As an Undergraduate Research Fellow for BC School of Social Work Associate Professor Summer Hawkins, he analyzed a dataset to determine the effects of state pharmaceutical regulations on adolescent drug misuse. He is first author of a manuscript currently out for review.

"BC is where I developed my passion for science," said Shanmugam. "Biology at BC is such a comprehensive, deep dive into science. It's such a cool major. One of my favorite classes was Biological Chemistry—an insanely hard class—but it completely changed the way I think about causality, about the way the world works, about science in general. The story of BC, for me, has been this awakening of a love for science, the processes behind it, and a systems-based thinking approach."

"Harry is one of the greatest thinkers I have ever taught or mentored," said Assistant Professor of the Practice of Biology Ben Fofana.

"Every single day at BC taught me more and more about who I am, what I value, and the person I want to become. BC gave me confidence and a license to dream big. But, it would not be possible without the friends that made this place home and the professors who wanted to see me succeed."
"I knew I wanted to be a doctor, but I wasn't exposed to the idea of public health until I came here," said Shanmugam. "But public health is medicine on a systemic level."

Shanmugam put his interest in public health into action through his service and policy work on behalf of the HIV/AIDS community in Boston.

Since 2018, he has served on Boston's Ryan White Planning Council, where he chairs a committee that identifies needs in the local HIV/AIDS community and allocates millions in federal funding to support that population. He also is a member of the Boston Public Health Commission, where he led the development of a care linkage program that aims to shorten the time from HIV diagnosis to outreach from a care provider from weeks or months to 48 hours. He also represents the commission on the steering committee for the state's Ending the HIV Epidemic in Massachusetts initiative.

Shanmugam's on-campus extracurricular activities include serving as vice president of Model UN and a founding member of the Fulton Leadership Society. For nearly his entire time at BC, Shanmugam volunteered as a panelist for the Office of Undergraduate Admission's information sessions.

"His ever-present kindness to others will always be remembered as will his drive to show high school students all of the possibilities that BC might have for them," said Undergraduate Admission Associate Director Chris O'Brien, who highlighted Shanmugam's earnestness and honesty. "We don't replace Student Admission Program members like Harry; we reminisce and smile about them for years after they leave." 
Shanmugam said one of his favorite experiences on campus was serving as co-president of the Student Health Equity Forum, which educates students about public health issues through discussions, guest speakers, case competitions, applied public health projects, and a partnership with a grassroots public health organization in Tamil Nadu, India.

Among his many mentors, Shanmugam credited Landrigan and Hawkins along with several members of the BC community for the influential role they played in his formation: James Keenan, S.J., and Kathleen Bailey from the Gabelli Presidential Scholars Program, scientists Danielle Taghian and Thomas Chiles, and Ethan Sullivan from the Carroll School.

On the horizon for Shanmugam is a job with Boston Consulting Group, where he will work on projects in the areas of healthcare and social impact practice. He is applying to medical school as well.

Shanmugam is still teasing out what exactly his career will be, but right now the ideal role for him would combine clinical work, research, and policy work.

"Every single day at BC taught me more and more about who I am, what I value, and the person I want to become. BC gave me confidence and a license to dream big. But, it would not be possible without the friends that made this place home and the professors who wanted to see me succeed. At the end of the day, it comes down to the people at BC."
Meet the finalists for the 2021 Finnegan Award
Kathleen Sullivan | University Communications | May 2021