Retired U.S. Marine Corps Captain W. Christopher Bade '80, P'20, an active supporter of military veterans, will be the featured speaker at the 20th Annual Boston College Veterans Remembrance Ceremony, held virtually on November 11 at 11 a.m.

Instead of presenting a formal address, Bade will participate in a conversation with Boston College ROTC Cadet Charles Work '23.

Preceding Bade's talk with Work will be a Veterans Day Mass that will be streamed online at 10 a.m. Retired U.S. Air Force Lieutenant Brett McLaughlin, S.J., STM '20, will preside and retired U.S. Navy Lieutenant Commander John Monahan, S.J., will preach.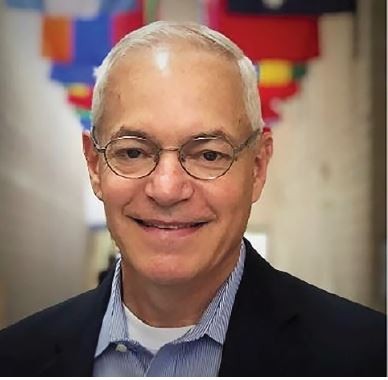 During the Veterans Day ceremony, ROTC cadets will read the names of BC alumni who gave their lives in combat and Executive Vice President Michael Lochhead '93, M.B.A. '99, a U.S. Army veteran, will pay tribute to all veterans and describe how the University community supports those who served in the military.

Bade, vice president of field service and customer support for Analogic Corp., has worked in the medical and security imaging industries for more than 25 years. He serves his fellow veterans through his work on the board of trustees for Ironstone Farm, a therapeutic horseback riding farm in Andover, Mass.; his fundraising efforts for a new veterans outreach center on Cape Cod; and his coaching of veterans transitioning to civilian life through the BC Veterans Alumni Network (BCVAN).

"The Alumni Association is honored to have Chris Bade as the featured speaker for BC's Veterans Remembrance Ceremony," said Associate Vice President for Alumni Relations Leah DeCosta. "Throughout his career, Chris has exemplified the BC mission of being men and women for others through his dedication as a volunteer leader. We are grateful that our alumni and guests will have the opportunity to hear from Chris about how he intentionally transitioned from active military service with the goal of dedicating himself to supporting veterans in numerous ways."

A former aviator in the Marines, Bade flew the AV-8B Harrier and served as a forward air controller and infantry battalion adjutant during his seven years on active duty. He served an additional four years in the Marine Corps Reserves.

Bade received a degree in geology and geophysics from Boston College and an M.B.A. in general management from the Duke University Fuqua School of Business.

DeCosta said the dialogue between Bade and Work as part of the ceremony will enrich the event. "The conversation between an alumnus and a student is symbolic of both the strong relationship that exists between BCVAN and ROTC, as well as between our alumni and our students on so many levels."

This event is sponsored by the Alumni Association, BCVAN, the Boston College Army ROTC Program, the Office of the Executive Vice President, and Campus Ministry. The event is open to all members of the Boston College community, but advance registration is required at the event webiste.

Christine Balquist | University Communications | November 2020