Photo by Christopher Huang

Don't look for the big hockey championship trophies in Coach Jerry York's Conte Forum office. He might be the first to tell you that the collection of gleaming hardware is not the most important part of his hockey program.

York, who announced his retirement this month after a highly successful 28-season run at Boston College—and 50 years overall as a Division I head coach—always zeroed in on winning his sport's biggest prizes, but he never treated those championship trophies as the only focus of his program.

When his teams won the NCAA Championship on four different occasions, he would bring the coveted prize back to University offices for display. The trophy would be loaned to the Office of Undergraduate Admission, where prospective students could see the accomplishment, or to BC Dining Services, the BC Police Department, Office of Residential Life, Learning Resources for Student-Athletes (now Student-Athlete Academic Services), or other academic departments.

"To him, it wasn't his trophy," noted John Hagerty, the hockey team's director of operations. "It wasn't the players' trophy, either. It belonged to Boston College.

"There were some years when we had to remember where we had put it," laughed Hagerty, who has served on York's staff since the 76-year-old Watertown native returned to his alma mater in 1994 to resurrect the school's slipping hockey program.

The Eagles' four York-era NCAA Championship trophies now reside in the hallway display case outside the hockey suite, still available for all to see.

"

He is sincere. He has a passion for the sport of hockey and for playing it the right way. He has a passion for Boston College...He loves his staff—all the assistant coaches, the support people. We are all a part of his family.

"

York's success over the last 28 years has been unmatched: His teams qualified for the NCAA tournament 18 times; advanced to 12 "Frozen Four" championship series; and won national titles in 2001, 2008, 2010, and 2012. Along the way, he also led the ice Eagles to multiple Hockey East and Beanpot Tournament championships. York finished his sparkling career with 1,123 victories—the most of anyone who has ever coached this college game.

The keys to this success were rooted in York's personal integrity and people skills as much as his hockey acuity. "He is sincere. He has a passion for the sport of hockey and for playing it the right way," Hagerty said. "He has a passion for Boston College.

"Coach York's greatest strength may have been his ability to draw people into the program," Hagerty continued. "He loves his staff—all the assistant coaches, the support people. We are all a part of his family.

"Everyone is invested," Hagerty said. "In my own job, I have never wanted to fail him. I would never let it get to that point."

When a player was recruited for the program, York would go to great lengths to ensure that the young man would be a good fit, as a player and as a person. "He did his homework on every single person we recruited to play for Boston College," Hagerty said. "He was selling something that he strongly believed in."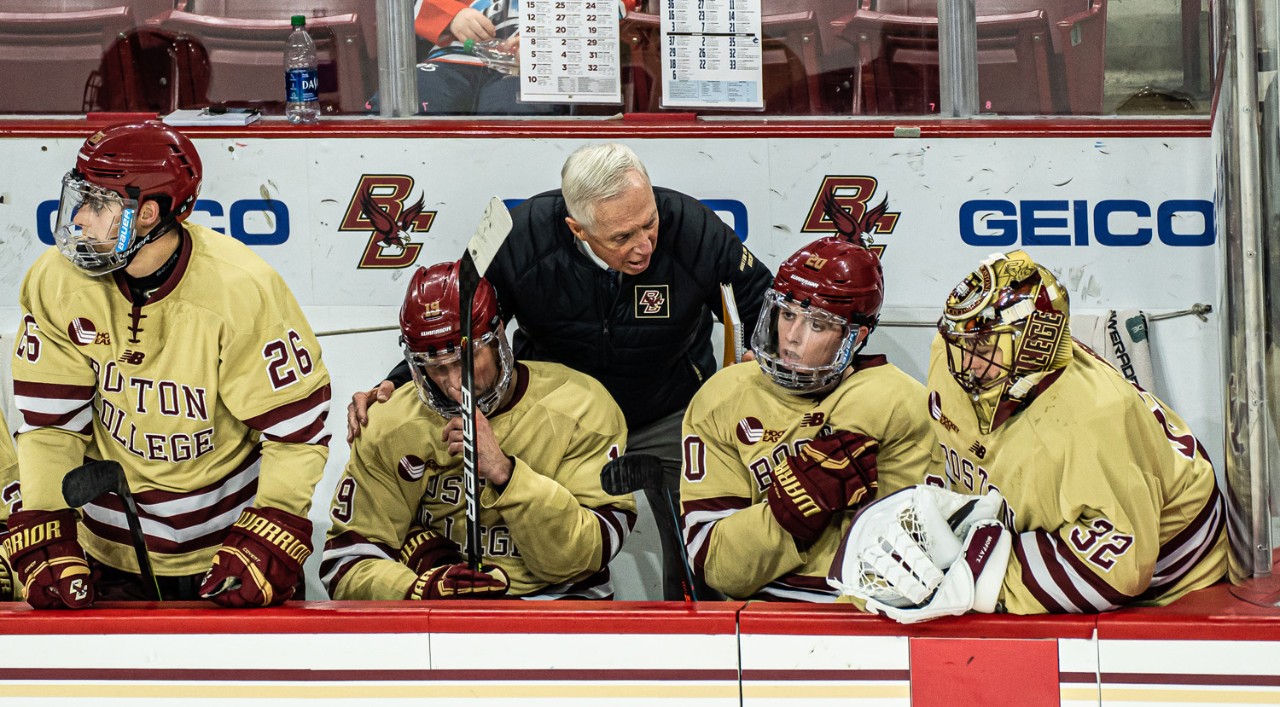 To his players, York was constantly teaching life skills and values along with winning hockey techniques. Each season, he brought guest speakers in to address the team, among them New England Patriots coach Bill Belichick, former Red Sox manager Terry Francona, and University Trustee and Apple Fellow Phil Schiller '82—all of whom pointed out the need for leadership and teamwork to generate success.

Also, each year he would invite Conte Forum's custodial workers into a team meeting. "These are the folks who have to clean up after you, so let's leave our locker room in good shape for them," he told the players. Those who demonstrated lax locker room habits would likely find themselves on "Dyson Duty"—assigned to vacuum the locker room carpet each day for a week.

Similarly, he brought his team over to meet the Kelley Rink's Zamboni crew before each season, introducing the players to the people who work the long hours to keep the ice surface and rink facility in pristine shape, and to thank them in advance for their efforts.

When the team made a meal stop during road trips to distant rinks, York would invariably ask the bus driver, "What would you like? We'll bring a meal out to you." He never failed to say "thank you" to ushers and security staff members who assisted the team.

In the 2006 NCAA Final, York's team lost a 2-1 heartbreaker to the University of Wisconsin in a game played in Milwaukee. As the crestfallen BC squad skated off the ice, York called them back out to go across the rink to salute a small contingent of maroon-and-gold-clad Boston College alumni and fans who had faithfully cheered the team amid some 17,000 raucous Badger rooters.

"That's what he instilled in his teams," said Hagerty. "The kids thought he was using life to teach them about hockey, but what he really was doing was using hockey to teach them about life."

More recently, with COVID protocols in effect, Hagerty brought his 11-year-old daughter, Bridget, into the BC hockey office where they had plans to link up to her virtual classroom computer connection. York, a grandfather of two, insisted that the youngster place her computer on a table in his personal office, where it would be quiet for her virtual class.

There they sat: College hockey's winningest coach, formulating his recruiting evaluations, practice schedules, and game plans; Bridget engaging in virtual reading and math exercises with her teachers and sixth-grade classmates at St. Agatha School in Milton.

As usual, there were no big trophies in the room to get in the way of such important work.

Reid Oslin, former sports information director for Boston College Athletics and associate director of BC's Office of News & Public Affairs  |  May 2022