The U.S. premiere of "Invisible," Tena Stivicic's moving, topical look at the many sides of migration, launches the fall season at Robsham Theater with performances October 18-21. Award-winning Croatian playwright Stivicic will be on campus for the production's opening night and will take part in a public conversation about migration that afternoon at 4 p.m.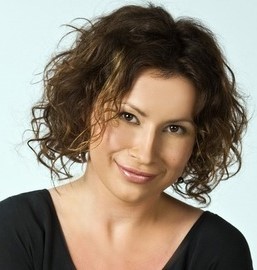 Stivicic—who also will visit theater classes during her stay on campus—is a winner of the prestigious Susan Smith Blackburn Prize, which recognizes women who have written works of outstanding quality for the English-speaking theater. She has written plays both in her native Croatian and in English; besides "Invisible," which she is adapting into a feature film, her major works in English include: "Can't Escape Sundays," "Perceval," "Psssst," "Two of Us," "Goldoni Terminus," "Fragile!" and "Fireflies."
"The entire artistic effort on the part of the students is the personification of the BC ideal, men and women for others," said director Patricia Riggin, associate professor of the practice in the Theatre Department. "The student actors who embody the characters in this play are especially aware of their responsibility to honor the lives of these refugees. The entire company's passion and dedication to the work has been heightened by the absolute necessity that these stories be heard immediately."
"Invisible" is presented by special arrangement with Curtis Brown Group Limited. The Octiber 18 event with Stivicic, which is free and open to the public, is presented by the Winston Center for Leadership and Ethics with the Theatre Department, and will be moderated by Boston College School of Social Work Associate Professor of the Practice Westy Egmont, director of the Immigrant Integration Lab. (Read more information on the BC Events Calendar.)
The wit and romance of Jane Austen's classic 1813 novel come to life in a fast-paced and engaging new stage adaptation of "Pride and Prejudice" at Robsham November 15-18.
When the independent-minded Elizabeth Bennet meets the wealthy and handsome but enigmatic and seemingly haughty Mr. Darcy, she is determined not to let feelings triumph over good sense. In a society where subtle snubs and deceit proliferate, is it possible for the two to look beyond his pride and her prejudice? Jon Jory's adaptation of the play based on Austen's novel will be directed by Associate Professor of Theatre John Houchin.
Ticket prices (which include a service fee) for both productions are $17 for adults; $12 for students with a valid ID; $12 for BC faculty and staff members (one ticket per ID); and $12 for senior citizens. For more information, including performance times, visit the Robsham Theater box office website. 
—University Communications