A scene from the Boston College production of Ella Hickson's "Oil" at Robsham Theater. (Lee Pellegrini)

Audiences will return to Boston College's Robsham Theater Arts Center for the New England premiere of the critically-acclaimed play Oil, an important work that explores our dependency on ever-dwindling fuel sources. Performances run October 21–24 on the main stage.
"We are tremendously excited to be returning to making theater with a live, masked audience," said Theatre Department Chair and Associate Professor of the Practice Luke Jorgensen. "Although last year was a success in terms of pivoting to online performing, nothing beats the magic of live theater."
Oil, a play lauded as an "epic political tale in the context of a gripping mother-daughter story" by The Washington Post, will be directed at Boston College by Patricia Riggin, a Theatre Department associate professor of the practice.
"Oil is an extremely timely play, given the recently released United Nations report on climate change," she said. "It examines our dependence on oil, the history behind the politics of developing it, and the impact on Middle Eastern and Northern African countries due to exploitation of this resource."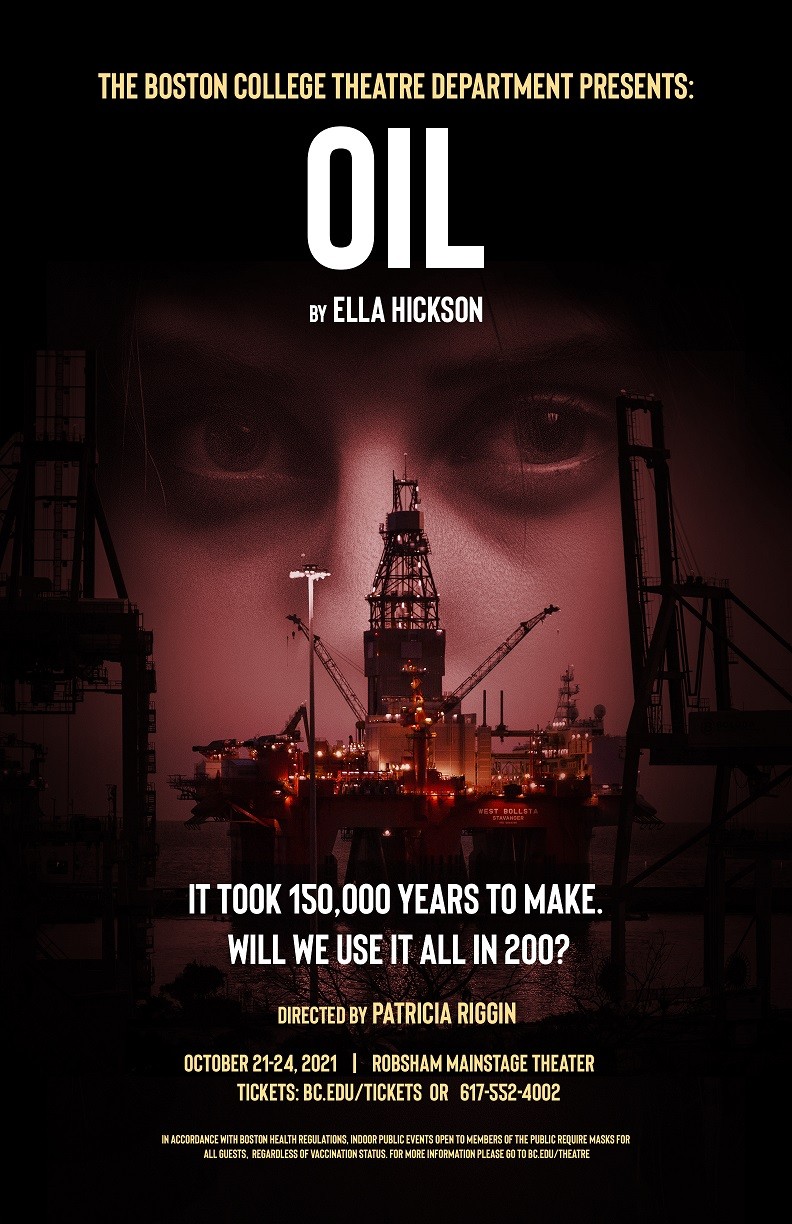 Written by British playwright Ella Hickson—and lauded by The Daily Mail and The Guardian, as well as in other reviews—it depicts time travel through the "Age of Oil" with May, a woman who marvels at the glow of a kerosene lantern in 1889; then journeys to the future, where we meet her as a waitress in British-occupied Iran in 1908, an oil executive in 1970s London, and a former member of Parliament in the desert outside Kirkuk in 2021. Ultimately, in the year 2051, she lives in a world where oil has become scarce.
"It's a profoundly topical piece of theater that was well-received in London and other cities," added Riggin, who spent three years in pursuit of the rights to stage the production at Boston College.
From November 17-21, Jorgensen will direct a new adaptation of The Lion, the Witch and the Wardrobe.
"The original C.S. Lewis classic story was written during a time when wartime children felt unsafe to go outside, and lived in a vivid fantasy world," he said. "It seemed like an ideal time to create a play in which our children have, for very different reasons, experienced fear and isolation. Our play will be a celebration of the classic with a modern comic twist featuring some of our finest BC actors, magical effects, large-scale puppetry, and dance.
"This show is very much a family production and appropriate for all audiences. In many ways I think it will be the feel-good show we have all been yearning for. This performance will truly be a spectacle," Jorgensen added.
The Lion, the Witch and the Wardrobe also will feature members of BC dance groups Sexual Chocolate and Masti.
For more on fall Theatre Department/Robsham Theater Arts Center main stage productions, including performance times, ticket information, and COVID-19 protocols, visit bc.edu/theatre.
Rosanne Pellegrini | University Communications | October 2021