John Finney conducting the University Chorale of Boston College. (Yiting Chen)
Recognized as one of the most important musicians in the Boston area, University Chorale of Boston College Director John Finney—a distinguished conductor and organist who has been active in choral music for more than four decades—has received a singular honor: Choral Arts New England's Alfred Nash Patterson Lifetime Achievement Award.

​​Choral Arts New England Board Chair Gregory W. Brown formally presented the award this fall to Finney in recognition of his outstanding contributions to choral music in New England. The inscription praised Finney's "decades of service in the distinct realms of adult choral societies, professional choruses, collegiate chorales, and church choirs. [He] has brought great choral music to audiences everywhere while inspiring universal respect and admiration from his colleagues and choristers."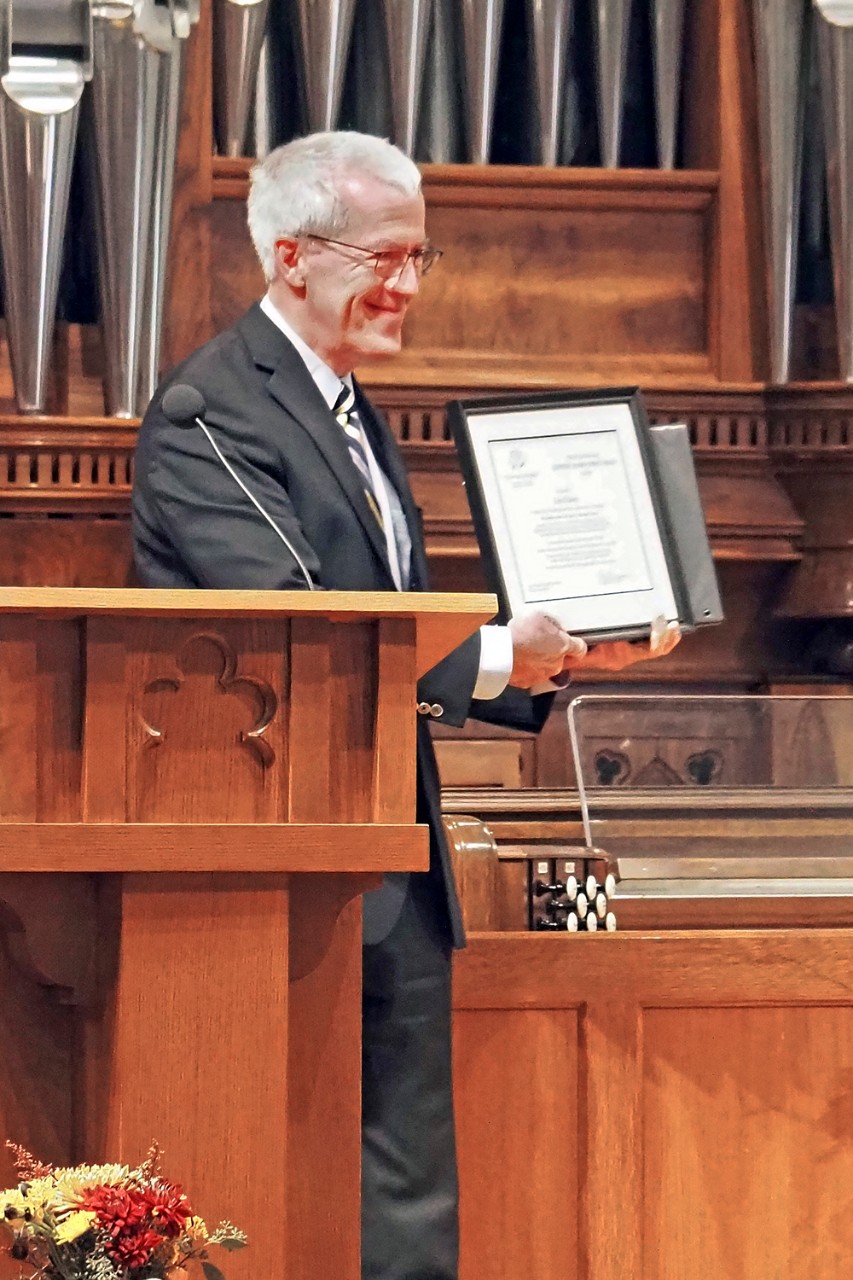 Finney has directed the University Chorale of Boston College since 1993, and conducted the Boston College Symphony Orchestra since 1999, when he was given the title of distinguished artist-in-residence at the University.

"It is an immense honor for me to be the recipient of this prestigious Lifetime Achievement Award," Finney said. "I have been blessed to work with hundreds, if not thousands, of wonderful singers over my 43 years as a choral conductor.
"I have loved every choral ensemble I have ever conducted, and have reveled in the fact that every chorus produces a sound that is unique and extraordinary, unlike the sound of any other choral ensemble that has ever existed."

Finney also has served as conductor of the Heritage Chorale (1983-1984, 1987-2020), associate conductor and chorusmaster of the Handel and Haydn Society (1990-2014), and director of music at Wellesley Hills Congregational Church for more than 36 years.
An internationally known organist and expert on early music, he is principal keyboardist, conductor, and choral director at Blue Hill Bach in Maine.


University Communications | December 2021