Eric W. Ojerholm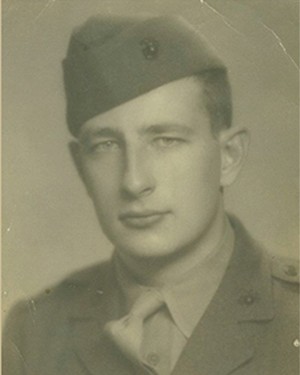 | | |
| --- | --- |
| Class Year | 1946 |
| Rank | PFC |
| Service | USMC |
| Conflict | WWII |
| Born |   |
| Hometown | Newton, MA |
| Died | 03/07/1945 |
| Location of Death | Iwo Jima |
Additional Information
Unit: 27th Marines, 5th Marine Division
Buried: National Memorial Cemetery of the Pacific, Honolulu, HI
Remembrances
Eric W. ("Sonny") Ojerholm graduated from B.C. High School in 1942 just after the outbreak of WW II. He attended Boston College as a member of the Class of '46 and then participated in the US Marine Corps Officer V12 Training Programme at Dartmouth College. Like many youth at the time, Eric was itching to get into the war before it ended and he "engineered" himself into the 27th Marines, 5th Marine Division as an enlistee. This was one of the units to storm Iwo Jima, Volcano Islands in the Western Pacific. This was reputed to be one of the bloodiest battles in US Marine Corps history during which the marines suffered more casualties than the defending Japanese during a fierce frontal assault lasting more than one month. Some 7000 marines perished in battle including Eric who died on D-Day plus 16, March 7th, 1945. Eric now lies in peace along with thousands of his compatriots at the National Memorial Cemetery of the Pacific, The Punchbowl, Honolulu, Hawaii, one of the most beautiful vantage points on the island of Oahu. 
The following article appeared in the Boston Globe shortly after the family received notification of Sonny's death in April 1945. The article contains Sonny's penultimate letter home:
"Letter Reveals Courage of Marine on Eve of Death
This is the story of a United States Marine who died on Iwo Jima in the bloodiest battle ever fought by a corps famed for its courage and tenacity. But it is only partly that. For it is also the story of a letter, the last that will ever be written by Pfc Eric Ojerholm, USMC, to his family back home in Newton Centre. Few letters that have come to the Globe's attention have breathed of loyalty , of courage, of honesty, of love, and faith more beautifully.
Pfc Eric Ojerholm of the Marines is the oldest son of Major Eric W. Ojerholm (Ret), who, during the past two years has been stationed at the Boston Navy Yard following recall to service. Maj. Ojerholm has just received notification from the Navy of his son's death in action. The notice followed soon after receipt of Eric's final letter.
Pfc Ojerholm is a graduate of B.C. High and was a member of the Boston College Class of 1946. He entered Dartmouth for special training in July ,1943, and went overseas in the Pacific in September, 1944. Besides his father and mother, he leaves two brothers and three sisters. Their home is at 40 Rowena Rd., in Newton Center.
Here is the letter:
'Feb., 9, 1945
"En Route"
Dear Folks,
Hope my letters have been coming through halfway regularly so you wouldn't worry. Mother, Daddy, Barbara, Joan, Michael, David and last but not least Ruthie, I hope you're all well and happy.
Myself, at present, I'm aboard ship bound for combat and as fine as I could be under the circumstances. Needless to say, I miss you all very much and hope the day when I will see you all again isn't far distant.
I have never tried to write a letter like this before and I don't know quite how to begin. Soon, in the very near future we will attack Japanese occupied and strongly fortified territory - that is obvious. That some of us won't be coming back is also quite obvious. It is going to be hot and heavy. I hope and pray - God willing - I'll be spared.
I'm in the state of grace, and that fact alone gives me great consolation. I'm not going to try to tell you all that I'll not be scared. I'll be scared stiff. I just hope I can give a good account of myself. In spite of my resignation to God's will, being in a state of grace, and a sort of fatalism, I don't want to die. I suppose that's just natural. But if the worst should occur, I really hope you'll not take it too hard - just pray for me. The only difficult thing for me will be missing you all because I love you all very much.  Tonight, as I write this, you are all many thousands of miles away, but there are bonds and ties that time and space cannot diminish.
By the time you get this letter you probably would have read of the strike of our outfit, so this will be old news, but this is the last chance I'll have to write for a long time. I can't think of much else to say except that the weather is fine and the chow exceptionally good. Guess that's about all for now. Write soon.
Love to all,
Sonny' "
Sonny's very last letter was written on 2nd March 1945 during a brief respite from the front lines a few days before his death. I don't have a copy of this brief letter but I do remember some of the main points Sonny mentioned:
That he considered himself lucky to be alive and safe,
That Iwo Jima was absolute hell, that his unit had been on the front too long and he hoped that they wouldn't have to go up again,
That he dug and prayed plenty of the time,
That none of his close buddies had been killed, though some were wounded,
That he had seen many Japanese dead and Marines as well, and that it was all such a shame,
That he had only one decent souvenir, a Japanese soldier's rifle and that he hadn't the time or the stomach for anything else.
This letter which I believe was called a "V-Mail" was received much later. What we actually received was a photocopy of the original as all such letters had to be censored before mailing. 
David S. Ojerholm '58