The Office of Community Affairs strives to build and maintain positive relationships between Boston College and our neighbors in Boston, Newton, Dover and Brookline. Serving as a liaison, the office is in frequent contact with community organizations and partners, local elected officials, police and court personnel. The office also oversees the Community Assistance Program (CAP) and the Community Service Award recognition. To leave a question or comment for the office, please utilize the Questions and Comment Form.
Community Assistance Program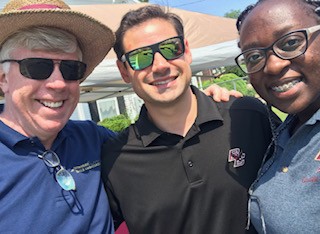 The Community Assistance Program (CAP) is run by the Office of Governmental and Community Affairs and the Office of Student Conduct. The purpose of CAP is to preserve and enhance the relationship between Boston College's on and off-campus students and the greater community.
The Off-Campus Student Community Liaison leads CAP by responding to concerns and complaints in the community. The liaison observes the off-campus community on Thursday, Friday, and Saturday nights as well as holidays and other high activity dates, particularly in areas where large numbers of off-campus students reside.
Though not a law enforcement official, the liaison is a university official who responds to disturbance calls and works closely with the Boston Police, Newton Police, and the Boston College Police Department (BCPD) to maintain a safe, respectful neighborhood. The Liaison will submit a report of the disturbances to the Office of Student Conduct for review and follow up, and/or possible university conduct action.
The Off-Campus Student Community Liaison is also an advocate for students who face challenges living off-campus. The Liaison is available as a refereal resource to assist in resolving issues or tensions that may arise between students and neighbors. In addition, the Liaison can provide support to students who need advice interacting with Inspectional Services, landlords, neighbors, and serves as a connection to the Off-Campus Student Living within the Office of Residential Life.
If you wish to speak with the BC Off-Campus Student Community Liaison, please contact Steve Montgomery at 617-552-6028 or stephen.montgomery@bc.edu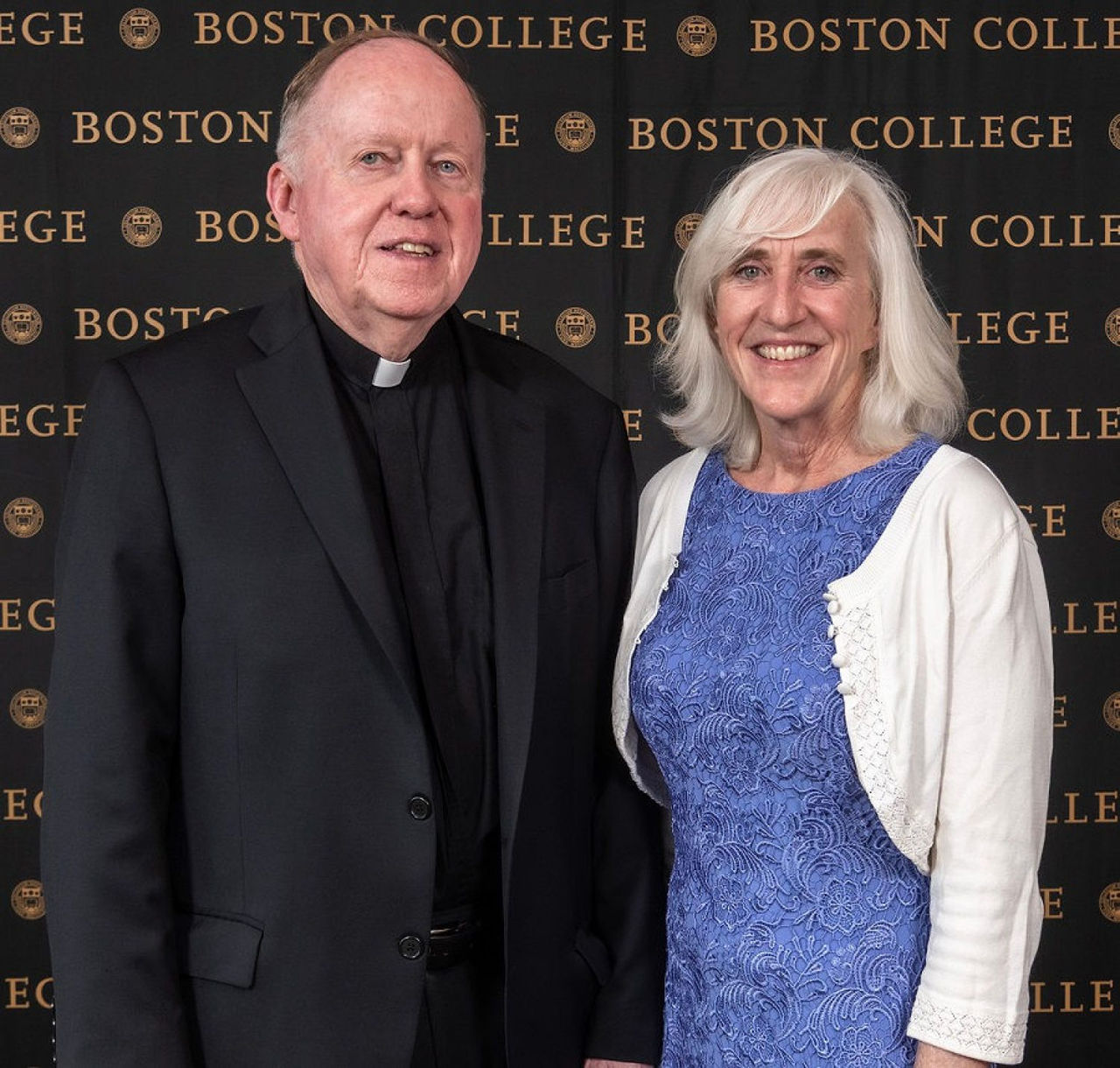 Tell Us About Your Colleagues
Many Boston College faculty and staff serve the communities where they work and live by volunteering their time in support of programs for youth and seniors, coordinating neighborhood clean-up and beautification projects, and participating in the philanthropic activities of various health, educational, cultural and religious organizations.
The Boston College Community Service Award was created to recognize the outstanding contributions of an employee whose actions truly exemplify the Jesuit spirit of community service and involvement.
Do you know a Boston College employee who embodies these Jesuit values and whose volunteer efforts deserve special recognition?
If so, please take the time to complete the nomination form.

Past Award Recipients
2022: Barbara Gawlick, Music Department
For her long-term service initiative—the Music Outreach Program, which she established in 2011 and has directed since then.  Through the initiative, BC students provide weekly instrumental and vocal lessons to some 50 children and teens enrolled in schools located in the Allston and Brighton areas. In turn, the approximately 20 BC undergraduate and graduate students who participate annually gain valuable experiences. Through the initiative, BC students provide weekly instrumental and vocal lessons to some 50 children and teens enrolled in schools located in the Allston and Brighton areas. In turn, the approximately 20 BC undergraduate and graduate students who participate annually gain valuable experiences.
2019: John Berardi, Information Technology
Berardi is the Massachusetts Little League District 13 Administrator, overseeing Little League operations for 13 cities and towns, encompassing 550 teams and more than 6,500 players. He also volunteers on the Little League International Advisory Board. In 2014, Berardi helped establish a formal partnership with the Red Sox Foundation that provides financial support and other assistance to the nearly 200 leagues in the state. The foundation offers a $500 sponsorship for each league, sponsors the state finals for 12-year-olds, and underwrites leadership and skills training for coaches. He also is the program coordinator for the Jimmy Fund Little League, a program founded by his father, George Berardi and Red Sox players Rico Petrocelli and Mike Andrews which gives children the opportunity to play ball over the summer while also raising money for the Dana-Farber Cancer Institute and the Jimmy Fund.
2018: Thanh V. Tran, Graduate School of Social Work
In 2009, Tran established a Vietnamese literacy and cultural program at St. Bernadette's parish in Randolph, Mass., that helps Vietnamese American children and others learn the Vietnamese language and culture and aids immigrant families in acculturating to American life and developing an American identity. He spends several hours every Sunday leading the program to make certain Vietnamese people in the U.S. have pride in their heritage and knowledge of Vietnam's language, history, and culture, but also feel home at home in the U.S. Because the program is open to participants of all ethnic and religious backgrounds, it has become a catalyst for cross-cultural and cross-generational understanding and appreciation in the community.
2017: Mary Ellen Fulton, Lynch School of Education
Fulton's record of service is marked by "dedication and steadfast advocacy" for quality education from the elementary to college level, according to the award citation, citing her work with two Boston-area Catholic schools, Saint Joseph's Preparatory Academy, and Saint Columbkille Partnership School, and the Natick Education Foundation, a nonprofit in her home community.
2016: Michael Malec, Department of Sociology
Malec has organized several service trips with faculty and students to Nicaragua, where they have installed ecological water filters and stoves in rural homes and schools, and aided local health outreach. He also has helped to maintain and expand the sister city project between San Juan del Sur and Newton, where he lives. Malec's colleagues also point out that he has put his ideals into action locally as well as in Nicaragua, as an advocate for affordable housing in Newton and a three-term alderman for the city during the 1980s.
2015: Dan Bunch, Learning to Learn
Bunch began his professional career at Boston College in 1982 and since 1987 has directed Learning to Learn, a program designed to improve students' critical thinking abilities and provide them with the learning skills and problem-solving skills they need to succeed in college and beyond. In addition to official duties with Learning to Learn, Bunch contributes to the University as an advisor to the Black Student Forum, a member of the Black Staff Faculty Association, a founding member and treasurer of the Martin Luther King Jr. Memorial Scholarship Committee and as a member of the AHANA Alumni Council. He also works directly with a handful of students as a Benjamin E. Mays mentor.
2014: Marianne Carrabba, Residential Life
Carrabba has worked at the University for 45 years. Her job is to help students, as well as new faculty and staff, secure off-campus housing, but Carrabba goes above and beyond that job description to make sure they find not just a place to live, but a home. Colleagues describe her as humble, selfless, kind and empathetic, with a knack for turning a negative experience into a positive one.
2013: Christopher Darcy, Residential Life
A 17-year member of the University community, Darcy is responsible for the ministerial components and programs of the Office of Residential Life, and serves as a part-time campus minister for the division of University Mission and Ministry. Among his activities at Boston College, he has been an Arrupe mentor and staff person for numerous international immersion programs; serves as a Mays mentor for two students; as a retreat director for the Kairos program and assists in co-directing an annual 48 Hours retreat for first-year students.
2012: Paul Doherty, English Department
Doherty has lived in Newton since 1966 and his volunteerism is focused on enriching his community. He has been actively involved in the Newton Community Development Foundation, a non-profit that develops and manages affordable housing in Newton, since its founding in a1968. Paul also directed the steering committee that established a parish council at Sacred Heart Parish in Newton Center and served as the council's first president. In his other time, Paul volunteers as a youth baseball coach for the Newton Astros.
2011: Donna Cullinan, Connell School of Nursing
For the past decade, Donna Cullinan has traveled to Haiti to volunteer and deliver critical medical care to families living in the most isolated and rural sections of this impoverished country. Prior to the trip, she works tirelessly to raise much needed funds and promote general awareness of the serious health and living conditions facing the people of Haiti. Over the years, she has built lasting relationships with families in need. At home, Donna is an active member of the Nativitiy Prep Board of Trustees and the Mother Caroline Academy.
2010: Mark Dalton, Facilities
Mark Dalton not only embraces the Jesuit ideal; he "embodies" it. Mark is the recipient of the 2010 Boston College Community Service Award because beyond his many duties as a Grounds Maintenance Department worker, he is an exemplary human being with great compassion for the less fortunate in life. Mark is a long time hair donor for "Locks for Love" personifies "Santa Claus" at the Alumni Christmas Party, and is involved with the Boston College Police Department Annual Auction. He is also blessed with a contagious personality, and he fully understands the sense of community both within the collegiate campus and outside its walls.
2009: Joan Engler, University Advancement
Joan is a member of St. Ignatius Church which enables her to provide hospitality services for special occasions throughout the year. She has been member of West Roxbury Friends of Rosie's Place for many years, participating in fundraising efforts for the shelter, including forming groups to serve meals to the women and children at the shelter. More recently, and through her church, Joan volunteered to help families from the Congo with family errands, some schooling and shopping. Moreover, Joan helps the families navigate the obstacles involved with immigration, social workers, hospitals and public schools.