Vincent D. Rougeau, president of the College of the Holy Cross and the former dean of the Boston College Law School, will be honored by the school for his distinguished service to law and humanity when he is presented with the St. Thomas More Award at the annual Law Day on May 4.

The recognition is annually bestowed by the BC Law Alumni Association to a member of the legal community who represents the ideals of St. Thomas More, characterized by integrity, leadership, and faithfulness to gospel values.

This year's other Law Day honorees are: Vera Sung J.D. '90 and Chanterelle Sung J.D. '04 (William J. Kenealy, S.J., Alumnae of the Year Award); Andres Torre, J.D. '08 (Hon. David S. Nelson Public Interest Law Award); Jay Blitzma J.D. '74 (Daniel G. Holland Lifetime Achievement Award); and Lauren Jacobs J.D. '19 (Recent Graduate Award).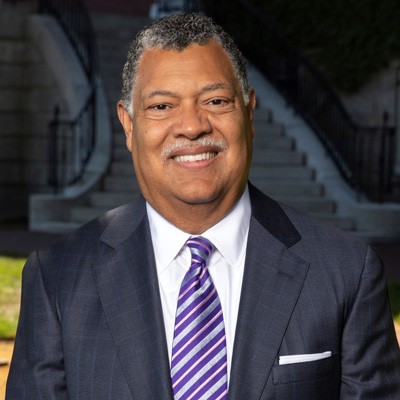 Rougeau, who became the 33rd president of Holy Cross in July 2021 after serving as BC Law dean for 10 years, is the first lay and Black president in the college's history. He has written extensively on law and religions with a particular focus on Catholic social teaching and the law, including his 2008 book, Christians in the American Empire: Faith and Citizenship in the New World Order.  His current research and writing focuses on the relationships among religious identity, citizenship, and membership in highly mobile and increasingly multicultural democratic societies.

As dean of BC Law, Rougeau led a reorganization in leadership structure that supported a more holistic approach to student services, expanded the school's recruitment of a diverse student body, and enhanced the school's commitment to experiential learning and global engagement. Through his efforts, BC Law's Center for Experiential Learning brought together the school's hands-on training programs, while the Global Practice Program launched new opportunities for BC Law students in Dublin, Germany, Chile, France, and other locations around the globe.

While at BC Law, Rougeau served as the inaugural director of the University's Forum on Racial Justice in America.  

A vocal advocate for change in legal education, Rougeau is a former president of the Association of American Law Schools and was a member of AALS's executive committee, and chair of the AALS Deans Steering Committee. He has also served on the Council of the Boston Bar Association.

Prior to BC Law, Rougeau was a professor of law at Notre Dame Law School and served as their associate dean for Academic Affairs. He began his academic career at Loyola University of Chicago School of Law.

Previous St. Thomas More Award recipients include the late Margaret Heckler J.D. '56, a Massachusetts congresswoman, Secretary of Health and Human Services, and ambassador to Ireland; the late Robert F. Drinan S.J. '42, a BC Law dean later elected to Congress; and Kerry Kennedy J.D. '87, author and human rights activist, and president of Robert F. Kennedy Human Rights, a non-profit advocacy organization.  

Phil Gloudemans | University Communications | May 2023