E. Joan Blum, an associate professor of the practice at Boston College Law School, has received a Fulbright Teaching/Research grant from the Fulbright Foreign Scholarship Board to teach academic legal writing and conduct a case study of publication practices at Tashkent State University of Law in Tashkent, Uzbekistan, during the 2022-2023 academic year.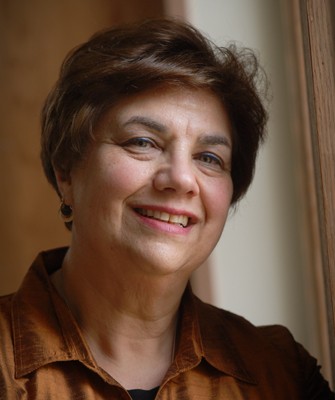 Blum's project will support doctoral students and faculty in their efforts to develop legal scholarship for publication in internationally recognized journals.
Blum plans to spend the 2023 spring semester at TSUL, a public institution and a leading Uzbek legal research center located in Uzbekistan's capital. A former Soviet republic in Central Asia, Uzbekistan declared its state sovereignty in 1990 and its independence from the Soviet Union in 1991.
A member of the BC Law faculty since 1985, Blum served as a visiting professor at TSUL during the 2019 spring semester, conducting faculty development workshops on interactive teaching and academic legal research, as well as a seminar for students on advocacy writing. In December 2019, she led a workshop on interactive teaching methods for the Academy of the Office of the Prosecutor General of the Republic of Uzbekistan. A year later, she conducted a virtual faculty workshop on promoting student engagement in remote learning for the Tashkent-based University of World Economy and Diplomacy, a public institution focused on Uzbekistan's foreign policy development.
"This Fulbright award is an opportunity to strengthen the ongoing connection between BC and TSUL," said Blum. "I look forward to returning to Tashkent to re-engage in person with TSUL faculty and students, and to bringing back to my BC Law students the insights I gain from my Fulbright experience."
In his invitation to Blum, TSUL Deputy Rector Islambek Rustambekov wrote, "Your many years of academic experience in the field of legal research and writing, your positive reputation at TSUL, and your demonstrated interest in legal education in Uzbekistan will contribute to the success of this project. TSUL will gain a great deal from your primary project as well as from your other activities during your semester-long academic visit."
In congratulating Blum, Fulbright Foreign Scholarship Board Chair Paul Winfree wrote the grant award was "a reflection of your leadership and contribution to society."
International consultancies and Fulbright support are familiar territory for the Columbia Law School graduate, who specializes in international legal education. Blum made 10 working visits from 2009 to 2018 to Bosnia and Herzegovina (a republic of the former Yugoslavia), where she conducted multiple training programs for judges on judicial writing and case-based reasoning. In 2013, she spent several weeks at the University of Sarajevo Faculty of Law leading faculty workshops, lecturing on legal advocacy, and consulting on computer-assisted legal research, all underwritten by the Fulbright Specialist Program, a project-based exchange designed to share expertise, strengthen institutional linkages, and build capacity at the host institutions.
"I am grateful to BC Law School for making possible my work in international legal education, and especially to Professors David Wirth, Judith McMorrow, and Mary Ann Chirba for their generous advice and support in this area over many years," said Blum. "I would also like to acknowledge Phillip Weiner J.D. '80, who as an international judge in the War Crimes Chamber of the Court of Bosnia and Herzegovina, gave me my first opportunity to teach judges abroad, and Mjusa Sever, founder of the Slovenia-based NGO Regional Dialogue, who introduced me to Uzbekistan."


Phil Gloudemans | University Communications | April 2022