"We're not on course for a safe world," said former President of Ireland and climate justice advocate Mary Robinson at the Hosting Earth Conference held at Boston College. She recalled a moment during last year's United Nations Climate Change Conference, COP26, when she learned that even with all the pledges made, the world was on track to see the global temperature rise 2.4 degrees Celsius—higher than the target of 1.5 degrees. "Anyone under 70 who lives a bit longer will face a horrible world. Anyone under 30 will face [a horrible world] for very significant parts of their lives."
The Hosting Earth Conference on April 23 explored the question of ecological hospitality and was organized by the Guestbook Project, an international initiative directed by Boston College Seelig Professor of Philosophy Richard Kearney.
According to conference organizers, the Hosting Earth Conference invited participants to consider the natural other-than-human universe as a place which holds and hosts humanity. "In short, what happens when we reverse the standard model of hospitality to acknowledge a 'double sensation' of hosting-hosted: a reciprocity principle which might nourish an ecological interspecies connection between all living beings, as we face the urgent climatic and environmental challenges of our time," said Kearney.
The conference's keynote event was a conversation between Robinson and Kearney.
Since serving as Ireland's first woman president (1990-1997), Robinson has become is a leading voice in addressing climate injustice on the global stage. She was the United Nations Special Envoy for Climate Justice from July 2014 to December 2015 and is author of the book Climate Justice: Hope, Resilience, and the Fight for a Sustainable Future. A recipient of the Presidential Medal of Freedom, Robinson advocates for a storytelling approach as a means to educate people about climate change and its impact. She is especially dedicated to cultivating voices of women and those from the Global South to convey the dire reality of climate change.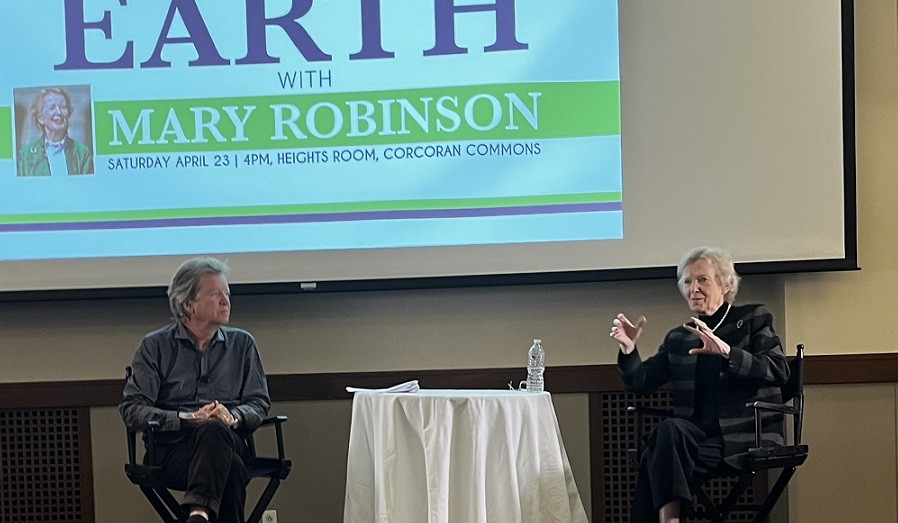 "I came to understand that we weren't able to grasp the climate story because of the way we were hearing about it. And, we had to move to storytelling," said Robinson, who also is involved in a podcast about feminist climate change solutions called "Mothers of Invention."
She added that the tag line for the podcast is "Climate change is a man-made problem that requires a feminist solution." She went on to explain that by a feminist solution, she means things like problem-solving, inclusiveness, listening to all voices, and a multifaceted approach.
In addition to COP26, Robinson talked about her experiences at the Paris Climate Accords, as well as the inequal burden climate change has placed on women, the poor, and indigenous populations around the world.
At the BC conference, Robinson was presented with the James Mahoney Guestbook Award for Narrative Hospitality, named for Bank of America executive James Mahoney, a longtime supporter, board member, and friend of Guestbook who passed away in 2020.
The Hosting Earth Conference also featured screenings of recent Guestbook films related to ecological hospitality and a panel discussion with poet and novelist Fanny Howe, artist Jane Marsching, eco-psychologist James Morley, and BC Associate Professor of the Practice of Philosophy David Storey. There was also a performed lecture on "Fish Live in Water" presented by artist Sheila Gallagher of Boston College and oceanographer John Manderson.
The inaugural Guestbook-Write the World Award for Best Student Writing on Ecological Hospitality was presented to Ezimadu Ugorji, a 17-year-old student from Nigeria, for his piece "From the Farm." The writing competition drew submissions from the U.S., U.K., Nigeria, India, Taiwan, Ireland, Sri Lanka, Canada, Japan, and Albania.
Established more than a decade ago, the Guestbook Project is an international project committed to transforming hostility into hospitality and making connections and overcoming conflict by exchanging stories.
The Hosting Earth Conference was co-sponsored by the Institute for the Liberal Arts; Irish American Partnership; Irish Consulate in Boston; Philosophy Department/Fitzgibbons Lectures; Irish Studies Program; Psychology and the Other; Earth and Environmental Sciences Department; and Schiller Institute for Integrated Science and Society.
The day before the conference, on Earth Day, organizers held events featuring live music, a talk on eco-art activism, and the planting, in collaboration with BC's Environmental Club, of corn, beans, and squash at Connolly House Garden.
For more information and to view videos from the event, visit the Guestbook Project's Hosting Earth webpage. 
Kathleen Sullivan | University Communications | May 2022