For her forthcoming poetry collection, The Clearing—called "a lush, lyrical book about a world where women are meant to carry things to safety and men leave decisively," by acclaimed poet Henri Cole—English Department Associate Professor of the Practice Allison Adair was awarded the third annual Max Ritvo Poetry Prize.
She was selected for the prestigious first-book prize, which honors the work of emerging poet, by Cole. "Allison Adair's poems are haunting and dirt caked, but there is also a tense beauty everywhere," he added. "I found The Clearing devastating."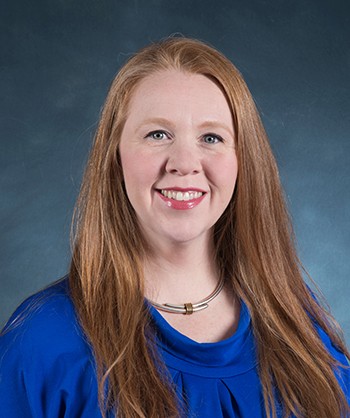 The honor, which includes a $10,000 award and publication of her book by Milkweed Editions in June, was announced late last fall by Milkweed, in partnership with Riva Ariella Ritvo-Slifka and the Alan B. Slifka Foundation.
"If I could have designed a set of dream circumstances in which I would publish The Clearing, it would be these," said Adair. "Milkweed is a stunning press, full of energy and vision--publisher to some of my favorite poets, too, including Ada Limón and Aimee Nezhukumatathil.
"The associations the book will carry with it are so meaningful: Henri Cole, this year's judge, is someone whose work has inspired me since my undergrad days. And my BC students across various courses will recognize the name of Max Ritvo, the young poet for whom the prize was named. It's an honor to be in the company of these writers I admire so much, and I hope The Clearing reflects their profound influence," she added.
Widely published, Adair's poems have appeared or are forthcoming in American Poetry Review, Arts & Letters, Best American Poetry, Best New Poets, and Kenyon Review Online, among other journals. She has been honored with the Pushcart Prize, Florida Review Editors' Award and Orlando Prize; she also took first place in Mid-American Review's Fineline Competition.
The Clearing is praised by poet Maggie Smith: The title poem leads us "tooth by tooth, line by line, into this dark forest of a book. Adair's phrases are spell-like, their ingredients mixed in surprising, potent ways. I would follow this poet wherever her mind goes—even into the deepest woods, into memories of grief and loss—and I would trust her words to lead me out again."
Adair specializes in creative writing, with a focus on poetry and flash fiction and a special interest in digital humanities. At BC, she teaches a First-Year Writing Seminar, multi-level workshops in poetry, short fiction, creative nonfiction, literature core courses and electives.
"There is nothing like a competition for a first-book prize to confirm our sense of the richness and liveliness of American poetry today," says Milkweed Editions Publisher & CEO Daniel Slager. "Hearty congratulations to Allison Adair for winning the third annual Max Ritvo Poetry Prize! We are very excited to publish The Clearing in 2020."
The most lucrative first-book prize in the nation, the award was established to honor the legacy of the late Max Ritvo, an original and accomplished poet, and to reward outstanding emerging poets.
Rosanne Pellegrini | University Communications | January 2020