Professor of Theology M. Shawn Copeland is retiring at the end of the academic year. But, "it is retirement with a lowercase 'r'." During the upcoming months she will participate in a conference on autonomy and agency in Rome, Italy, a conference on reconciliation in Kigali, Rwanda, and an international conference on clerical sexual abuse in the UK. This fall, she will deliver lectures at the University of Edinburgh in Scotland in October and at Vanderbilt Divinity School in Nashville.
Colleagues, former students, and other scholars gathered recently at Boston College to honor the life and work of influential theologian M. Shawn Copeland, who will retire from the University on June 30 after a 35-year career, including the last 17 years at BC.
A professor in the Theology Department and African and African Diaspora Studies program, Copeland has made groundbreaking contributions to the fields of theological anthropology and political theology as well as the African and African American intellectual history and religious experience.
Her book Enfleshing Freedom: Body, Race, and Being is a tour de force and has been called a modern theological classic.
She also is author of Knowing Christ Crucified: The Witness of African American Religious Experience and The Subversive Power of Love: The Vision of Henriette Delille and co-editor of four theological volumes: Grace and Friendship: Theological Essays in Honor of Fred Lawrence, Uncommon Faithfulness: The Black Catholic Experience, Feminist Theologies in Different Context, and Violence Against Women. In addition, she has published more than 125 articles, book chapters, and reviews.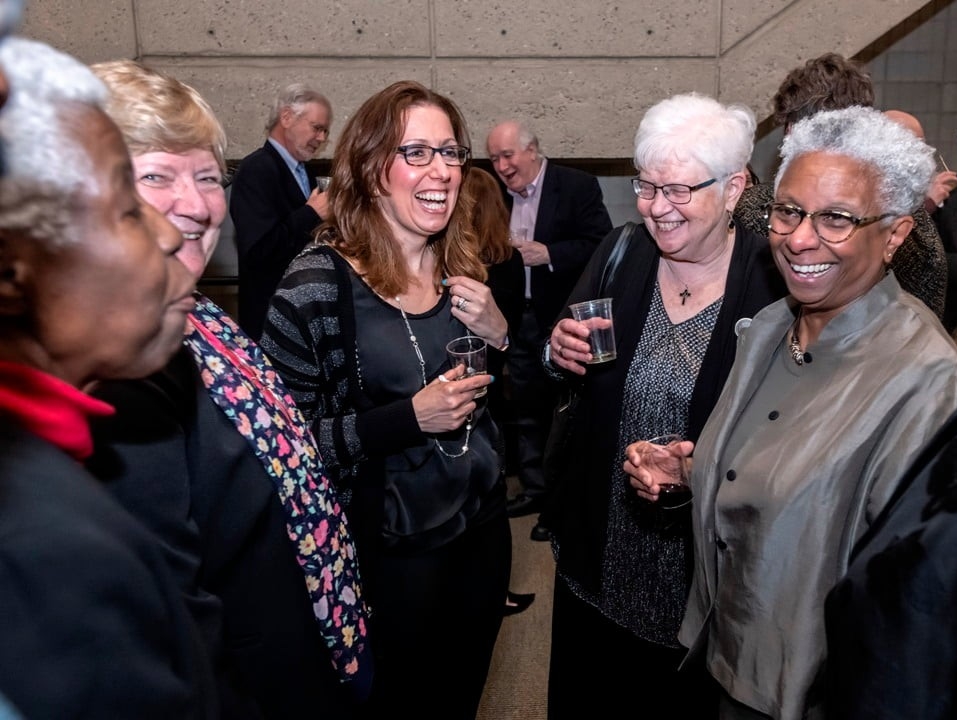 "Shawn Copeland is an extraordinary theologian, recognized nationally and internationally for her scholarship," said School of Theology and Ministry Associate Professor Francine Cardman, who delivered the keynote address at the April 26-27 event "Celebrating M. Shawn Copeland: Memory, Freedom, and Solidarity."

"The primary mode in which she does her scholarship and teaching is 'practical-political' theology, which connects the faith and life of Catholics and other Christians with the needs of the suffering, oppressed, and marginalized in the world," Cardman said. "She examines historical and contemporary suffering through African American experience under chattel slavery and its afterlife in the ideologies and practice of white supremacy and racism.
"What is unique about her work is that she turns the subject of theology to 'black women's bodies.' She does this while also encompassing the experience of black men and making connections with other marginalized peoples," added Cardman. "What is equally striking in Professor Copeland's body of work is that it demands of both author and reader a consistent, challenging, and intelligent reading of the world that draws believers into a life of compassionate solidarity and action, into discipleship."
Last year, the Catholic Theological Society of America presented Copeland with its highest honor, the John Courtney Murray Award, in recognition of a lifetime of distinguished theological achievement. She also has been honored with the Marianist Award, which honors a Catholic scholar, author and theologian who has made an outstanding contribution to the intellectual life; the Yves Congar Award for excellence in theology, and the Elizabeth Seton Award, which recognizes distinguished women in theology, among other accolades.
"Copeland's voice is one that is indefatigable, fighting to show those who say they love God, how they have failed to love their neighbor," said Assistant Professor of Theology and African and African Diaspora Studies Program Amey Victoria Adkins-Jones. "Theologizing from the treatment of black women's bodies historically through chattel slavery to the present, Shawn raised the alarm--for the church at large, and for the Catholic Church in particular--that failing to address theologically the questions of race and gender and poverty and oppression, was a failure to serve God rightly."
She added that Copeland belongs alongside Rosa Parks, Fannie Lou Hamer, Ella Baker, and Angela Davis as someone who gave "voice to black women and to all those who are oppressed, changing the horizon of black freedom struggles."
"

Teaching required courses (in any discipline) is hard work. Yet, whenever a teacher strikes the vein of wonder and releases or enlarges a student's capacity for insight, then that discovery is gold, the gold of a student's mind and heart. That discovery renders any and all required labor a joy!"

"

In addition to contributions as a scholar, Copeland also is a beloved teacher and mentor.
"I will miss engaging and learning with our students––their inquiring minds and hearts, their wit and humor––and accompanying them on their intellectual and spiritual journeys," said Copeland. "I often compare teaching undergraduates to doing manual labor––digging new foundations. Teaching required courses (in any discipline) is hard work. Yet, whenever a teacher strikes the vein of wonder and releases or enlarges a student's capacity for insight, then that discovery is gold, the gold of a student's mind and heart. That discovery renders any and all required labor a joy!"
In addition to teaching undergraduates in the Pulse, Faith, Peace, and Justice, African and African Diaspora Studies programs, Copeland teaches graduate students. "Our graduate students in theology are exceptional in their intellectual acumen, wide range of reading and professional preparation, collegiality and generosity with one another, and work ethic."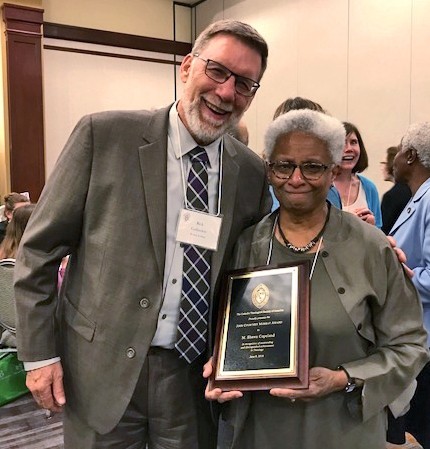 The "Celebrating M. Shawn Copeland" conference was organized by Associate Professors of Theology Mary Ann Hinsdale, I.H.M. and Andrew Prevot, and was sponsored by the Institute for the Liberal Arts with the Theology Department and African and African Diaspora Studies. Scholars who spoke at the event paid tribute to Copeland's achievements and explored themes found in her scholarship.
Joining Adkins-Jones, Cardman, Sr. Hinsdale, and Prevot as conference participants were Professor of Theology Fred Lawrence and STM Associate Professor of Theology and Latino/Latina Ministry Nancy Pineda-Madrid.
Other participants were: BC alumnus Robert J. Rivera (St. John's University); Adrian Dominican theologian Sr. Jamie T. Phelps, O.P.; Michele Saracino (Manhattan College); Karen Teel (University of San Diego); Pamela Lightsey (Meadville Lombard Theological School); Bryan N. Massingale (Fordham University); Mayra Rivera (Harvard University); Shawnee Marie Daniels-Sykes (Mount Mary University), and Christine Firer Hinze (Fordham University).
Several of the speakers had also contributed to a recently published Festschrift in Copeland's honor, titled Enfleshing Theology: Embodiment, Discipleship, and Politics in the Work of M. Shawn Copeland, edited by her former graduate students Robert J. Rivera and Michele Saracino.
"It is not easy to put into words what these events mean to me. Objectively, I know the meaning of such marks of respect, so all this is quite humbling, almost overwhelming, yet very encouraging," said Copeland, who noted she was excited by the different ways the essays in the Festschrift and the conference presentations approached her work.
Copeland, who started at BC as a visiting professor in 2002, joined the faculty in 2003. She is also an alumna, having earned a doctorate in systematic theology from the University in 1991.
She is a former president of the Catholic Theological Society of America and a former convener of the Black Catholic Theological Symposium. Copeland previously taught at Marquette University, Yale Divinity School, Xavier University of Louisiana, St. Norbert College, and Harvard Divinity School. She is the recipient of six honorary degrees.
Copeland expressed her gratitude to Theology Department Chair Joseph Professor of Catholic Systematic Theology Richard Gaillardetz, Provost David Quigley, and Morrissey College of Arts and Sciences Dean Gregory Kalscheur, S.J., and the many colleagues and students who attended the conference.
"My life, my faith, my thinking, my teaching, my scholarship have been challenged and enriched by my association with faculty colleagues here at Boston College––colleagues not only in Theology, but also in the departments of Philosophy, History, and English; not only in the Program in African and African Diaspora Studies, but also in the School of Theology and Ministry, the Lynch School, and the School of Social Work. Inasmuch as faculty compose a college or university, then Boston College stands as quite remarkable. The women and men who research, learn, and teach here are generous, serious, creative, demanding of and zealous for excellence and for justice. Their dedicated collegial and collaborative scholarly association forms and sustains the rich intellectual environment that is the Boston College I love and shall miss."
—Kathleen Sullivan, University Communications | May 2019