"The only way the margins [of society] will ever get erased is by standing out at them," said Jesuit priest Gregory Boyle, who shared his message of kinship and the transformative power of tenderness at a recent School of Theology and Ministry event where he received the school's Alumni Distinguished Service Award.

Fr. Boyle is the founder of Homeboy Industries, the largest gang intervention, rehabilitation, and re-entry program in the world. For more than 30 years, he has ministered to thousands of gang members in Los Angeles, offering them an opportunity to recognize their self-worth and to transform the trajectory of their lives. Homeboy Industries provides job training, educational services, and counseling and support for addiction and mental health issues, among other services.

He also is the bestselling author of Tattoos on the Heart: The Power of Boundless Compassion and Barking to the Choir: The Power of Radical Kinship.

Fr. Boyle was presented with a medal as the STM Alumni Distinguished Service Award honoree at the March 25 event, which was held in webinar format. He earned a M.Div. degree from Weston Jesuit School of Theology in 1984; Weston Jesuit reaffiliated with Boston College as part of the establishment of STM, and its alumni are recognized as BC graduates.

Only the second graduate to receive the STM award, Fr. Boyle was honored in recognition of "his boundless compassion, radical kinship, and extravagant tenderness; his prophetic witness to the Gospel message of recognizing Christ in our brothers and sisters in all circumstances; his life's ministry of faith in action; his work to make a difference in marginalized communities, and his being a compassionate face of the Catholic Church for so many."

Prior to the award presentation, Fr. Boyle delivered the Daniel J. Harrington, S.J. Lecture on "The Whole Language: The Power of Extravagant Tenderness," the title of his forthcoming book. The lecture was named for the renowned New Testament scholar and beloved STM professor, who died in 2014. Fr. Boyle was a student of Fr. Harrington and called him "the shape of God's heart."

In a talk that cited the Prophet Jeremiah, author Mirabai Starr, and civil rights leader John Lewis, Fr. Boyle called tenderness "the highest form of spiritual maturity." Gang members arrive at Homeboy Industries "barricaded behind a wall of shame and disgrace, and the only thing that can scale that wall is tenderness," he said, describing Homeboy as both a solution and a sign. It offers concrete help for men and women to reimagine their lives—he shared success stories about two men who went through the program—but also has a message about the inherent nobility and dignity of every person.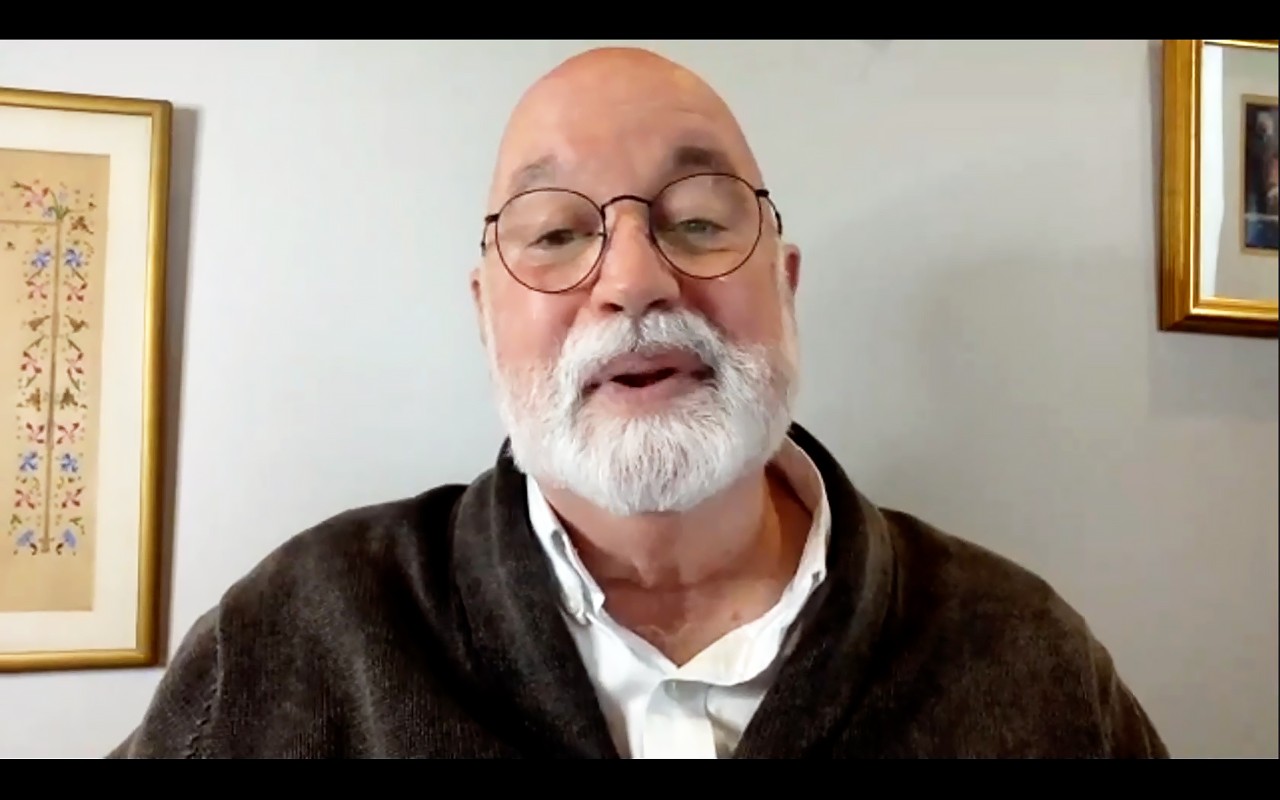 "What if we were to invest in each other? What if our singular aim was to create a community of beloved belonging? What if we were to imagine a circle of compassion and then imagine nobody standing outside that circle? What if we chose together in a community of kinship to dismantle the barriers that exclude?"
"We want to go to the margins and say [to those there], we refuse to live without you," said Fr. Boyle. "We stand with the poor and the powerless and the voiceless…we stand with those whose dignity has been denied and those whose burdens are more than they can bear…we stand with the easily despised and the readily left out…we stand with the demonized and the disposable."

Christians need to take seriously what Jesus took seriously: inclusion, non-violence, unconditional love and kindness, and compassionate acceptance, he said. "The measure of our compassion lies not in our service of those on the margins, but only in our willingness to see ourselves in kinship with them. For the truth of the matter is this: If we don't welcome our own wounds, we may well be tempted to despise the wounded.

"We go to the margins not to make a difference, but to be made different."

To learn more about Homeboy Industries or to support its mission, visit homeboyindustries.org.
Kathleen Sullivan | University Communications | April 2021