Boston College doctoral candidate Marcel Uwineza, S.J., spoke at the United Nations April 12 as part of the International Day of Reflection on the 1994 Genocide Against the Tutsi in Rwanda.
When Rev. Marcel Uwineza, S.J., a survivor of the 1994 genocide against the Tutsi in Rwanda, was invited to give remarks at a recent commemoration of the event, he was asked to provide a photo of his parents. 

He could not, because such a photo no longer exists.
Fr. Uwineza's home and all his family's belongings were burned during the genocide, when Rwanda's Hutu-led government killed approximately one million Tutsi in the span of three months. Fr. Uwineza's two brothers, a sister, and an aunt were killed. His mother was beaten and later died from her injuries. His father had already been killed by Hutus in a time of unrest before the genocide officially began. 

Fr. Uwineza, just 14 years old, also was beaten.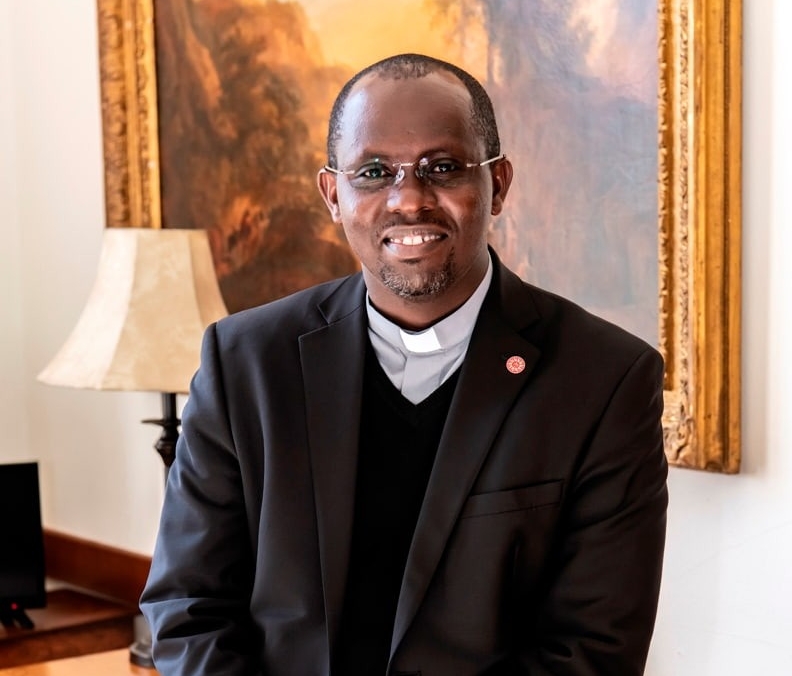 Now a doctoral candidate in Boston College's Theology Department and a member of the University's Jesuit Community, Fr. Uwineza calls the horrific events in Rwanda an "intimate genocide." It was not an invasion by an outside country, but an intensive, systematic killing of Rwandans by Rwandans.

"No one was spared from the attacks," said Fr. Uwineza, recalling the killing of babies and the disabled, and the rape of women. Family members killed in-laws. Neighbors killed neighbors.

Fr. Uwineza and his three younger siblings were saved when a Hutu man, Joseph Kabera, hid them in a beehive compound on his property. When that became unsafe, they eventually found refuge in a cathedral until they were liberated by Tutsi rebels. 

"I did not survive because I am better than other people," said Fr. Uwineza, "but maybe I survived for a reason."

Fr. Uwineza feels he can use what he calls as his "extra time" to be "a living bridge between the wounded in Rwanda and those who did the wounding. I want to be a messenger of reconciliation and a way for people to reach God."

On April 12, he brought that message to the United Nations General Assembly, where he gave remarks at the annual commemoration of the International Day of Reflection on the 1994 Genocide Against the Tutsi in Rwanda. Permanent Representative of Rwanda to the United Nations Ambassador Valentine Rugwabiza invited Fr. Uwineza to participate in the ceremony, which this year marked the 25th anniversary of the genocide. A number of dignitaries attended, including President of Rwanda Paul Kagame. 

During his speech, Fr. Uwineza shared a powerful story of his face-to-face encounter with the man who had killed his siblings. When Fr. Uwineza was 23 and had finished the Jesuit Novitiate, but was not yet ordained, he returned to his village to pray at the burial site of his family. The man, who had been released from jail, came up to Fr. Uwineza.

At first, Fr. Uwineza feared he was going to be killed. Then he was confused. At last, the man knelt before Fr. Uwineza and asked him if he would have some space in his heart to forgive him.

Fr. Uwineza raised the man up, embraced him, and said, "I forgive you."

For Fr. Uwineza, it was a transcendent moment. "I felt free.

"There is a higher power than us. You can't measure it in a laboratory. It gives meaning to our lives, but it can't be explained. That power moved me that day."

Raised Catholic, Fr. Uwineza had fallen away from the Church after suffering through the atrocities of the genocide and being turned away by a Catholic priest when he initially sought sanctuary. He credits his uncle, Charles Muvara, for getting him to return to the Church, and the Jesuits for getting him to stay.

Fr. Uwineza said the preaching of the Jesuits drew him in. "They were great. They were down to earth. They shared some of their brokenness, and that appealed to me. They were broken, yet free." 

Fr. Uwineza felt a calling to join the Jesuits. He says being a priest is like being a first responder. "They don't fear the risks, they get in and put out the fire."

When it came time to pursue advanced degrees, he chose to attend Boston College, he says, due in large part to the strength and reputation of the faculty at the School of Theology and Ministry and the Theology Department. He earned a licentiate in sacred theology and master of theology degree from the School of Theology and Ministry in 2015. He expects to complete his doctorate in systematic theology in 2020.

"I am grateful to Boston College because through it, I have been able to grow intellectually and holistically and to stand in front of the entire world and speak words that challenge, but also words of grace and love," said Fr. Uwineza.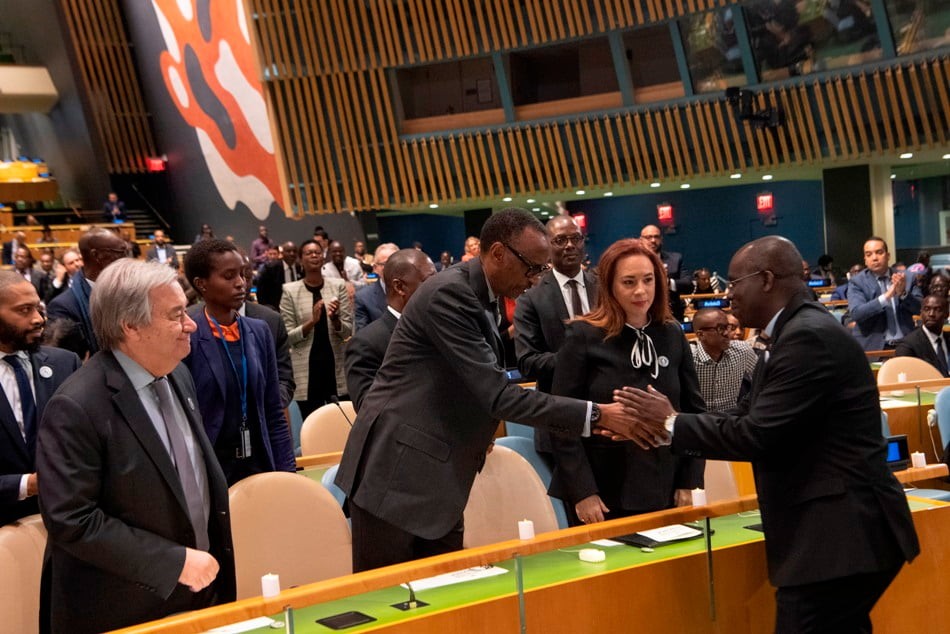 "The genocide perpetrated against the Tutsi has left all Rwandans with religious and spiritual, social and political wounds," said Professor of Theology M. Shawn Copeland, Fr. Uwineza's dissertation director. "As a Jesuit priest and theologian, Marcel responds to these wounds by placing memory at the center of his theologizing. Marcel's theology does not conceal the awful wounds or forget the murders, but rather urges and supports Rwandans to remember themselves as a nation, to confront and wrestle with unreconciled memories, and together through faith to speak about God's presence and love."
Copeland accompanied Fr. Uwineza to the UN for his address, along with Monan Professor of Theology Lisa Sowle Cahill, STM Associate Professor Francine Cardman, and Jesuits Juan Cristobal Garcia-Huidobro, Paul Kalenzi, Reginald Tiesaah, Laurien Nyiribakwe, Cesar Muziotti, and Yannick Arsene Essengue Amougou.

During his remarks, Fr. Uwineza also forgave the Secretary-General of the United Nations and President of the UN General Assembly for abandoning Rwanda in its time of need. 

His speech, which concluded with a standing ovation from the audience, was broadcast on television in Rwanda, according to Fr. Uwineza's three siblings, who still live there.

Fr. Uwineza will return to Rwanda in June for a conference he co-organized with BC alumnus Elisée Rutagambwa, S.J., to commemorate the 25th anniversary of the genocide called "The Journey of Reconstruction and Reconciliation in Post-Genocide Rwanda: Challenges and Hopes." The conference will bring together an international group of theologians, including Copeland, STM Dean Thomas Stegman, S.J., and Theology Department doctoral candidate Leocadie Lushombo.

For Fr. Uwineza, who is now the same age his father was when he was killed, commemorations of the genocide are essential. He said there are movements afoot to revise history or minimize the gravity of the genocide. "To remember is to act so that those criminal activities never happen again. So, to remember is to do justice."
—Kathleen Sullivan | University Communications | April 2019