A replica of Angels Unawares, the bronze sculpture installed in the Vatican's St. Peter's Square to commemorate the 105th World Day of Refugees and Migrants, will grace the outside of O'Neill Library throughout the month of November, according to Melodie Wyttenbach, executive director of the Barbara and Patrick Roche Center for Catholic Education at Boston College.

The 20-foot-long, 12-foot-high, and 3.8-ton reproduction depicts raft-bound migrants and refugees representing diverse cultures and historical crises. Portrayed among the 140 figures are a Jew fleeing Nazi Germany, a Syrian departing that country's civil war, a Pole escaping the communist regime, a Cherokee on the Trail of Tears, an Irish boy escaping the potato famine, and the Holy Family of Nazareth. At the sculpture's center, angel wings are visible, alluding to the sacredness of the migrant and refugee.
The sculptor, Timothy Schmalz, whose work often illustrates the care and comfort of the disenfranchised—including a sculpture that depicts Jesus as a homeless person—was commissioned by Cardinal Michael Czerny, S.J., the undersecretary of the Migrants and Refugee Section of the Vatican's Dicastery for Promoting Integral Human Development. Among the refugees represented on the boat are the cardinal's parents, who immigrated to Canada from Czechoslovakia, and Mother Cabrini, the patron saint of immigrants.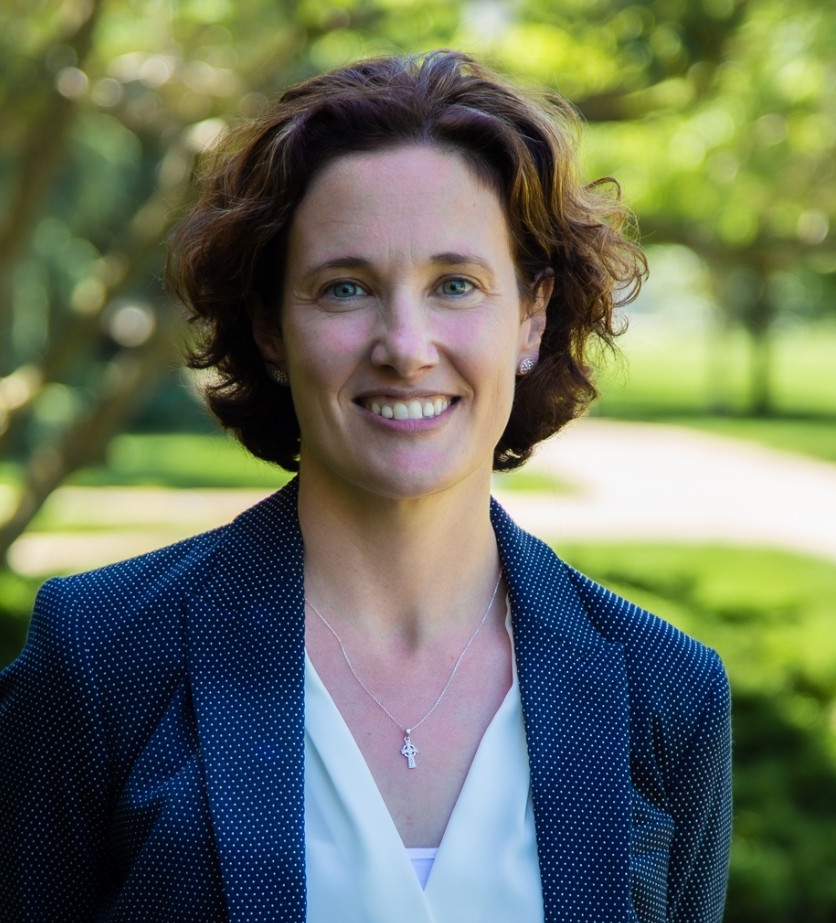 The sculpture's name is derived from the New Testament's Hebrews 13:2: "Do not neglect to show hospitality to strangers, for thereby some have entertained angels unawares."
"Hosting this beautiful sculpture, which captures all nations and religions over a span of historical periods, demonstrates the overwhelming impact that migration has had on humanity," said Wyttenbach. "Artwork can serve as a virtual ambassador for our faith and as Christians this statue calls us to act and consider ways we are one humanity."
The Roche Center has organized a series of multidisciplinary events to offer opportunities for discussion and deeper engagment on topics related to immigration, refugees, migrants, and calls to action. Highlights include:
November 2: Social Justice Through Art: Inspired by Faith, Committed to Action
A virtual panel discussion with Angels Unawares sculptor Schmalz and BC faculty members Sheila Gallagher and Patricia Riggin.


November 5: Al encuentro de Dios en la frontera (presented in Spanish)
A talk by BC School of Social Work Assistant Professor Alejandro Olayo-Méndez, S.J., about life on the border in the U.S.


November 12: Stand Together
A conversation between School of Theology and Ministry Dean and Professor Thomas D. Stegman, S.J., and Daniel Corrou, S.J., regional director for Jesuit Refugee Service in the Middle East and North Africa.


November 13: Human Rights of Migrants and Refugees: An Examination of Legal & Christian Ethics
Boston College Law School faculty Daniel Kanstroom and Mary Holper and Kristin Heyer of the Theology Department explore the intersection of human rights and Christian ethics.


November 17: Refugees and Migrants
Cardinal Czerny will discuss with Professor of Theology Kristin Heyer and BC School of Social Work Assistant Professor Alejandro Olayo-Mendez, S.J., his work with Pope Francis on issues surrounding refugees and migration around the world, particularly in the age of COVID-19.


November 18: Pecha Kucha: Exploring the Intersection of Migration and Education
The Lynch School of Education and Human Development Dean Stanton Wortham and faculty members Gabrielle Oliveira, Martin Scanlan, Cristina Hunter, and Andrés Castro Samayoa will share their research and engage in conversation on the intersection of immigration and education.


November 24: The Historical Racialization of Migrants and Catholic Social Teaching's Response
BC Law School Dean Vincent Rougeau, Associate Professor of History Arissa Oh, and STM Associate Professor Hosffman Ospino will explore ways the racialization of migrants and refugees has occurred and factors that systematize such racism.


Faith-focused activities this month will include special intentions at Candelight Masses, Faith Feeds discussions, prayer ribbons, and a special Agape Latte on November 17 with BC Jesuit Fr. Quang Tran, who will talk about his family's journey from Vietnam to the United States.
For event times and registration information, visit the Roche Center for Catholic Education website.
Pope Francis unveiled the original Angels Unawares sculpture on September 29, 2019—the first time in 172 years that a new monument was erected in St. Peter's Square. Remarking that migrants and refugees are shown "indifference" in the world's most economically advantaged countries and are "often looked down upon and considered the source of all society's ills," Pope Francis said Angels Unawares should "remind everyone of the evangelical challenge of hospitality."

According to Cardinal Czerny, the impetus for the statue came from the "strong urging of Pope Francis to remember the excluded, neglected, thrown away, the poor and disenfranchised who occupy the periphery of society.

"I do hope that the sculpture will trigger discussion, dialogue, and honest reflection on why some people treat others in ways that they themselves would not want to be treated and the very opposite of how their parents or ancestors were treated."

The original sculpture was funded by the Rudolph P. Bratty Family. 
Following its yearlong tour across the U.S., with stops in South Bend, Ind., and San Antonio, Texas, the Angels Unawares replica will be permanently installed at the Catholic University of America in Washington, D.C.

University Communications | November 2020