Boston College doctoral student Kelly Lyons' love of history bloomed during her undergraduate years, in large part because of her professors.
"They emphasized how the study of history reveals a lot about how we understand the present—what we think is important about the past reflects what we value in contemporary society," said Lyons, who graduated from Suffolk University. "That's why history is such a dynamic, ever-changing field."
But while she admired her history professors and considered them mentors, the Connecticut native didn't necessarily envision being a professor herself—especially since tenured faculty positions, the traditional destination for Ph.D. students, have become increasingly scarce. So she came to BC's doctoral program in history with an open mind about her career path.
"I was excited to pursue graduate studies at Boston College because the humanities, including history, have been the cornerstone of Jesuit education for 500 years," she said. "BC can be a modern university while celebrating and investing in the humanities."
Last summer, Lyons was among seven Ph.D. students who benefited from one such investment: a new program developed by the University's Institute for the Liberal Arts with support from the Office of the Provost that provides internships for doctoral students in the humanities and qualitative social sciences. The internships were in University Libraries, which offered positions in digital scholarship, digital pedagogy, and archival work; the McMullen Museum of Art; and the Schiller Institute for Integrated Science and Society. Each student received a stipend.
As tenure-track teaching positions have decreased—a trend exacerbated by the recession of 2008 and more recently by the pandemic—such programs help doctoral students transition to alternative career possibilities that enable them to make use of their expertise and skills, according to ILA administrators. While not the only university to offer a Ph.D. internship program, BC adds its distinctiveness as a Jesuit, Catholic institution to the experience, through regular meetings that focus on personal formation as well as professional development.
ILA Director and Rattigan Professor of English Mary Crane, the program's creator, said the first year hit all the marks: "BC staff who supervised the internships were all delighted with what the students accomplished and all agreed to take on student interns in the future.  The students all found the program to be valuable and appreciated the reflection and workshop sessions."
Interning with University Libraries, Lyons enjoyed putting together a digital humanities project about the Boston busing crisis of the 1970s, using the Tableau platform to create interactive data visualizations of her research, making the findings easier for a general audience to interpret. The program has illuminated a direction in which she would like to go, she said.
"In my career, I want to use the digital humanities to bring history to a wider audience and show that what we understand about the past is always changing, which is a good thing because it helps us move toward a more just and fair society."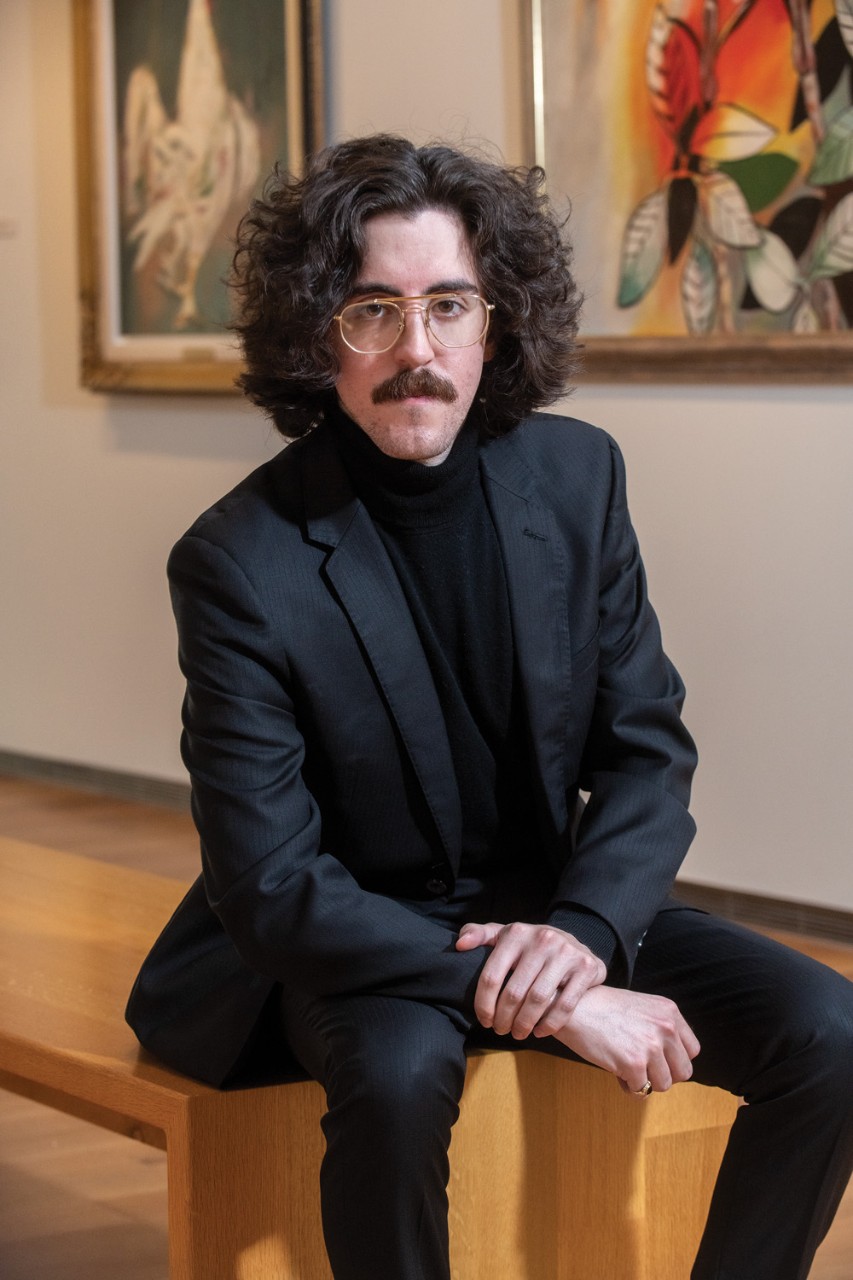 Alexander D'Alisera, a doctoral student in history whose interests lie in late ancient and early medieval Europe, spent his internship in the McMullen Museum, helping work on a future exhibition on alternative comics and graphic magazines from the 1980s and '90s. He relished learning about the day-in, week-out routine of the museum, as well as about exhibition design and curatorial considerations, and the procedure of object loaning and lender communication.
"I love the process of teaching history and working with students in a classroom setting, and I believe that this skill set is eminently transferable to the world of educating the public in a museum context," he said. "Whether I wind up employed in a traditional professorial role or not, I hope to always engage with this lifelong pursuit of historical inquiry on whatever career path I find myself."
Emily Kulenkamp, a doctoral student in political science, said serving an internship at the Schiller Institute was useful in that it gave her a chance to work in a team to accomplish discrete goals, and to observe an academic institute in its beginning stages.
"I feel the internship gave me a valuable insight into higher education administration, and that is the area I'm most likely to explore as a career."
Internship Program Associate Director Deanna Danforth said the program addresses the unique challenges many doctoral students typically face, especially if they're not certain how much they want to teach or do research. The faculty members with whom Ph.D. students train can help them prepare for the classroom, she explained, but are seldom able to provide guidance in considering or seeking alternative career work.
"Many doctoral students have been out of the workforce for several years, so they're not sure what other career paths exist, or even how they can have conversations about that," said Danforth. "So being able to work in, say, a library setting can be an eye-opening experience that gets them thinking about how they can apply their skills and knowledge in another context."
Program workshops include discussions with representatives of the Career Center—a resource too little utilized by doctoral students, according to Danforth—on nuts-and-bolts aspects of career exploration, such as creating a resumé and cover letter, but also concerns about how Ph.D. holders are perceived in the marketplace: "If I come in with a doctorate," said Danforth, reciting an oft-expressed comment by doctoral candidates, "will employers think I'm not really serious about wanting the job, and that I'll just jump at the first teaching position which comes along?"
The program participants also are prompted, especially in reflection sessions, to think more deeply, broadly, and holistically about their academic and career interests: What is it I like about studying this field/discipline? Do I enjoy the teaching or the research more? Are there other areas in my life where I could find fulfillment if I went the alternative career route?  
Salvatore Cipriano, assistant director for career education at the Career Center, presented the internship program students a living, breathing example of someone who has taken the less-traditional route with his doctorate. Although unable to fulfill his original goal of becoming a history professor, Cipriano found a place in a university setting that enabled him to work with students; he also has kept up his scholarly interests by publishing material in academic journals. From his perspective, the question of "Where can a doctorate take me?" is not as important as "Who am I as a doctoral student?"
"I certainly have a better understanding of what is meaningful to me in both a professional and personal sense," he said. "What I wish I knew then, and what I recommend for current Ph.D. students now, is to be intentional about their personal and professional growth—take time to reflect on how the manifold responsibilities associated with a Ph.D. can contribute to a stronger sense of self and clearer vision of the career pathways they'd like to pursue."
Crane said the internship program will continue next summer, with a still to-be-determined number of additional positions. Depending on the COVID-19 situation, among other factors, it is possible that external internship opportunities will be available, she added.
Sean Smith | University Communications | October 2021