In early 2020, before a global pandemic disrupted normal activities and international travel, Brandon Brito '20 was 3,000 miles away from campus in Cape Verde, an archipelago off the west coast of Africa.
The Revere, Mass., native and then-senior at Boston College traveled to the island nation to film his documentary, "Kicking on Rocks: Football in Cabo Verde." The project, designed to shine a light on the hardships and limitations for soccer players and clubs in Cape Verde, was funded by a grant from the Jacques Salmanowitz Program for Moral Courage in Film. Administered by the University's Film Studies Program, the Salmanowitz Program supports BC student filmmakers interested in creating documentaries that provide role models for youth worldwide and inspire future generations.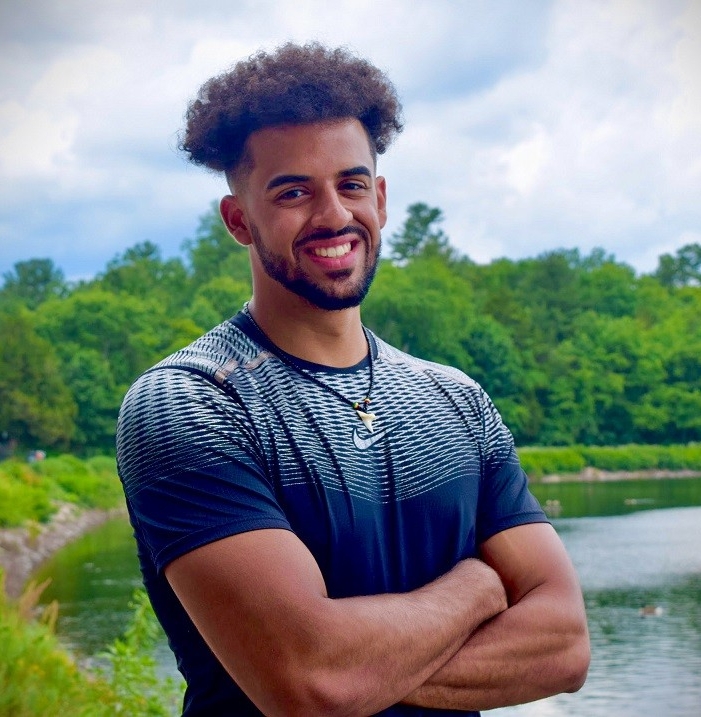 Soccer is arguably the most popular sport in the world. Many young players grow up dreaming of playing on their country's team or playing professionally. Brito wondered how soccer players from Cape Verde—a small and remote place—make it to the next level. "I wanted to learn about their motivations, their setbacks, and represent them," he said.
In "Kicking on Rocks," Brito explores the dedication and love players have for the game, but also the hardships and limitations of several football clubs on the Cape Verdean islands of Brava, Fogo, and Santiago.
Brito interviewed players, trainers/coaches, and managers, and shot footage of their practices and games. He was also responsible for all the post-production, including editing and music, on the short-subject documentary.
Some assistance on the film came from his father, Ananias Brito, a Cape Verde native who accompanied his son on the trip and served as a translator. "It's kind of difficult to translate English to Kriolu (Creole) because Kriolu is a mix of Portuguese and African languages," Brito said. "My dad was a great help navigating around. And he knows all 10 islands like the back of his hand."
Language wasn't the only challenge to the filming proces. When a sandstorm from the Sahara blew over to the islands, ferries and flights between the Cape Verdean islands were postponed or canceled. Finding himself with extra time in Fogo, Brito had to improvise. He and his father met a local man at dinner who connected them with a soccer team. Brito filmed that team the next day, and the unplanned footage ended up opening the documentary.
"That's the cool thing about documentary film," said Brito. "You can write down as much as you want about what's going to be in the it, but depending on the situations you find yourself in and the response you get from your interviewees, it can change your film drastically. It can add something you didn't expect or you can have more questions and turn it in different directions."
"Kicking on Rocks" was part of this year's virtual Boston College Arts Fest and has been chosen as an official selection for the Cape Verdean American Film Festival.
The project combines two of Brito's passions: sports and filmmaking. Brito was captain of his high school football team and is a certified personal trainer who worked at BC's Margot Connell Recreation Center.
Faculty in the University's Film Studies Program praise Brito's talent as a filmmaker and screenwriter, citing his storytelling, writing, and editing abilities, as well as his leadership and interpersonal skills. He received the Art, Art History and Film Department's Screenwriting Award for excellence in screenwriting.
"Brandon has a remarkable eye for storytelling and the passion to convert his ideas to a vivid reality on screen," said Professor of Film Studies John Michalczyk, Brito's advisor. "His initiative and hard work to film in this less-known setting, with all of its challenges, indicate that he has a fresh start in the professional world of media."
According to Film Studies part-time faculty member Mary Conroy, Brito was a "standout" in her Advanced Screenwriting course. "He was very focused and disciplined. I admired his work ethic. He put the time into his work and it showed.
"Brandon is really impressive," she continued. "Some screenwriters are character-driven and some are story-driven. He's both. His work shows a lot of heart."
Brito's fascination with storytelling began at a young age. While watching films like Spider-Man or the Harry Potter series, he was interested in checking out the special features to learn about the making of the movies. He loved reading and drawing, and was writing little books as early as the first grade. He also was in school plays and talent shows throughout his youth and has acted in some films created by fellow BC classmates.
Brito says one of his favorite classes at BC was Social Issues in Literature and Film taught by Michalczyk and Susan Michalczyk. "I loved that class. We watched a bunch of movies made 20 or 30 years ago and then had really good conversations connecting those movies to what's happening now."
Brito graduated in May with a bachelor of arts degree in film studies. He knows a career in filmmaking may likely bring him to New York or Los Angeles, but for the time being he is working on local projects and hopes to return to Cape Verde to shoot another film.
"Every film starts with an idea. And I have tons of ideas."

Kathleen Sullivan, University Communications | July 2020