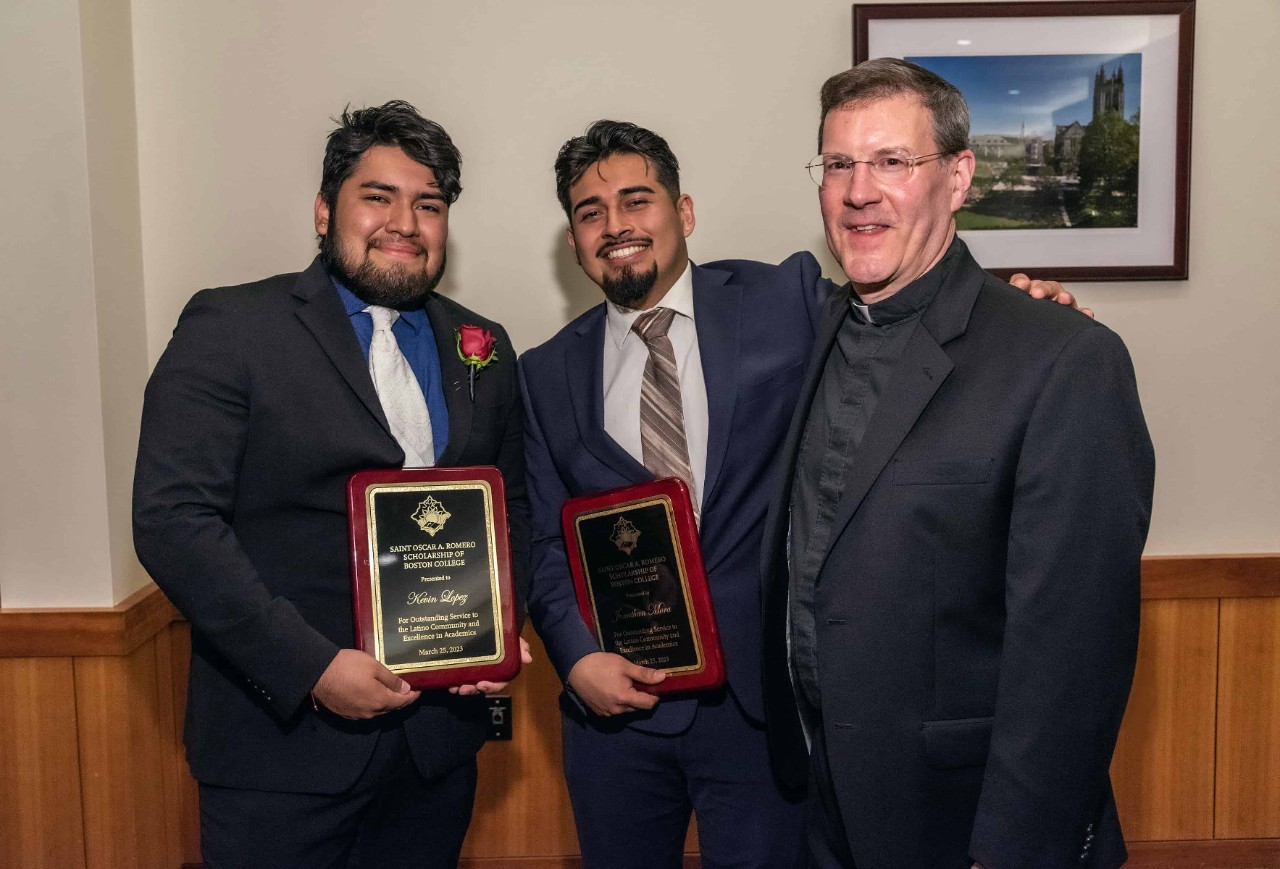 For the first time in its 31-year history, Boston College's Saint Oscar A. Romero Scholarship has been awarded to two students.

Class of 2024 members Kevin Lopez and Jonathan Mora will each receive approximately 75 percent of their senior-year tuition in acknowledgement of their superior academic achievement, extracurricular leadership, community service, and involvement with the Hispanic/Latino community and Hispanic/Latino issues both on and off campus.

The pair were officially recognized at the recent Romero Scholarship Ceremony held in the Yawkey Center Murray Room.

Human Resources Senior Employee Relations Officer Marcela V. Norton, co-chair of the scholarship committee, characterized their shared achievement as "a great accomplishment" that "demonstrates the commitment of service and values of Saint Oscar Romero."

The archbishop of El Salvador, shot and killed by an assassin while celebrating Mass in 1980, spoke passionately about the need for Christians to strive for justice and remains a source of strength and hope for the poor and oppressed of his country.  

Worcester, Mass., native Mora is the son of immigrants from Pueblo, Mexico, a life experience that has motivated him to plan to apply to law school with the goal of becoming an immigration attorney serving undocumented Latino immigrants. A McNair Scholar, Mora conducted a nationwide study analyzing the particular circumstances that forced some Deferred Action for Childhood Arrivals students out of college, while others persevered and graduated.  As a freshman, the Lynch School of Education and Human Development student co-founded Free Tax Prep, Inc., a no-cost tax preparation and translation service for non-English-speaking communities in Greater Boston.  

"To recognize my hard work to serve the Latino community is to acknowledge the countless sacrifices my parents made to nurture my sisters and me," said Mora. "I memorize the sacrifices my parents made for me, and cherish them every day because they believed that I could create generational change. I listened to their requests to do better in my academic life, because I was always reminded that many members of my community do not have the same access and opportunities to thrive in school as I did. My mother would say 'Tota, por favor, haz tu tarea (Tota, please do your homework),' while my dad would say 'Echale ganas (Give it your all).'

"I am on track to become the second person in my family to receive a college degree. Continuing my educational journey in law school is essential to receive the credentials I need to advocate for the Latino community, especially for undocumented immigrants during the naturalization process. As someone who has the privilege of being a United States citizen, I want to utilize my skills to uplift immigrants who want a better future for themselves and their families."

Lopez, a first-generation college student from Los Angeles, worked in the Thea Bowman AHANA Intercultural Center for the express purpose of mentoring incoming students like himself. His motto, "Share the love," reflects his dream of forming a non-profit organization that would pair high school seniors with mentors to guide them through the college application process and during their college experience.  A sociology major in the Morrissey College of Arts and Sciences, Lopez plans to become a physical therapist.

"I proved to my community back home, specifically the Pico-Union neighborhood, that someone like 'us,' who is systematically disadvantaged, can thrive in a predominately white institution like BC," said Lopez. "I will continue to give back to my community and to prevent my peers from dropping out of college. Lastly, too many people worldwide feel forgotten, lonely, and in pain, and I will continue to bring awareness to these global issues."

Sebastian Cota, a first-generation student in the Morrissey College with a deep commitment to medical care for the underserved, was the other Romero Scholarship finalist.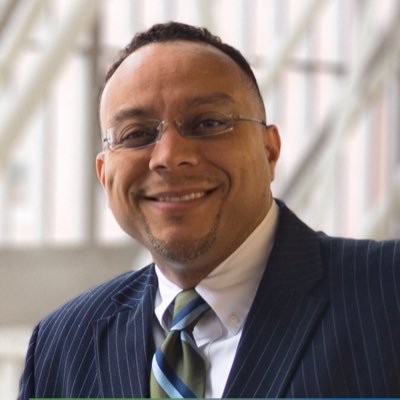 The evening's keynote speaker, BC Trustee Associate Juan Alexander Concepción '96, M.Ed. '97, J.D./M.B.A. '03, received the Rev. John A. Dinneen, S.J., Hispanic Alumni Community Service Award, which recognizes a BC alumnus whose work and service reflects both Saint Romero's ideals, and the late Fr. Dinneen's commitment, leadership, and service to the Latino community. Concepcion, a director and senior legal counsel at biomedical/biotechnology engineering firm Boston Scientific, is a co-founder of BC's AHANA Alumni Advisory Council and a tireless social justice advocate, serving on the board of Lawyers for Civil Rights, which raised more than $30 million for the New Commonwealth Fund to combat systemic racism in Massachusetts.

Concepción echoed Rev. Martin Luther King Jr. in his remarks, quoting Matthew 23:11: "Tonight, we celebrate community. We honor excellence, leadership, and our commitment to one another in community service. As King reminded us, 'He who is greatest among you shall be a servant.'"
Phil Gloudemans | University Communications | April 2023