Hungary is among the prospective host countries for BC alumni who have been selected for Fulbright awards. (Photo of Budapest: Hermann Traub | Pixabay)

Thirteen Boston College alumni—10 from the Class of 2023—have received prestigious post-graduate fellowship opportunities for the coming year.

Nine graduates won coveted Fulbright Scholarships, which support a year's post-baccalaureate study abroad; two other BC grads were named as alternates, pending confirmation of funding for their projects. Fulbright recipients—chosen on the basis of academic merit and leadership potential—typically pursue research in various disciplines, or serve an English Teaching Assistantship, through which they teach English language and provide insights about American culture.

Nearly 600 American colleges participate in the Fulbright Program, sponsored by the United States Department of State's Bureau of Educational and Cultural Affairs to support academic exchanges between the U.S. and more than 150 countries around the world. BC has been ranked consistently among the nation's top producers of student Fulbright winners, according to statistics compiled by The Chronicle of Higher Education. The University was 15th among doctoral institutions in the most recent survey.

In addition, two members of the Class of 2023, Delaney Coyne and Christine Lenahan, were named as Joseph A. O'Hare, S.J., Postgraduate Media Fellows by America Media, which publishes the magazine America: The Jesuit Review of Faith and Culture, a leading U.S. Catholic journal of opinion whose editor-in-chief is Sam Sawyer, S.J.,'00, M.Div. '14. O'Hare Fellows spend a year at the New York City offices of American Media, gaining professional experience through work, ongoing mentoring, and other opportunities.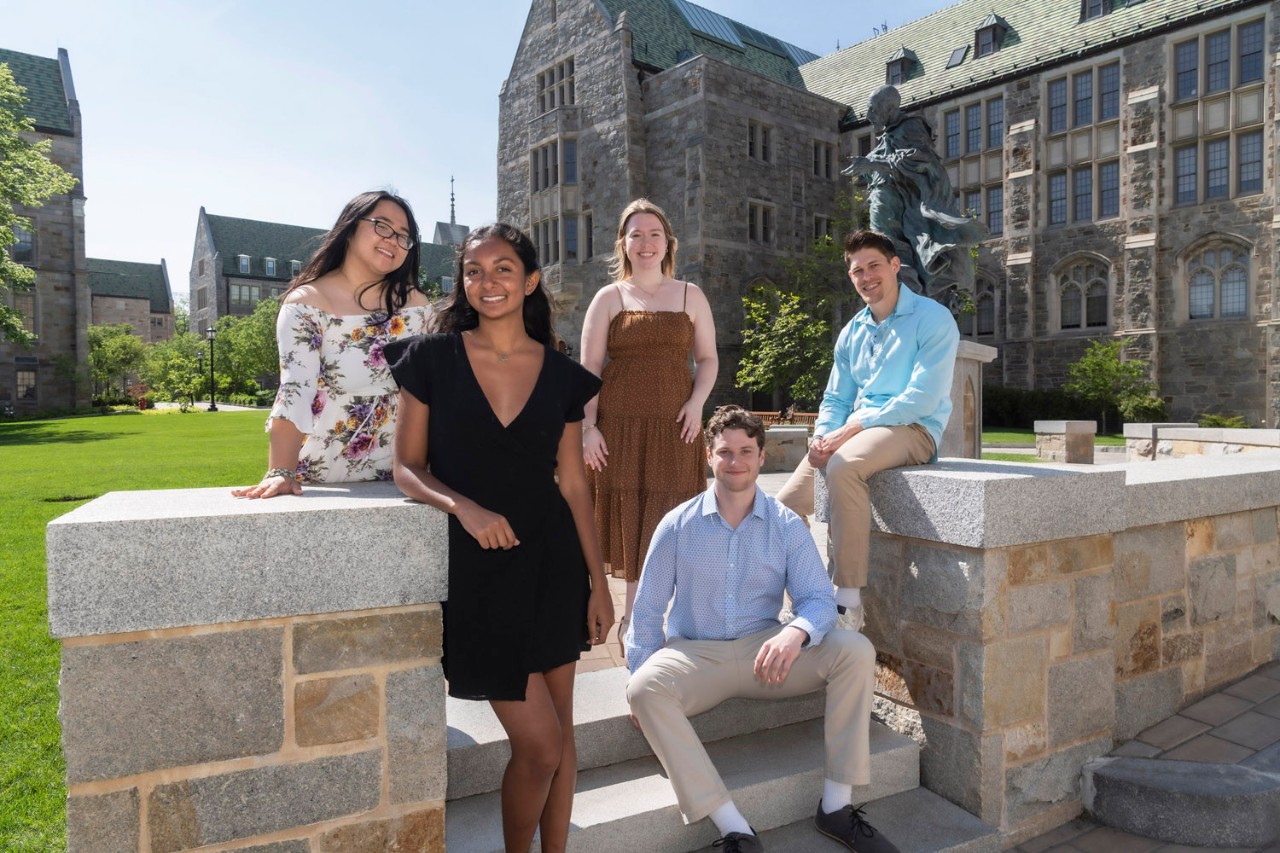 (L-R) Sophia Hoang, Fizah Yousuf, Mary Harrison, Leo Pandolfi, and Christopher Mastroianni are among this year's Fulbright winners. (Lee Pellegrini)

A look at Boston College's Fulbright winners for 2023-2024:

Giovanna Eichner '23
HOMETOWN:  Washington, D.C.
DESTINATION:  Germany
PROJECT:  English Teaching Assistantship; gather new, original insights from interpersonal experience rather than through a structured class.
FUTURE PLANS:  Earn a doctorate in history; through first-hand experience in Germany, obtain archival material and cultural competency to extend her honors thesis into a dissertation, ideally leading to a career as a policy analyst and historian, and teaching at the university level.

"Because Boston College focuses on the development of the person along with a liberal arts education, my four years here have given me the tools to find the overlap between intellectual curiosity and personal connection. My future experiences as a Fulbright Scholar, whose mission is to foster cultural exchange through teaching, will benefit from my classes and extracurriculars that showed me how knowledge can bring people together. "


Mary "Molly" Harrison '23
HOMETOWN: Narrowsburg, NY
DESTINATION: Germany
PROJECT: English Teaching Assistantship; will seek to mentor projects to offer outreach and in turn, enhance her language and interpersonal skills; also plans to dedicate time to explore her creative writing skills.
FUTURE PLANS: Prior to her Fulbright, Harrison will pursue an internship at the Sullivan County, NY, District Attorney's Office and is considering industries and professions of interest upon the completion of her year abroad.

"Boston College gave me the place and space to not only be accepted as I am, but to also push me to get more comfortable in being uncomfortable. I hold the lessons I've learned close to my heart and am thankful for all the mentors that have aided me in my exploration. As I begin this new journey, I know that my fears will not outweigh my successes and that taking chances is the only way to discern my future."


Sophia Hoang '23
HOMETOWN: Manchester, NH
DESTINATION: Vietnam
PROJECT: English Teaching Assistantship
FUTURE PLANS: Pursue a master's degree in classics with teaching licensure at UMass-Boston to prepare for a future as a classics teacher at the secondary education level.

"The classes I have taken in the Classics Department and in the [Lynch School of Education and Human Development] have framed my intentions to create a safe, accommodating, engaging, and fruitful environment to learn new languages and cultures. My commitment to the AHANA community and community service have reminded me to embrace my identity as a Southeast Asian American and a child of Vietnamese immigrants, know and acknowledge everyone's strengths that come from their culture, serve others the best I can, and remember that the little actions have the biggest impacts. My pursuit of academic success has taught me to prioritize myself, and to prioritize the relationships that give great meaning to my life. Altogether, these BC experiences have prepared me for the Fulbright, as not just an educator, but also a supporter and community member to the students and greater community that I will be a part of in Vietnam."


Shemar Joseph '23
HOMETOWN: Brooklyn, NY
DESTINATION: Germany
PROJECT: English Teaching Assistantship; will share the foods, music, and other facets of his Caribbean background with his host community.
FUTURE PLANS: Research training at the National Institutes of Health, pursue career as a physician.

"BC was where I was first really exposed to the language and culture of my host country. It was here that my interest in Germany developed and came to fruition. I feel that my courses and campus activities have intellectually prepared me to embark on this adventure."


Brittney Klein M.A. '21  
HOMETOWN: Deerfield, Ill.
DESTINATION: Hungary
PROJECT: English Teaching Assistantship; initiate a book club to encourage reading and conversation in English and hopes to volunteer with a Hungarian organization focused on supporting people with disabilities.
FUTURE PLANS: Return to work at an American higher education institution in either disability services or study abroad; return to Europe to pursue a doctorate in higher education or educational leadership, focusing on higher education access and equity for students with disabilities. Klein currently works in the Academic Resource Center at Georgetown University.

"While obtaining my graduate certificate and degree at BC, I had access to world-renowned faculty who encouraged my interest in international higher education. Professors such as Hans de Wit, Gerardo Blanco, and Rebecca Schendel expanded my worldview and always encouraged me to push myself further, which I hope will serve me well as I embark on my Fulbright."


Christopher Mastroianni '21
HOMETOWN: Hopkinton, Mass.
DESTINATION: Taiwan
PROJECT: English Teaching Assistantship; start an extracurricular sports club for students at his school.
FUTURE PLANS: Considering graduate school or possibly foreign service work. Mastroianni has spent the past two years working for the Federal Deposit Insurance Corp.

"Three of the most impactful parts of my BC experience were tutoring elementary students with 4Boston, leading 48Hours, and volunteering at the YMCA for PULSE. These experiences, combined with BC's emphasis on being 'men and women for others,' have inspired me to teach in Taiwan."


Caroline Melancon '23 (alternate)
HOMETOWN: Saint Helena, Calif.
DESTINATION: Spain
PROJECT: English Teaching Assistantship; plans to organize community celebrations of "uniquely American" holidays, such as Halloween, Thanksgiving, and Independence Day, to provide a greater understanding of American diversity, family customs, and history.
FUTURE PLANS: Apply for positions in the U.S. Department of State or Defense to work on global issues or serve the U.S. abroad; considering a graduate degree in security studies.

"Throughout my four years at BC, my foreign language professors in Hispanic Studies and French, the guidance of faculty in the International Studies program, and my internship while studying abroad have prepared me to live and work abroad serving others after graduation. Whether that be through the Fulbright program or through other means, I am excited to see where the future takes me."


Leo Pandolfi '23
HOMETOWNS: Concord, NH; Dedham, Mass.
DESTINATION: Germany
PROJECT: English Teaching Assistantship; in light of the NFL's efforts to promote the popularity of American football in Germany and elsewhere in Europe, he plans to organize an American football club where students can watch games together and learn more about the sport.
FUTURE PLANS: Return to Boston to pursue a position in the finance or consulting field.

"I am forever grateful for all that the German Studies Department at Boston College has done to support me in my application for this Fulbright award. I especially thank Professor Michael Resler, our Fulbright advisor."


Maeve Ronan '21
HOMETOWN: Stamford, Conn.
DESTINATION: Spain
PROJECT: English Teaching Assistantship; create and lead a Spanish and American art and art history program for students.
FUTURE PLANS: Pursue graduate studies in the field of international relations.

"I owe so much to the BC International Studies programs and the professors who introduced me to ideas such as global citizenship, cultural ownership, and deconstructing the concept of the 'other.' I was encouraged to think about these concepts, not just in the context of the classroom and how we engaged with readings and discussions, but also in the broader context of how we interact with the world around us and how we can recognize the humanity in all cultures—including our own. This kind of education truly shaped the ways in which I think about cultural exchange and has had an enormous impact on my goals going into my Fulbright grant as an English teacher in Spain. Through my work in the classroom and with my project, I am excited to foster a stronger intercultural awareness aided by a dedication to improving communication."


Colleen Scerpella '23 (alternate)
HOMETOWN: Syracuse, NY
DESTINATION: Peru
PROJECT: English Teaching Assistantship; organize a dance club that teaches choreography from popular American music videos or movies to help promote mutual understanding and appreciation between cultures.
FUTURE PLANS: Enroll in a graduate program in international relations or public policy, pursue career as a foreign service officer.

"The education that I received at BC cultivated a habit of self-reflection and intentionality regarding the importance of being a positive force within the communities to which I belong. In addition, BC's emphasis on the development of a well-rounded individual meant that I was able to draw upon a variety of experiences, perspectives, and skill sets throughout every part of the Fulbright process."


Fizah Yousuf '23
HOMETOWN: Chambersburg, Pa.
DESTINATION: Czech Republic
PROJECT: Biological research under the supervision of Masaryk University Professor David Smajs on the diversity of the outer membrane proteins of the syphilis-causing bacteria Treponema pallidum. If successful, this research will be used in the development of a vaccine with the potential of eliminating syphilis worldwide.

FUTURE PLANS: Pursue an M.D./Ph.D. that would allow her to practice and also perform epidemiological research, combatting disease at the interpersonal and macro scientific levels; continue to work with Partners in Health, traveling to communities deprived of quality health care.

"My BC experience has not only prepared me for the vaccine research I will undertake, but also for the experience of finding a new community halfway across the world. Through my years of performing immunological research under Assistant Professor of Biology Ismael Ben Fofana, I gained critical experience in the protocols, persistence, and perseverance necessary for scientific success. Furthermore, BC has prepared me to take on the challenge of building a new life in a country different from my own, surrounded by entirely new people.  As a philosophy/biology double major, I've learned how to interact with individuals from differing backgrounds and perspectives, and to enter into real conversations that form genuine connections with others.  Lastly, BC has taught me to utilize my gifts for the common good, which is the underlying principle that catalyzed my decision to use my scientific knowledge and skills to better the human condition."
University Communications | May 2023