Michael Serazio, an associate professor in the Communication Department, is the 2021 "Teacher of the Year" as named by the Boston College chapter of Alpha Sigma Nu, the honor society of Jesuit institutions of higher education. Each year, students recognize the BC professor whom they believe embodies the Alpha Sigma Nu tenets of scholarship, loyalty, and service.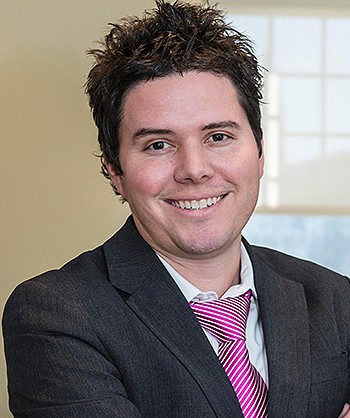 Serazio's honor was announced during the March 21 Alpha Sigma Nu student virtual induction ceremony, at which 93 BC juniors who have exhibited the honor society's values were also recognized. He was one of 20 professors nominated for the award.

"Professor Serazio's curriculum continually references current events and phenomena and examines their human, social implications," said Margaret DiPatri '22 in her formal nomination for Serazio as Teacher of the Year.  

"For example, in his Sports, Media, and Culture class,  we would often discuss the racial-justice implications of the topic we were learning about, whether that be football positions, treatment of journalists, or political protest in sports. Although we're learning about the media, an institution that doesn't always feel human, he brings humanity into class and isn't afraid to ask tough questions and encourage debate and discussion.

 "He truly cares about and listens to his students in a way that stands out from any other professor I've had," added DiPatri. "During the pandemic, he has continually offered his support and adjusted the class around students' needs. He emphasizes that his class should be a distraction from the stress of the world and something that brings us joy. When we chant 'team human' at the end of class, it truly makes a difference in my day and reminds me that he is a professor who truly does a service to his students by genuinely caring for their well-being and happiness."

A native of San Diego, Serazio focuses his research and teaching on media production, advertising, popular culture, political communication, and new media.  His latest book is The Power of Sports: Media and Spectacle in American Culture, an analysis of how sports culture explains and reflects contemporary American life—from journalism to politics to commercialism to gender.  

Offering remarks during the virtual ceremony, Serazio, who began teaching at BC in 2015 after five years at Fairfield University, said he was "deeply, profoundly humbled by this honor – for three reasons. First of all, given the incredible talent and dedication of my colleagues across campus, I feel lucky to even share chalkboard space with them, much less be recognized in this fashion. Secondly, any success that I've been fortunate to have in the classroom is surely a product of the role models that I had as mentors over the years, and paying that forward seems like the least I can do.

"And, thirdly, I should really be sharing this with you because it's more a testament to the brilliant, diverse, hard-working, and good-hearted young people who fill out my class rosters, of which these Alpha Sigma Nu inductees represent the highest ideal."

Serazio serves on the journalism program steering committee and the Church in the 21st Century's advisory committee, and previously was an editorial board member for the National Seminar of Jesuit Higher Education, which publishes Conversations magazine.

Serazio received a Ph.D. from the University of Pennsylvania's Annenberg School for Communication, and holds a bachelor's degree in communication from the University of San Francisco and an M.S. in journalism from Columbia University.

"I can still hear the voices of [my] mentors," said Serazio, "less for the details of the lessons that they taught and more for the wisdom that they radiated, and the orientation toward the world that they modeled: curiosity, playfulness, integrity. I hope that you, too, continue hearing the voices of your mentors, long after you've left the Heights, like the bell atop Gasson tolling across the distance of your lives."

Founded in 1915, Alpha Sigma Nu encourages its members to pursue a lifelong quest of intellectual development, deepening Ignatian spirituality, service to others, and a commitment to the core principles of Jesuit education.


Phil Gloudemans | University Communications | March 2021