How can setbacks, marginalization, and obstacles be catalysts for growth?
Boston College Vice President for University Mission and Ministry Jack Butler, S.J., recently addressed that question through the lens of his own experience for a standing room-only audience in the Heights Room of Corcoran Commons, as part of the Woods College of Advancing Studies Manresa Experience.
Fr. Butler shared the trajectory of his own indirect and obstacle-filled journey, as well as the stories of students he has worked with over his career, with those assembled in his remarks—titled "Finding Beauty in the Messiness of Life"—at the signature fall event of the Manresa Experience, a yearlong student formation program for the Woods College undergraduate community.
Now in its second year, the initiative is designed to encourage and support students in their professional, personal, and spiritual discernment, according to Woods College Interim Dean David Goodman. "The Manresa Experience is one of many ways in which the Woods College helps its students, whether full- or part-time, connect to the broader Boston College community and mission," he said. "It is an extraordinary program, of a kind not ordinarily available through adult education."

Through the program, participating Woods College undergraduates share a common read, which is also discussed in seven courses across varying disciplines. This year's selection is New York Times best-seller Tattoos on the Heart: The Power of Boundless Compassion by Gregory Boyle, S.J., founder of Homeboy Industries in Los Angeles, the world's largest gang intervention, rehabilitation, and re-entry program.

The award-winning book relates Fr. Boyle's experience working in the ghetto in a series of parables exploring themes of kinship, care for the marginalized, redemption, and the power of unconditional love. For his work, Fr. Boyle received the California Peace Prize, and was inducted into the California Hall of Fame and named a White House Champion of Change, among other recognition.
As part of the Manresa Experience, participants gained insight into the work of Homeboy Industries through an evening with former case manager Kathryn Rigby, who remained closely connected to the initiative while earning a master's degree at the Boston College School of Social Work.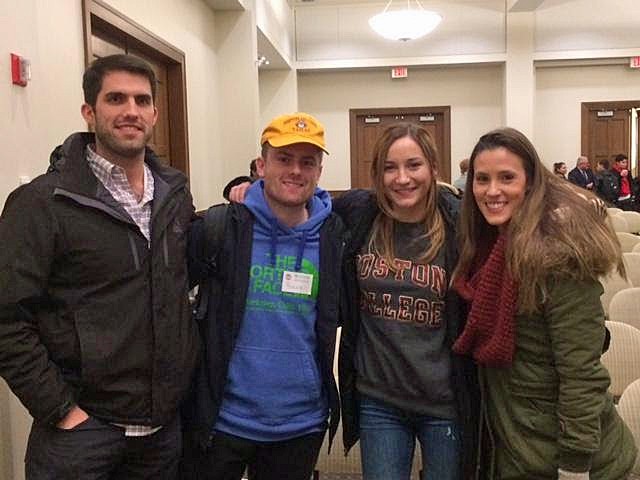 Named for the small town in Spain where Society of Jesus founder Ignatius Loyola spent nearly a year engaged in the prayer and penance that would illuminate him and guide his life, the Manresa Experience reflects the Woods College's commitment to Boston College's Jesuit educational tradition, which invites students to reflect on their own life experiences to determine how best they can use their talents to respond to the world's needs.
Two students in each class are designated as Manresa Experience Scholars, who lead classroom discussion, attend an off-campus weekend retreat, and take part in other program activities such as meeting with mentors and volunteering at Boston's Haley House Community Tables.

Participants in last year's inaugural Manresa Experience read The Red Bandanna: A Life, A Choice, A Legacy, the best-selling book by ESPN national correspondent Tom Rinaldi that tells the story of Boston College alumnus Welles Crowther, a volunteer firefighter and equity trader at Sandler O'Neill & Partners, who died rescuing more than a dozen people in the south tower of the World Trade Center following the 9/11 attacks.
Read more information about the Woods College Manresa Experience here.

Patricia Delaney | University Communications | December 2018